Bonds hits home run No. 731 vs. Padres
Updated:
September 9, 2006, 7:10 PM ET
Associated Press
SAN FRANCISCO -- Barry Bonds hit his 731st career home run Saturday, pulling the San Francisco slugger within 24 of tying home run king Hank Aaron's record 755.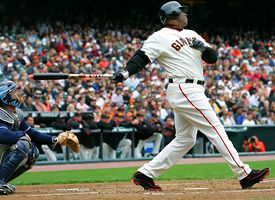 AP Photo/Jeff ChiuWith this home run, Bonds is now 24 behind Hank Aaron's major-league record of 755.
Bonds hit a two-run drive over the wall in right-center off San Diego's David Wells with two outs in the first inning, Bonds' 23rd homer this season and sixth in nine games. It gave the Giants a 2-0 lead.
It was Bonds' third career homer off Wells, and the Padres have allowed 85 of Bonds' homers -- his most against any team.
The main center-field scoreboard flashed "731" and Bonds received a warm ovation while rounding the bases. He tipped his hat toward the fans in the left-field seats when he came out for defense in the top of the second.
The 42-year-old Bonds, in the final season of a five-year, $90 million contract with the Giants, passed Babe Ruth for second place on the career list May 28. He needs two home runs to tie Aaron's NL record.
Bonds hit his first homer in San Francisco's waterfront ballpark since Aug. 21 against Arizona.

Copyright 2006 by The Associated Press
EDITORS' PICKS
The Seattle Mariners added depth and versatility to their lineup this offseason.
Jerry Crasnick »

Matt Harvey threw two perfect innings and struck out three in his first trip to the mound since Aug. 24, 2013.
Story »

Nobody will have a tougher early-season schedule than the rebuilding Houston Astros.
Buster Olney

MOST SENT STORIES ON ESPN.COM