New Cubs skipper Piniella: 'Urgency is important'
Updated:
October 19, 2006, 1:07 AM ET
ESPN.com news services
CHICAGO -- Lou Piniella vows to make a winner of the Chicago Cubs, whose last World Series appearance came in 1945.
Wojciechowski's Take
The Cubs appear unsolvable. They are America's leading cause of gray hair, primal screams and sub-.500 records. Lovely Wrigley Field, whose famous red marquee flashed "Cubs Welcome Lou Piniella," is a managerial graveyard. Piniella is the latest manager to try to solve the riddle that is this franchise. And if he fails, not many options remain.

To read more of Gene Wojciechowski's column,
click here.

Audio
• Gene discusses the scene at Wrigley for new Cubs manager Lou Piniella's introductory news conference and the likelihood of Alex Rodriguez being dealt to Chicago from the Yankees. Listen
"Urgency is important," said Piniella, who was introduced Tuesday as the team's latest manager. "We're going to win here, and that's the end of the story."
Piniella agreed Monday to a three-year contract worth nearly $10 million, with an option for a fourth year.
"I'm just a little piece of the puzzle. My job is to come in here and unite this team," he said at a news conference.
Piniella said he was assured by general manager Jim Hendry that the Cubs would make moves necessary to improve the team. He brushed off a report that he wanted the Cubs to acquire embattled Yankees star Alex Rodriguez, saying there hadn't been "any discussions about A-Rod." Piniella was Rodriguez's first manager, with the Seattle Mariners in the mid-1990s.
However, sources familiar with the situation told ESPN.com that Piniella, who is extremely close to Rodriguez, expects the Cubs to pursue the 10-time All-Star aggressively.
Piniella said he was hoping injured pitchers Mark Prior and Kerry Wood would be healthy and come to spring training. The team holds a $13.75 million option on Wood for next season and the right-hander is rehabbing a torn rotator cuff.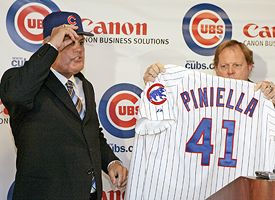 AP Photo/Nam Y. HuhLou Piniella, left, is now in charge of the Cubs, the fifth managerial job in his career.
"They're both talented individuals. Both have had physical problems," Piniella said.
The 63-year-old Piniella has 19 years of major-league managerial experience, including a World Series title with the Reds in 1990.
"We got the right man for the job," Hendry said.
Piniella replaces Dusty Baker, another veteran manager who came to the Cubs with a strong resume. Baker departed after four years when his contract was not renewed following a 66-96 last-place finish in the NL Central.
Now Piniella gets a chance where so many of his predecessors have come up short.
"I managed in a lot of places where winning was what was strived for," Piniella said after modeling his No. 41 Cubs jersey.
And Piniella said he didn't believe in curses that many believe have kept the Cubs from winning a World Series for nearly 100 years. They last captured the World Series in 1908.
"No, no," Piniella said. "Curses. Come on."
Known for his fiery style and outbursts with umpires -- in which he's thrown his cap, flung a base and kicked dirt on the plate -- the Cubs hope Piniella can be the spark the team obviously lacked during the final two seasons of Baker's tenure.
Joe Girardi, fired by the Florida Marlins after one season and a former Cubs player, also interviewed for the job, as did Cubs broadcaster and former Diamondbacks manager Bob Brenly. Mike Quade and Pat Listach, managers last season in the Cubs' farm system, were also interviewed.
The Dan Patrick Show:
Joe Morgan
ESPN's Joe Morgan says he isn't too optimistic about Lou Piniella improving the Chicago Cubs or coaxing Alex Rodriguez out of New York.

• To listen, click here
But Piniella's experience, his toughness and run of success were factors that impressed the Cubs. In addition to the Reds, Piniella has also managed the Yankees, Mariners and Devil Rays.
His hiring was the latest move in a Cubs overhaul that began two weeks ago when chief executive Andy MacPhail resigned the day before Baker's contract was not renewed.
Piniella has a record of 1,519-1,420 and was honored as AL manager of the year in 1995 and 2001.
Piniella began managing in 1986 with the Yankees, where he lasted three years. He managed the Reds from 1990-92, leading them to a World Series championship in his first season. During his time in Cincinnati, he got national attention for a clubhouse wrestling match with reliever Rob Dibble.
From there it was on to a long run in Seattle from 1993 to 2002. His 2001 team went 116-46 but lost in the ALCS to the Yankees. His 1995 and 2000 Mariners teams were also beaten in the league championship series. During his decade in Seattle, the Mariners won at least 90 games four times.
Piniella won 93 games his final season with the Mariners in 2002 before heading home to his native Tampa to try to build a winner for the Devil Rays. But he had a difference of opinion with ownership and questioned management's commitment to winning before the team bought out the final year of his four-year contract.
Piniella had an 18-year career as a player, 11 of them with the Yankees, and was a career .291 hitter.
Information from The Associated Press and ESPN.com senior national columnist Gene Wojciechowski was used in this report.
EDITORS' PICKS
With the departure of Nelson Cruz, the Orioles need some familiar names to produce.
Jayson Stark »

Identifying spring training position battles and fantasy implications for each.
Story »

Will pitchers try to challenge Giancarlo Stanton with inside fastball?
Story »

MOST SENT STORIES ON ESPN.COM