Matsuzaka, Red Sox reach agreement on six-year deal
Updated:
February 23, 2007, 1:04 AM ET
ESPN.com news services
BOSTON -- The $51.11 million the Red Sox offered to pay for the rights to Daisuke Matsuzaka was enough to get the Japanese ace across the Pacific Ocean.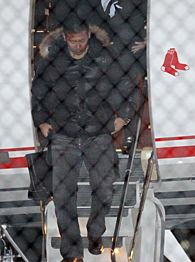 Chitose Suzuki/AP PhotoThe Red Sox signed Daisuke Matsuzaka to a six-year, $52 million contract this offseason.
It took that much again, and a little more, to fly him the rest of the way to Boston.
Bridging the economic gap in the most expensive cultural exchange in baseball history, the Red Sox reached a preliminary agreement Wednesday with Matsuzaka on a $52 million, six-year contract. With $103.11 million on the table, the two sides flew back to Boston on Red Sox owner John Henry's private plane.
"We came out of it with what I felt was the right decision for the player," Matsuzaka's agent, Scott Boras, told ESPN.com's Jerry Crasnick. "It's an economic package that is reasonable and could end up being good. For his country, for him and the interests of baseball, I think this is really the right decision for everybody."
Matsuzaka completed a physical exam Wednesday night, Boras confirmed to ESPN.com, and the final agreement is expected to be announced Thursday at a 5 p.m. ET news conference.
Henry declined comment late Wednesday night.
"Tomorrow at Fenway," he said in an e-mail to The Associated Press.
Matsuzaka gets a $2 million signing bonus, $6 million next year, $8 million in each of the following three seasons and $10 million in each of the final two years. The agreement will include $8 million in escalators based on awards that would bring the total to $60 million over six years.
Going up?
ESPN.com's Peter Gammons reports these are the "escalators" in Daisuke Matsuzaka's tentative agreement with the Red Sox that could raise his base salary to as much as $12 million a season by 2011:

In 2009 and 2010, Matsuzaka's base salary can increase to $10 million if:
• He finishes first in AL Cy Young voting in 2007 or 2008, or:
• He finishes in the top three in AL Cy Young voting in both 2007 and 2008, or:
• He finishes first in the AL MVP voting in 2007 or 2008, or:
• He finishes in the top five in AL MVP voting in 2007 and 2008.

In 2011 and 2012, Matsuzaka's base salary can increase to $12 million if:
• He finishes first in AL Cy Young voting in 2009 or 2010, or:
• He finishes in the top three in AL Cy Young voting in both 2009 and 2010, or:
• He finishes first in the AL MVP voting in 2009 or 2010, or:
• He finishes in the top five in AL MVP voting in 2009 and 2010.
Boras told ESPN.com the contract includes a "litany of personal comforts." Matsuzaka will get a massage therapist, physical therapist, interpreter and personal assistant, and the Red Sox agreed to provide the pitcher with 80-90 flights over the course of the deal, along with special housing and transportation arrangements and accommodations for his wife.
Boras and Boston general manager Theo Epstein worked on contract details well into Wednesday morning. When Boras returned to his office in Newport Beach, Calif., he held an impromptu press conference in the parking lot with roughly 70 members of the Japanese media at 4:30 a.m PT.
The Red Sox won the bidding for Matsuzaka's rights last month, promising to pay the Seibu Lions $51.11 million if they let him leave for the major leagues. But they had just 30 days -- until midnight ET Thursday night -- to negotiate a contract with Boras or the right-hander would return to Japan and Boston would keep its money.
When talks stalled, the Red Sox brass flew uninvited to Boras' turf in Southern California on Monday to meet with him in person. They said they had to leave Wednesday morning, with or without an agreement; Boras said Matsuzaka would not go to Boston for a physical unless the sides had the makings of a deal.
Boras said the final negotiating session began at about 5:30 a.m. PT Wednesday, and within 90 minutes he was confident there would be an agreement.
"Daisuke really had three choices," Boras said. "He could sign now. He could wait another year or he could wait two years and become a free agent. He had to determine how much money he was willing to give up now."
Keith Law's take
Appearing on ESPN Radio's SportsBash, ESPN Insider Keith Law said Matsuzaka is a big-game pitcher who is at worst a No. 3 starter, and could be a No. 1, and he would absolutely take Matsuzaka over Barry Zito for the same money.

• To listen, click here.
Also:
• SI.com's Jon Heyman

• Dan Patrick and Keith Olbermann
If there had not been a deal, Matsuzaka's rights would have remained with the Lions and he could not have been offered to major league teams again until next November; he is not eligible to become a free agent in Japan until after the 2008 season.
Negotiations had slowed because the Red Sox looked at the posting fee and the eventual contract as a $103 million payout for one pitcher. "That magnitude is certainly the right ballpark for the commitment of the ballclub," Epstein had said.
Boras focused instead on only the money going to his client, saying the posting system for Japanese players was flawed.
"The greater the player, the greater the penalty, because the more a club values the player, the more they pay for the post," he said.
The Red Sox complained that Boras had not countered their original offer and questioned whether Matsuzaka, who had already said goodbye to his Japanese team, was being consulted.
"We're on Scott Boras' doorstep because he hasn't negotiated with us thus far," Henry said during a conference call early Tuesday, "and we're taking the fight directly to him, the fight to have a negotiation here."
Historical precedent also worked against Matsuzaka: Hideki Matsui, who came to the Yankees from Japan as an outright free agent in 2002 -- with no posting fee -- signed a three-year deal for $21 million.
The final agreement should bring major economic benefits to the Red Sox, Boras said.
Eric Karabell: D-Mat Fantasy Value
Karabell

What should fantasy owners make of all this Daisuke Matsuzaka discussion? Matsuzaka isn't the first Japanese pitcher to come to the major leagues, but indications are he's going to be the best.

Frankly, I don't think his previous numbers are all that relevant. Statistical experts tend to judge Japanese stats as something between the Triple A and MLB level, but still, Hideo Nomo won 123 games in the big leagues with a 4.21 ERA, and Hideki Irabu, well, he didn't.

• To read more, click here
"From a marketing side of this, there's certainly a linkage between Boston and Japan," Boras told ESPN.com. "For both parties, this is going to mean millions of dollars. That was certainly a factor in the decision for Daisuke to come over here now. The other factor was the player really wanted to come over here and get his career [in the major leagues] started."
Matsuzaka has a 108-60 record in Japan with a 2.95 ERA and 1,355 strikeouts in 204 games. He was MVP of the inaugural World Baseball Classic last March, won by Japan.
When Henry's plane took off Wednesday morning -- with Matsuzaka aboard -- from John Wayne Airport in Orange County, Calif., Boston radio stations and Web sites tracked its path as religiously as they had been counting down the minutes to the deadline. After a 4-hour, 43-minute flight, the Dassault Mystere 900 tri-jet with a Red Sox logo on the tail landed in a light rain at Hanscom Field in suburban Bedford at 5:16 p.m.
Red Sox chairman Tom Werner, president Larry Lucchino and Epstein were seen coming off the plane with Matsuzaka and Boras. Matsuzaka exchanged handshakes and bows with some among the Red Sox welcoming party before getting into an SUV.
There were several dozen fans to greet him and about the same number of reporters, many of them Japanese. A radio station distributed signs that pictured two dice and a K -- Matsuzaka's first name is pronounced "Dice-K." As he left the airport for his physical, Matsuzaka rolled down his window and appeared surprised by the gathering. He waved and smiled when he stopped briefly alongside Kim Miner and Rebecca Powell, 17-year-olds from nearby Concord who were holding a sign that said, "WELCOME HOME DAISUKE."
"I was so psyched," Miner said. "Because there was a small crowd, we got to see him close."
Mark Fairweather, a fan from Lincoln, had his 8-year-old son, Nick, on his shoulders.
"We thought we'd just come out here to take a look at him," the elder Fairweather said. "I'm glad they're getting some good pitching."
Information from The Associated Press and ESPN.com's Jerry Crasnick was used in this report.
The Matsuzaka File
NAME:
Daisuke Matsuzaka
POSITION:
Right-handed pitcher
AGE:
26 (Sept. 13, 1980)
HEIGHT/WEIGHT:
6-foot/187 pounds

DRAFTED:
No. 1 pick by Seibu Lions ('98)
MAJOR HONORS:
1999 Pacific League Rookie of the Year
2001 Sawamura Award (top pitcher in Japan)
2006 World Baseball Classic MVP


CAREER STATISTICS
All with Seibu Lions
YR
IP
W
L
BB
K
ERA
'99
180
16
5
87
151
2.60
'00
167.2
14
7
95
144
3.97
'01
240.1
15
15
117
214
3.60
'02
73.1
6
2
15
78
3.68
'03
194
16
7
63
215
2.83
'04
146
10
6
42
127
2.90
'05
215
14
13
49
226
2.30
'06
186.1
17
5
34
200
2.60
TOT
1,402.2
108
60
502
1,355
2.95
STORIES
•
Kurkjian: Posting process needs to be fixed
•
Allen: D-Mat signing double-edged sword for Japan
•
Neyer: Japanese players ... go west
•
Law: Matsuzaka strengthens Sox rotation
•
Olney: Boston brilliant with D-Mat deal
•
Gammons: Red Sox get D-Mat their way
•
Poll: Is he worth the hype?
•
Karabell: Matsuzaka's fantasy value
•
Gammons: Show Matsuzaka the money
•
Allen: Matsuzaka keeps Japan waiting
•
Neyer: Red Sox's new math doesn't add up
•
Crasnick: Sign Matsuzaka or Zito?
•
McAdam: Red Sox can't cry anymore
•
Allen: A stunner in Japan
•
Red Sox bid $51.1 million
•
Crasnick: Respecting "Mr. Matsuzaka"
•
Gammons: Boston's investment plan
•
Vote: Is Matsuzaka worth it?
•
Law: Top 40 free agents
VIDEO
•
Kurkjian: How much pressure he'll face
•
Bobby Valentine's Matsuzaka experience
•
Daisuke strikes a deal
•
Breaking down Matsuzaka deal
•
Is Daisuke finally the one?
•
Matsuzaka headed for Boston
•
Interview with Scott Boras
•
Is Matsuzaka worth $51.1M?
AUDIO
•
Peter Gammons: Red Sox got a bargain
•
Terry Francona: No language issues
•
Buster Olney: Boston's great offseason
•
Tim Kurkjian: Yanks still own AL East
•
Keith Law: A big-game pitcher
•
SI.com's Jon Heyman
•
Dan Patrick and Keith Olbermann

MOST SENT STORIES ON ESPN.COM