Barber, O's first 20-game winner, dies at 67
Updated:
February 5, 2007, 11:21 PM ET
Associated Press
BALTIMORE -- Steve Barber, the first 20-game winner in modern Baltimore Orioles history and the losing pitcher in one of baseball's wildest no-hitters, has died. He was 67.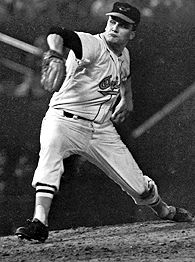 AP Photo/FileSteve Barber won 20 games for the Orioles in 1963 and was 95-75 in 7½ seasons with Baltimore.
Barber became ill last week and died from complications of pneumonia Sunday at a hospital in Henderson, Nev., the Orioles said Monday.
A two-time All-Star and a member of the Orioles' Hall of Fame, Barber was 121-106 with a 3.36 ERA from 1960-74. The lefty spent the first half of his career with the Orioles and was traded to the New York Yankees in July 1967. He later pitched for the Seattle Pilots, the Chicago Cubs, the Atlanta Braves, the California Angels and the San Francisco Giants.
Barber's best year was 1963, when he went 20-13 with a 2.75 ERA. On a franchise that became known for its pitching, Barber was the first Baltimore player in the modern era to win 20 games.
The Orioles won their first World Series in 1966, sweeping the Los Angeles Dodgers and allowing a total of two runs in the four games. Barber was 10-5 that year but did not get to take part in the Series, having pitched only seven games after the All-Star break because of tendinitis in his left elbow.
Barber started out the 1967 season in impressive fashion, holding the Angels hitless before Jim Fregosi doubled with one out in the ninth inning. Two weeks later, however, Barber pitched his most memorable game.
Facing Detroit in the first game of a doubleheader at old Memorial Stadium, Barber took a no-hit bid and a 1-0 lead into the ninth inning despite severe bouts of wildness.
Barber walked the first two batters in the ninth, then retired the next two hitters. But he threw a wild pitch that let the tying run score and, after yet another walk, was pulled from the game.
Stu Miller relieved, and the Tigers scored the go-ahead run on an error. The Tigers wound up winning 2-1 despite getting no hits. Barber's line that afternoon: 8 2/3 innings, 10 walks, two hit batters, a wild pitch and a throwing error.
A hard-thrower, Barber led the majors in walks and also topped the AL in wild pitches as a rookie. The next year, in 1961, he pitched eight shutouts and tied for the major league lead with Camilo Pascual.
Born in Takoma Park, Md., Barber signed with the Orioles when he was 18. Barber spent three seasons in Class D ball before jumping to the majors in 1960 as was part of the "Baby Birds" staff that included Milt Pappas, Jack Fisher and Chuck Estrada, all of them in their early 20s.
Barber was 28 when the Orioles won their first World Series with a whole new staff of aces in their early 20s -- Jim Palmer, Dave McNally and Wally Bunker.
Barber won 10 games as a rookie and won at least 10 games in six of his first eight seasons in the majors.
In 7½ years with the Orioles, he went 95-75 with a 3.12 ERA in 253 games. Overall, he pitched 1,999 innings in the big leagues.
Survivors include his wife, Patricia; his son, Steve Barber Jr. of Ellicott City, Md.; three daughters, Tracy Barber of South Carolina, Danielle Ehlert of Wisconsin, Kelly McCarthy of North Carolina, and a brother, Richard Barber of Ellicott City, Md.
The Orioles said the funeral would be private and that plans for a memorial service were incomplete Monday.

Copyright 2007 by The Associated Press
SPONSORED HEADLINES
MORE MLB HEADLINES
MOST SENT STORIES ON ESPN.COM
EDITORS' PICKS
The idea of eliminating defensive shifts is absurd.
Buster Olney

If A-Rod hits enough home runs to earn his bonuses, the Yanks should be more than happy to pay them.
Wallace Matthews

The Red Sox should wait before trying to upgrade their rotation.
Mike Petriello