MLB's synthetic caps designed to wick away sweat
Updated:
February 21, 2007, 8:41 AM ET
Associated Press
BUFFALO, N.Y. -- One question facing baseball this season: Will cooler heads prevail?
On Opening Day, the sport will doff the traditional wool cap in favor of a new polyester blend model designed to wick away sweat before it can stream down a player's face.
The new caps will retail at about $32, up from the current $29, DeWaal said.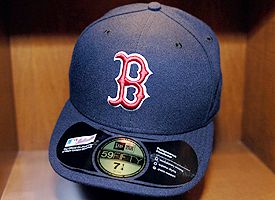 AP Photo/Don HeupelMajor League Baseball is introducing its first major overhaul of its caps since 1954.
The change is part of commissioner Bud Selig's focus on boosting player performance, a Major League Baseball official said, and follows a general trend toward moisture-managing "performance" materials in sports apparel.
"We started to think, 'How can those developments be applied to our headwear?'" said John DeWaal, vice president of brand communications at New Era Cap Co., the Buffalo-based manufacturer that holds the cap contract.
Among early supporters of the new cap is AL Rookie of the Year Justin Verlander, who got a preview while shooting a commercial for New Era during the offseason in New York.
"They look exactly the same, they breathe more and they won't shrink," Verlander said. "The best thing is, when it rains, the hats won't stink like the wool ones did."
In broaching the change, New Era was well aware of the 100 percent wool cap's long-standing place in baseball history, DeWaal said. Aside from tweaks here and there -- a switch from leather sweatbands to cloth in the 1980s, for example -- this is the first major overhaul of the baseball cap since the current six-panel model was adopted in 1954, he said.
"There's a lot of tradition in baseball and we couldn't completely go against that tradition so we always had that as a parameter," DeWaal said, "but we wanted to take as open-minded a look at this as possible."
Steve Vucinich, equipment manager for the Oakland Athletics, didn't think there was anything wrong with the old caps when he began testing the new ones with the team's pitchers about a year ago.
"This one is just so much better," he said after putting it through its paces atop Dan Haren, Joe Blanton, Huston Street and others.
The key is the new cap's ability to absorb sweat so that it can quickly evaporate.
"The heat is from the inside of the cap where your head is," Vucinich explained. "Before, it would just sweat to the band and it would drip kind of towards the bill but drip off there. Now the sweat goes out of the cap, even on top, and then it dries naturally."
And even though the new caps -- minus the sweat rings -- look and even feel just like the old ones, they are also designed to shrink less and fade less.
"If you watch a lot of baseball, you'll notice a number of different things on the players as the season progresses," said Steve Armus, vice president of consumer products at Major League Baseball. "Sweat stains, and you can't see it but they start to smell a bit, and also with certain colors they tend to bleed when the players sweat, so if you watch the Cardinals or teams that wear red caps, occasionally you'll see red bleeding into the white on logos.
"With these caps ... the water's not going to be absorbed into the headwear the way it is now."
There are also some changes to the cap's underside. The piece under the visor, for example, has gone from gray to black to reduce reflection and glare from the sun and stadium lights. The sweat band, now of the new "performance" material, has gone from white to black for no other reason than it simply hides dirt better.
A batting practice cap teams are wearing for spring training also features "vapor management technology" to guard against odor, New Era said.
"By revolutionizing the cap, we're ensuring the players headwear provides the best performance while they play," New Era Chief Executive Officer Christopher Koch said.
Vucinich, for one, isn't worried about breaking with tradition.
"Uniforms have changed over the course of the years, not only just colors, but materials," he said. "They've been made more comfortable, lighter. ... As far as tradition and wool? It doesn't matter."
Nor is Detroit Tigers pitcher Joel Zumaya losing any sleep over the change.
"I didn't know about it, and I don't really care," he said. "I'd pitch without a hat."
Nevertheless, Armus said the league is excited about the switch.
"We're proud to enact the commissioner's initiatives to bring performance to the field in a major way and really to make our players more comfortable," he said. "It's all about the performance initiative and this is the first major step in a lot of things that are going to be seen throughout the season which are really going to revolutionize our field."
But for the fan who might have trouble letting go, New Era will continue to produce wool models, though of the fashion variety, in non-authentic colors and styles.

Copyright 2007 by The Associated Press
EDITORS' PICKS
A broken foot will likely keep Chris Sale from being the White Sox's Opening Day starter.
Story »

Stephen Strasburg says the addition of Max Scherzer takes the Nationals "to another level."
Watch

Minnie Minoso, who was baseball's first black Latin star, died Sunday at 90.
Story »

MOST SENT STORIES ON ESPN.COM