Cards attend public memorial for Hancock
Updated:
May 4, 2007, 9:17 AM ET
Associated Press
TUPELO, Miss. -- St. Louis Cardinals pitcher Randy Flores will miss playing catch with Josh Hancock.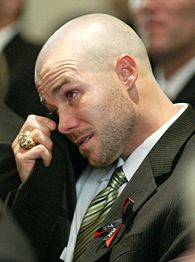 Thomas Wells/AP PhotoTeammate Skip Schumaker was one of an estimated 500 mourners at the hour-long public memorial.
"Every day, I was reminded of his heart," Flores said Thursday at a public memorial for his fellow reliever. "Josh loved being a baseball player."
The Cardinals were among an estimated 500 mourners for Hancock, who died in an automobile accident early Sunday. Flores was the only teammate who spoke at the service, and he recalled Hancock's playful nature.
Organizers had expected three or four Cardinals to participate, including manager Tony La Russa. They also anticipated that several players would speak after the service.
Instead, on the advice of center fielder Jim Edmonds, the traveling party of 50 filed onto two buses behind the church and left immediately without talking to the media.
"What do you want me to say?" general manager Walt Jocketty said before boarding.
The 29-year-old Hancock was driving a rented Ford Explorer early Sunday when it crashed into a flatbed tow truck on a highway in St. Louis. Autopsy results have not been released, and toxicology tests were pending.
The World Series champion Cardinals play their first home game since the wreck when they host Houston on Friday night. St. Louis has lost five in a row and is in last place in the NL Central.
Hancock's sister, Katie, a star athlete at Tupelo High School, called him a "great guy, a great man and a great big brother."
She remembered the time her big brother took her horseback riding but instead saddled her on a cow. She imitated his laugh, recalling the prank.
Hancock's agent, the scout who signed him to his first pro contract and a high school coach all related memories -- many of them prompting laughs -- in a mostly uplifting hour-long service at First United Methodist Church.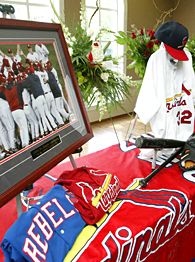 Thomas Wells/AP PhotoA table displaying Hancock's jersey and other items was on display at the memorial service.
Hancock's father, Dean Hancock, wore a red ribbon with the No. 32 -- his son's uniform number -- on his left lapel as he read a statement before the service. He took no questions, thanking the media for "respecting our privacy and for respecting Josh's honor."
"Professional baseball players are brothers within a family, and the St. Louis Cardinals players and coaches are bonded together, in my opinion, like no other family in baseball," Dean Hancock said. "Josh was so proud to be a member of that family."
During his sermon, the Rev. John Sudduth held a prized possession, a ball autographed by Hancock after signing his first professional contract with the Boston Red Sox in 1997.
Cas McWaters, an assistant coach at Vestavia Hills High School in suburban Birmingham, Ala., when Hancock was a star, talked about the pitcher's struggles with chemistry class.
"He kept asking me, 'When am I ever going to need chemistry?' I told him, 'To graduate,'" McWaters said.
Hancock set the Alabama prep record with 27 straight wins and helped Vestavia Hills -- where Yankees pitcher Colter Bean was a teammate -- win three straight state championships in the mid-1990s.
Hancock broke into the major leagues in 2002 and played for four teams. He was 3-3 with one save last season and led Cardinals relievers in innings with 77.
"He wasn't a household name," McWaters said. "He was what I call just beginning to come into the strength of his career."
Joe Mason signed Hancock to his first contract. He said if the reliever played in the 1930s he'd have been friends with Dizzy Dean but that if he'd grown up in the 1960s "he would have gone to Woodstock."
Three days before the fatal wreck, Hancock was involved in a predawn accident in Sauget, Ill., that police treated routinely.
Hancock was buried Wednesday in rural Itawamba County.

Copyright 2007 by The Associated Press
Josh Hancock: 1978-2007
Name:
Joshua Morgan Hancock
Born:
April 11, 1978
Major-league seasons:
6
Career statistics:
9-7 W-L record, 4.20 ERA, 102 games, 177 2/3 IP
Major-league teams:
Boston Red Sox, Philadelphia Phillies, Cincinnati Reds, St. Louis Cardinals
Biographical information:
A 1996 graduate of Vestavia Hills High School in Vestavia, Ala., where he played on three state championship teams. Drafted by Milwaukee in fourth round of '96 draft, but didn't sign. Attended Auburn University, where he was a teammate of Atlanta Braves pitcher Tim Hudson and helped lead the Tigers to the College World Series. Drafted by Boston in fifth round of the '98 draft and signed with the Red Sox on June 15, 1998.
More
•
No penalties for restaurant that served Hancock
•
Investigation reopened, witnesses interviewed
•
Investigators: Restaurant not at fault
•
Hancock's father sues restaurant
•
M's consider clubhouse alcohol ban
•
Yankees ban alcohol from both clubhouses
•
Police: Hancock legally drunk at time of crash
•
Cards ban clubhouse alcohol
•
Cards attend Hancock memorial
•
La Russa: Life returning to normal for Cards
•
Hancock in accident three days before fatal crash
•
St. Louis struggles in first game since Hancock's death
•
Hudson honors 'JH' in Braves' 5-2 win
•
Hancock killed in car crash
•
Gammons: Cards coping with tragedy again
•
Wojciechowski: 'Unspeakable' in St. Louis
•
Stark: Every team needs a Hancock
•
Your comments about Hancock
Video
•
La Russa reacts to findings

•
Stark: MLB may need to change policy

•
Olney on alcohol in baseball

•
Cards try to move forward

•
Hancock's loss brutal

•
Tragedy hits Cards

•
Hancock dies in car accident

•
Gammons: "A tough, useful guy"

•
Phillips: "Nothing prepares you for this"


MOST SENT STORIES ON ESPN.COM