Bonds hits 755th homer in second to tie all-time record
Updated:
August 5, 2007, 3:49 AM ET
Associated Press
SAN DIEGO -- With a short swing, a half stare and an emphatic clap of his hands, Barry Bonds rounded the bases. After so many days and so many tries, he had finally caught Hammerin' Hank.
"The hard part is over right now," Bonds said.
High above the field in a private box, baseball commissioner Bud Selig was a reluctant witness to history. Choosing to overlook the steroid allegations that have dogged the San Francisco slugger, Selig watched Bonds tie Hank Aaron's home run record -- his mouth agape, hands stuffed in pockets and nary a cheer on his lips.
No. 755 was a strong shot for all the doubters, an opposite-field drive of 382 feet to left-center, moving Bonds within one swing of having baseball's pinnacle of power all to himself. It came on a 2-1, 91 mph fastball Saturday night.
"This is the hardest thing I've had to do in my entire career," he said. "I had rashes on my head, I felt like I was getting sick at times."
And it was a long time coming.
It had been eight days and 28 plate appearances since Bonds hit his 754th home run, and he came out for early batting practice Saturday, hoping to break his slump. He did it quickly, leading off the second inning.
"No matter what anybody thinks of the controversy surrounding this event, Mr. Bonds' achievement is noteworthy and remarkable," Selig said in a statement.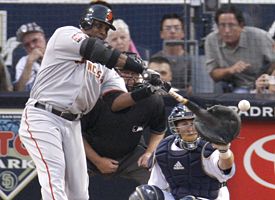 Chris Carlson/AP PhotoBarry Bonds' homer to lead off the second inning tied Hank Aaron's all-time mark of 755.
Selig said either he or a representative would attend the Giants' next few games "out of respect for the tradition of the game, the magnitude of the record and the fact that all citizens in this country are innocent until proven guilty."
Bonds said he hadn't spoken to Selig, but welcomed him anytime.
Aaron was not in attendance. The Hall of Famer had previously said he would not follow the chase in person.
"It's a little bit different than any other milestone I've ever gone through. It's Hank Aaron. I can't explain the feeling of it, it's just Hank Aaron," Bonds said.
Bonds drew a mixed reaction from the crowd at Petco Park after he homered off Clay Hensley. Several fans held up asterisk signs and the San Francisco slugger was booed as he headed to left field at the end of the inning.
"I want to thank the fans. They have been outstanding," Bonds said. "It's been a fun ride. I really appreciate the way San Diego handled it and the way their fans handled it."
Bonds walked his next three times up and left the game in the eighth for a pinch-runner. He raised his helmet with his left hand, then his right, and drew a standing ovation from many fans who chanted his name.
The Padres won 3-2 in 12 innings.
Bonds said he would not start Sunday, which would give him a chance to break the record at home beginning Monday night.
Bonds hit the tying homer off a former Giants draft pick who was suspended in 2005 for violating baseball's minor league steroids policy.
Selig's statement on Bonds
Baseball commissioner Bud Selig released a statement after Barry Bonds tied the all-time home run record:
"Congratulations to Barry Bonds as he ties Major League Baseball's home run record. No matter what anybody thinks of the controversy surrounding this event, Mr. Bonds' achievement is noteworthy and remarkable. "As I said previously, out of respect for the tradition of the game, the magnitude of the record and the fact that all citizens in this country are innocent until proven guilty, either I or a representative of my office will attend the next few games and make every attempt to observe the breaking of the all-time home run record."
"I don't think we're here to discuss those matters," Bonds said.
Earlier in the day, Alex Rodriguez hit his 500th home run and spoke with Selig, who reportedly has not spoken with Bonds in several years.
Bonds had been closely monitoring A-Rod's quest in the past week -- like Bonds, Rodriguez took advantage of his first opportunity of the game, connecting at Yankee Stadium.
Both Bonds and Rodriguez gave their batting helmets to the Hall of Fame. Bonds said his helmet from 756 would also go to Cooperstown, and that his uniform from the record-breaker would probably wind up there someday.
Bonds' milestone shot clunked off an advertising sign on the facade and fell into the navy blue bleachers below -- right under the main scoreboard featuring a giant photo of the smiling slugger.
A fan sitting in that area threw back a ball onto the field, but that was not the historic one. Instead, the souvenir wound up in the hands of 33-year-old plumber Adam Hughes of La Jolla, and he was whisked to a secure area so the specially marked ball could be authenticated.
Hughes said he hadn't decided what to do with the prize.
"I don't know what direction I am going," Hughes said.
Bonds walked a half-dozen steps after connecting, clapped his hands and rounded the bases with no hint of a smile.
After Bonds crossed the plate, he lifted his batboy son, Nikolai, and carried him several steps in an embrace.
The 43-year-old star got a hug from teammate Ryan Klesko, and Bonds slowly walked through a greeting line of other Giants. Moments later, he walked over to the field-level seats and kissed 8-year-old daughter Aisha and wife, Liz, through the screen.
Bonds then lifted his cap before going to the far end of the dugout and hugging Sue Burns, the wife of late Giants ownership partner Harmon Burns.
The home run came at 7:29 p.m. PDT as much of the country was getting ready to head to bed. By the time Bonds did postgame interviews, most fans surely were asleep.
Only two other major league games were being played when Bonds connected. The news was met with scattered boos at Dodger Stadium and Seattle.
Bonds Likes San Diego

The Padres likely can't wait to see Barry Bonds leave town. Bonds hit his 755th career homer Saturday against San Diego, but he's hit more homers throughout his career against the Padres than any other team.

Opponent

Bonds' career HR

Padres
87
Phillies
64
Dodgers
64
Expos/Nationals
63
Reds
59
"It's nice to see Barry get it over with. Now, let's see how many more he hits," Boston star David Ortiz said.
Mariners hitting instructor Jeff Pentland coached Bonds at Arizona State.
"I think he is probably the best hitter since Babe Ruth, but that's my opinion. I think the things he's done, the records he's broken. He's stood out amongst the players of today and been way above them, head and shoulders above them for his career," he said.
The godson of Willie Mays and the son of an All-Star outfielder, Bonds seemed destined for greatness from the start. Funny thing, his speed drew a lot more attention than his strength when he broke into the majors as a lanky leadoff hitter.
Even when Bonds became a threat to Aaron's record, many fans thought age would slow him down. Instead, his power numbers surged -- as did speculation about steroid use.
Bonds steadfastly denied that he knowingly used performance-enhancing drugs and let the allegations bounce off him, the same way fastballs deflected off his bulky body armor.
Choking up an inch or so on his favorite maple bats, No. 25 became the No. 1 target for boobirds outside the Bay Area. He has remained beloved back home through all of the off-field issues, refusals to sign autographs and his own surly behavior.
Bonds was constantly shadowed by doubts rather than showered in affection the way Mark McGwire was nearly a decade ago.
The whole baseball world -- the whole country, really -- joined the celebration when McGwire broke Roger Maris' season home run record in 1998. After Big Mac launched No. 62, he pointed to heaven, hoisted his son and hugged Sammy Sosa.
Yet that story did not have a happy ending. Disgraced by a poor performance in front of a congressional panel looking into steroids, McGwire basically became a recluse and didn't come close in his first bid to make the Hall of Fame.
Bonds broke McGwire's mark of 70, hitting 73 homers in 2001. Ever since, he's been on a path toward Aaron, a journey that hasn't been full of joy. Bonds has been hobbled by bad knees and bickered with Giants management, and his chase was hardly backed by Selig.
The commissioner is a close friend of Aaron's, who began and ended his career in Selig's native Milwaukee.
A lot of fans, in fact, are already rooting for the day when Bonds' record falls. While Sosa, Ken Griffey Jr. and Frank Thomas are next up among active players, Rodriguez is considered the most likely successor. The Yankees star just turned 32 and is well ahead of Bonds' pace at the same age.
That said, Bonds' quest was the main reason Giants owner Peter Magowan brought Bonds back for a 15th season in San Francisco, signing the slugger to a $15.8 million, one-year contract right before spring training.
Even with Bonds at 755, there is bound to be a split among many fans over who is the real home run champ.
There will be some who always consider Babe Ruth as the best -- those old films of him wearing a crown will last forever. Others will give that honor to Aaron, as much for his slugging as his quiet dignity in breaking Ruth's record in 1974.
While steroids tinged Bonds' chase, race was the predominant issue when Aaron took aim at Ruth's mark of 714.
Aaron dealt with hate mail and death threats from racist fans who thought a black man was not worthy of breaking the record set by a white hero, the beloved Babe. Bonds, too, has said he deals with racial issues and that threats have been made on his life at times.

Copyright 2007 by The Associated Press
SPONSORED HEADLINES
MORE MLB HEADLINES
MOST SENT STORIES ON ESPN.COM
756: BONDS PASSES AARON

Barry Bonds passed Hank Aaron to become Major League Baseball's new all-time home run leader when he belted No. 756 off Washington's Mike Bacsik.

NEWS
• Steroid talk kept Aaron away
• Bonds' No. 756 ball fetches over $750K in auction
• Mark Kreidler: No. 756 ball: Going, going... sold?
• Bids begin for Bonds' No. 755 and 756 HR balls
• Bonds handed key to city in San Francisco tribute
• Fan putting 756 ball up for auction
• Bonds hits No. 756
• Photo gallery of No. 756
• Diamond Daily: Ascending the throne
• New York man catches ball
• Bush called to congratulate Bonds
• Sadaharu Oh congratulates Bonds
• Selig meets with Mitchell instead
• Attorney keeping Bonds apprised of BALCO
• Action figures ready to hit shelves
• Aaron might "eventually" speak to Bonds
• Bonds gear goes on display at Hall
• Record-tying ball set for auction block


ANALYSIS
• Rob Neyer: Who's chasing Bonds?


• Keith Law: Up-and-coming sluggers


• Buster Olney: No comparing Bonds


• Rob Neyer: Don't forget Aaron's greatness


• Jim Caple's Off Base: Simply regret-a-ball
• Eric Karabell: Bonds' fantasy value


• Jim Caple: Aaron passes torch to Bonds
• Gene Wojciechowski: Barry has broken record
• Experts: Bonds as the new HR king
• Amy Nelson: How much will the record ball fetch?
• What they're saying about Bonds
• Tim Kurkjian: What if ...
• Jim Caple: Joining the masses in hopes of 756
• Eric Neel: Long-awaited No. 755 is one to savor
• Debate: Who's the greatest slugger of all time
• Imagine Sports: How would Aaron fare today?

SPORTSNATION
• Rank: Who could break Bonds' record?
• Poll: Do you consider Bonds the real HR champ?
• Rank: Is it the most respected sports record?
• Rank: Who are the greatest all-time HR hitters

VIDEO


• Watch Bonds hit No. 756
• Bonds on finally hitting No. 756
• Bonds still has more baseball in him
• Mike Bacsik on giving up No. 756
• Kirk Rueter on Bonds' achievement
• Hall of Fame case for Bonds
• Baseball Tonight breaks down No. 756
• Dusty Baker talks about Bonds
• Bonds speaks after breaking record
• Bonds: "The hardest part is over"
• Baseball Tonight: Is an asterisk needed?

AUDIO


• Baseball Today: Giants GM Brian Sabean
• Pedro Gomez: Bonds' record chase
• Mike Bascik Jr./Sr: Father, son on No. 756

• Buster Olney: Bonds is greatest of his time

• Bob Costas: Record handled with class

• Peter Gammons: Selig's eerie message

• Fay Vincent: Bonds' record was exciting

• Ernie Harwell: Accept Bonds as the new king


SPECIAL FEATURES
• Beyond 756 page: Everything on Bonds
• Milestone Meter: From 756 to 300 to 3,000
• ESPN.com: The Best On Bonds
• Slideshow: Reliving Hank Aaron's No. 715

PRE-755 CONTENT
• Jerry Crasnick: Ready to make the call
• Jayson Stark: Kuiper's the anti-Bonds
• Jim Caple: Bonds feeling no pressure
• Tim Kurkjian: Victims of landmark home runs
• Bonds' Town Hall: Did Bonds use steroids?


• Bonds' Town Hall: Did anyone know?


• Bonds' Town Hall: Media witch hunt


• Brokaw: The Long Winter of Henry Aaron

• Beyond 756: Chat with Amy Nelson
'47 Brand Men's San Francisco Giants Heritage Black/Orange Raglan Three-Quarter Sleeve Shirt Shop »