Queens man in San Francisco for one day catches famous ball
Updated:
August 9, 2007, 1:13 AM ET
ESPN.com news services
NEW YORK -- Matt Murphy's stopover in San Francisco included a pretty wild ride, and it wasn't on a cable car.
The 21-year-old college student who grew up near Shea Stadium emerged from a mad scramble at AT&T Park on Tuesday night with a bloodied face and the city's most-prized souvenir: the ball from Barry Bonds' record 756th home run.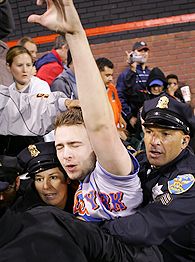 Lisa Blumenfeld/Getty ImagesPolice escort the fan who caught Barry Bonds' ball out of the stadium.
"I won the lottery," Murphy told The Daily News in a story posted on its Web site Wednesday. "I'm scraped up but nothing serious."
Murphy said the ball was "under lock and key."
"I'm going to be smart about what I do with it," he said. "Funny enough, I'm only keeping 51 percent of what the ball brings."
Murphy said the rest would go to a friend who went with him to the game, wearing an Alex Rodriguez jersey.
Murphy had a layover in San Francisco on his way to visit a friend in Australia. As of Wednesday, he was planning to catch a later flight.
One of Murphy's neighbors said the family is born-and-bred from Queens and that his mother grew up in the home.
"I think it's extraordinary, what a stroke of good luck. I hope they get a lot of money. They certainly deserve it. They're a very, very, very nice family," John Kroeger said.
But before Murphy celebrates his windfall, he should probably call his accountant.
By most estimates, the ball that put Bonds atop the list of all-time home run hitters with 756 would sell in the half-million dollar range on the open market or at auction.
That would instantly put Murphy in the highest tax bracket for individual income, where he would face a tax rate of about 35 percent, or about $210,000 on a $600,000 ball.
"It's an expensive catch," said John Barrie, a veteran tax lawyer with Bryan Cave LLP in New York who grew up watching the Giants play at Candlestick Park. "Once he took possession of the ball and it was his ball, it was income to him based on its value as of yesterday,"
Even if he does not sell the ball, Murphy would still owe the taxes based on a reasonable estimate of its value, according to Barrie. Capital gains taxes also could be levied in the future as the ball gains value, he said.
On the other hand, he said, if the ongoing federal investigation into steroid abuse among professional athletes takes a criminal turn for Bonds, the ball's value could go down -- which would likely allow Murphy to claim a loss.
Wearing a Mets jersey, Murphy went to the stadium and took his seat in the right-center field seats to see the Giants play Washington.
Then in the fifth inning, Bonds struck. The slugger sent a drive into the stands to break Hank Aaron's home run record.
"The first thing I saw once it hit was I'm sure somebody was coming out of that pile bloodied," Philadelphia Phillies star Ryan Howard said. "I'm sure they were in there scratching, clawing, scraping, punching, kicking, doing whatever they could do to get that ball."
That's about what happened, Murphy said.
"When I caught the ball, I just curled up under a bleacher and immediately there was a 30-person dogpile," Murphy told the News.
"I kept yelling, 'I got it! I got it!" he said. "The SFPD saved my life."
San Francisco police officer Ana Morales and her partner, Kevin Martin, were assigned to that section at the ballpark. When Bonds connected, "there was complete chaos," she told The Associated Press in a phone interview Wednesday from San Francisco.
Morales said the ball "hit something, bounced up and then as it was going down toward the ground, he [Murphy] leaned over and got it."
There was a massive pile of fans scrambling to get to the ball, and Murphy was on the bottom, Morales said. The officers began peeling people off the top.
"Everyone wanted to be a part of it and everybody wanted the ball," she said.
When they got to Murphy he was bent over and bloodied, with the ball in his hand. She told him: "Put the ball in your pocket and we will protect you."
Morales and Martin led Murphy to a secure area in the ballpark and Giants officials who authenticated the baseball.
"I didn't get to see the rest of the game, which kind of upset me," Murphy said. "My Mets jersey? I had to throw it out. It was trashed."
Morales said Murphy "didn't seem to want any publicity. He was a kid who just wanted to take his ball and go home."
Murphy grew up in Queens and when he's not in school, he lives in a tidy wood-framed house with his parents, grandmother and little brother.
Next-door neighbor Kay Mitchell said Murphy is a real clean-cut guy. "You never hear anything bad about him. He's just a nice college kid," she said.
Even though there were thousands of loyal Giants fans in attendance, Morales said she's happy that Murphy ended up with the ball because he seemed like a true fan of the game.
And anyway, she had consolation: "I got to touch it," she said.
Information from The Associated Press was used in this report.
756: BONDS PASSES AARON

Barry Bonds passed Hank Aaron to become Major League Baseball's new all-time home run leader when he belted No. 756 off Washington's Mike Bacsik.

NEWS
• Steroid talk kept Aaron away
• Bonds' No. 756 ball fetches over $750K in auction
• Mark Kreidler: No. 756 ball: Going, going... sold?
• Bids begin for Bonds' No. 755 and 756 HR balls
• Bonds handed key to city in San Francisco tribute
• Fan putting 756 ball up for auction
• Bonds hits No. 756
• Photo gallery of No. 756
• Diamond Daily: Ascending the throne
• New York man catches ball
• Bush called to congratulate Bonds
• Sadaharu Oh congratulates Bonds
• Selig meets with Mitchell instead
• Attorney keeping Bonds apprised of BALCO
• Action figures ready to hit shelves
• Aaron might "eventually" speak to Bonds
• Bonds gear goes on display at Hall
• Record-tying ball set for auction block


ANALYSIS
• Rob Neyer: Who's chasing Bonds?


• Keith Law: Up-and-coming sluggers


• Buster Olney: No comparing Bonds


• Rob Neyer: Don't forget Aaron's greatness


• Jim Caple's Off Base: Simply regret-a-ball
• Eric Karabell: Bonds' fantasy value


• Jim Caple: Aaron passes torch to Bonds
• Gene Wojciechowski: Barry has broken record
• Experts: Bonds as the new HR king
• Amy Nelson: How much will the record ball fetch?
• What they're saying about Bonds
• Tim Kurkjian: What if ...
• Jim Caple: Joining the masses in hopes of 756
• Eric Neel: Long-awaited No. 755 is one to savor
• Debate: Who's the greatest slugger of all time
• Imagine Sports: How would Aaron fare today?

SPORTSNATION
• Rank: Who could break Bonds' record?
• Poll: Do you consider Bonds the real HR champ?
• Rank: Is it the most respected sports record?
• Rank: Who are the greatest all-time HR hitters

VIDEO


• Watch Bonds hit No. 756
• Bonds on finally hitting No. 756
• Bonds still has more baseball in him
• Mike Bacsik on giving up No. 756
• Kirk Rueter on Bonds' achievement
• Hall of Fame case for Bonds
• Baseball Tonight breaks down No. 756
• Dusty Baker talks about Bonds
• Bonds speaks after breaking record
• Bonds: "The hardest part is over"
• Baseball Tonight: Is an asterisk needed?

AUDIO


• Baseball Today: Giants GM Brian Sabean
• Pedro Gomez: Bonds' record chase
• Mike Bascik Jr./Sr: Father, son on No. 756

• Buster Olney: Bonds is greatest of his time

• Bob Costas: Record handled with class

• Peter Gammons: Selig's eerie message

• Fay Vincent: Bonds' record was exciting

• Ernie Harwell: Accept Bonds as the new king


SPECIAL FEATURES
• Beyond 756 page: Everything on Bonds
• Milestone Meter: From 756 to 300 to 3,000
• ESPN.com: The Best On Bonds
• Slideshow: Reliving Hank Aaron's No. 715

PRE-755 CONTENT
• Jerry Crasnick: Ready to make the call
• Jayson Stark: Kuiper's the anti-Bonds
• Jim Caple: Bonds feeling no pressure
• Tim Kurkjian: Victims of landmark home runs
• Bonds' Town Hall: Did Bonds use steroids?


• Bonds' Town Hall: Did anyone know?


• Bonds' Town Hall: Media witch hunt


• Brokaw: The Long Winter of Henry Aaron

• Beyond 756: Chat with Amy Nelson

MOST SENT STORIES ON ESPN.COM