Helmet, other gear from homers 755, 756 on display at Hall
Updated:
August 10, 2007, 6:32 PM ET
Associated Press
COOPERSTOWN, N.Y. -- Excited kids in baseball caps swarmed around the helmets from Barry Bonds' home run record at-bats that went on display here Friday, while other fans showed the same sort of ambivalence that has dogged the slugger's career.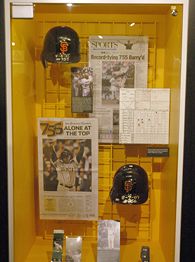 AP Photo/Tim RoskeThe helmet Bonds wore when he tied and broke the home run record, as well as other items from those games, went on display at the Hall of Fame.
The helmet Bonds wore when he hit homer No. 755 to tie Hank Aaron's record -- and the one he wore Tuesday as he hit record-breaking No. 756 -- debuted under glass at the Hall of Fame early Friday. Also displayed were plate umpire John Hirschbeck's ball-strike clicker, a score sheet from the game and a page from the San Francisco Chronicle featuring a picture of Bonds raising his arms in exultation under the headline "ALONE AT THE TOP." "This is him!" said 13-year-old Matthew Somerville of Suffield, Conn., as he quickstepped toward the display. Then he started shooting and narrating a short video: "This is the helmet Barry Bonds wore when he hit home run No. 755 ..." Somerville shrugged off the steroid controversy that has shadowed Bonds. Like a lot of fans who sought out the exhibit, the teen pitcher credited Bonds with being a great player. "Whether he used steroids or not, it's a tremendous achievement," Somerville said as he stood before the glass. "It's incredible to be less than five feet away from history!" Twelve-year-old Mike Errigo of Silver Spring, Md., smiled big for a picture with his dad in front of the adjacent picture of Bonds at the plate watching one sail away. He said he was going to tell his grandkids how he saw Bonds break the record on TV. Patricia Akin-Trexler of Dallas, Texas, and her new husband made a beeline to the Bonds exhibit and took time to savor it. "It was a thrill, the height of the honeymoon -- oops!" she said with a laugh. Other fans were less impressed. While no one said outright there should be an asterisk on the exhibit, a few Hall visitors questioned Bonds' accomplishment. "It's always going to be under a shroud, I think, unless he comes clean," said Darrell Short of Warner Robins, Ga. After looking at Aaron's display in another corner of the museum, Michael Laracuente of Newburgh, N.Y., remembered the pride he felt as a black teen when Aaron took the record in 1974. He said Bonds, with his abrasive public personality, inspires more indifferent feelings. Over by the Babe Ruth exhibit, Bud Street said he had no interest in seeing the Bonds artifacts. Street still recalls the thrill of going to Fenway Park in Boston as an 11-year-old in 1934 and watching Ruth play (he struck out three times). The Barnstable, Mass., native thinks Bonds' career is too clouded to compare favorably with the other great sluggers in the Hall. "It's a tough call," Street said, "but I think Ruth and Aaron are still ahead of him." The Hall had received Bonds artifacts before this week, including spikes from when he became the first player with 400 homers and 400 stolen bases. Bonds will not be eligible for consideration for the Hall of Fame until after he retires. A few fans on Friday insisted he should be a lock. "It would be weird if he's the home run king but he's not in the Hall of Fame," Errigo said.

Copyright 2007 by The Associated Press
SPONSORED HEADLINES
MORE MLB HEADLINES
MOST SENT STORIES ON ESPN.COM
756: BONDS PASSES AARON

Barry Bonds passed Hank Aaron to become Major League Baseball's new all-time home run leader when he belted No. 756 off Washington's Mike Bacsik.

NEWS
• Steroid talk kept Aaron away
• Bonds' No. 756 ball fetches over $750K in auction
• Mark Kreidler: No. 756 ball: Going, going... sold?
• Bids begin for Bonds' No. 755 and 756 HR balls
• Bonds handed key to city in San Francisco tribute
• Fan putting 756 ball up for auction
• Bonds hits No. 756
• Photo gallery of No. 756
• Diamond Daily: Ascending the throne
• New York man catches ball
• Bush called to congratulate Bonds
• Sadaharu Oh congratulates Bonds
• Selig meets with Mitchell instead
• Attorney keeping Bonds apprised of BALCO
• Action figures ready to hit shelves
• Aaron might "eventually" speak to Bonds
• Bonds gear goes on display at Hall
• Record-tying ball set for auction block


ANALYSIS
• Rob Neyer: Who's chasing Bonds?


• Keith Law: Up-and-coming sluggers


• Buster Olney: No comparing Bonds


• Rob Neyer: Don't forget Aaron's greatness


• Jim Caple's Off Base: Simply regret-a-ball
• Eric Karabell: Bonds' fantasy value


• Jim Caple: Aaron passes torch to Bonds
• Gene Wojciechowski: Barry has broken record
• Experts: Bonds as the new HR king
• Amy Nelson: How much will the record ball fetch?
• What they're saying about Bonds
• Tim Kurkjian: What if ...
• Jim Caple: Joining the masses in hopes of 756
• Eric Neel: Long-awaited No. 755 is one to savor
• Debate: Who's the greatest slugger of all time
• Imagine Sports: How would Aaron fare today?

SPORTSNATION
• Rank: Who could break Bonds' record?
• Poll: Do you consider Bonds the real HR champ?
• Rank: Is it the most respected sports record?
• Rank: Who are the greatest all-time HR hitters

VIDEO


• Watch Bonds hit No. 756
• Bonds on finally hitting No. 756
• Bonds still has more baseball in him
• Mike Bacsik on giving up No. 756
• Kirk Rueter on Bonds' achievement
• Hall of Fame case for Bonds
• Baseball Tonight breaks down No. 756
• Dusty Baker talks about Bonds
• Bonds speaks after breaking record
• Bonds: "The hardest part is over"
• Baseball Tonight: Is an asterisk needed?

AUDIO


• Baseball Today: Giants GM Brian Sabean
• Pedro Gomez: Bonds' record chase
• Mike Bascik Jr./Sr: Father, son on No. 756

• Buster Olney: Bonds is greatest of his time

• Bob Costas: Record handled with class

• Peter Gammons: Selig's eerie message

• Fay Vincent: Bonds' record was exciting

• Ernie Harwell: Accept Bonds as the new king


SPECIAL FEATURES
• Beyond 756 page: Everything on Bonds
• Milestone Meter: From 756 to 300 to 3,000
• ESPN.com: The Best On Bonds
• Slideshow: Reliving Hank Aaron's No. 715

PRE-755 CONTENT
• Jerry Crasnick: Ready to make the call
• Jayson Stark: Kuiper's the anti-Bonds
• Jim Caple: Bonds feeling no pressure
• Tim Kurkjian: Victims of landmark home runs
• Bonds' Town Hall: Did Bonds use steroids?


• Bonds' Town Hall: Did anyone know?


• Bonds' Town Hall: Media witch hunt


• Brokaw: The Long Winter of Henry Aaron

• Beyond 756: Chat with Amy Nelson