Bonds, fans enjoy controversy-free San Francisco celebration
Updated:
August 25, 2007, 1:47 AM ET
Associated Press
SAN FRANCISCO -- Barry Bonds basked in hometown adulation Friday during a celebration where he received the key to the city and heard not a mention of the steroid controversy that dogged him on the way to the career home run record.
Bonds was joined on a stage at Justin Herman Plaza by family, teammates, politicians and Giants greats Willie McCovey and Willie Mays. The sometimes prickly slugger smiled broadly as he thanked his parents, Mayor Gavin Newsom, team owner Peter Magowan and especially the Giants faithful.
"Love was giving me that strength," Bonds said. "You the fans, the city of San Francisco -- that is why I'm the player I am today."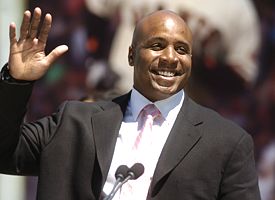 Noah Berger/AP PhotoThe crowd in San Francisco made Barry Bonds feel at home during Friday's celebration.
With throngs in Giants black-and-orange cheering their hero, the lovefest differed sharply from the scathing insults heaped on Bonds at rival ballparks before his record-breaking 756th home run Aug. 7. Across the country, Bonds has faced detractors wielding placards inscribed with asterisks -- baseball-fan shorthand for the belief that his record is hopelessly tainted by allegations of steroid abuse.
"Everybody in San Francisco is afraid to say anything bad about Barry," said Stephen Quirk, 33, a San Francisco resident originally from Boston who still roots for the Red Sox. "If you go to any other city, it's like the complete opposite."
In San Francisco on Friday, there wasn't an asterisk in sight.
But even among Bonds supporters in the crowd, an undercurrent of disenchantment was in evidence -- if not with the record-holder himself, then with a league plagued for years with suspicions of widespread performance-enhancing drug abuse.
"Even the pitchers were most likely doing it. Therefore I think the record stands," said Art Gomez, 36, of Sacramento, who was in town with his three kids, including a young son he described as a big Bonds fan.
The influence of Bonds' achievement on children was a major theme of the day's events. Video tributes from Joe Montana, Wayne Gretzky and Michael Jordan culminated with a reprise of previous home run record-holder Hank Aaron's message to the slugger expressing hope that Bonds' 756th homer "will inspire others to chase their own dream."
Giants broadcaster Mike Krukow said from the stage that he recently met three kids in one day at AT&T Park who all said they wanted to grow up to be like Barry Bonds. And Bonds himself said he hoped his home runs would inspire the kids in the crowd.
Larry Pagel of Oshkosh, Wis., and his two sons came to observe the festivities as part of their vacation in San Francisco. Each was decked out in Milwaukee Brewers regalia in anticipation of Friday night's game against the Giants. But they didn't all share the same opinion of Bonds.
"I think it's just a major accomplishment no matter what anybody thinks," Pagel said of Bonds' record-breaking shot. "If he took [steroids], look at all the other people who probably took them that need an asterisk. It's still a human body hitting a home run ball."
But Pagel's son Tanner, 12, wasn't so sure Bonds could serve as a good role model for himself and his friends. The record books should probably carry a disclaimer next to Bonds' name, he said, adding "people don't just gain muscles like that."
Bonds has long denied using performance-enhancing drugs. Federal officials are investigating whether Bonds lied to a grand jury in 2003 when he testified that he never knowingly took steroids.
Regardless of the truth of the allegations, said Carlos Gonzalez, who donned his Barry Bonds jersey and took time off work to attend the celebration, Bonds deserves to be feted.
"He was a Hall of Famer even before the controversy erupted," Gonzalez, 34, said. "It doesn't take away the fact that he has talent to play the game."

Copyright 2007 by The Associated Press
756: BONDS PASSES AARON

Barry Bonds passed Hank Aaron to become Major League Baseball's new all-time home run leader when he belted No. 756 off Washington's Mike Bacsik.

NEWS
• Steroid talk kept Aaron away
• Bonds' No. 756 ball fetches over $750K in auction
• Mark Kreidler: No. 756 ball: Going, going... sold?
• Bids begin for Bonds' No. 755 and 756 HR balls
• Bonds handed key to city in San Francisco tribute
• Fan putting 756 ball up for auction
• Bonds hits No. 756
• Photo gallery of No. 756
• Diamond Daily: Ascending the throne
• New York man catches ball
• Bush called to congratulate Bonds
• Sadaharu Oh congratulates Bonds
• Selig meets with Mitchell instead
• Attorney keeping Bonds apprised of BALCO
• Action figures ready to hit shelves
• Aaron might "eventually" speak to Bonds
• Bonds gear goes on display at Hall
• Record-tying ball set for auction block


ANALYSIS
• Rob Neyer: Who's chasing Bonds?


• Keith Law: Up-and-coming sluggers


• Buster Olney: No comparing Bonds


• Rob Neyer: Don't forget Aaron's greatness


• Jim Caple's Off Base: Simply regret-a-ball
• Eric Karabell: Bonds' fantasy value


• Jim Caple: Aaron passes torch to Bonds
• Gene Wojciechowski: Barry has broken record
• Experts: Bonds as the new HR king
• Amy Nelson: How much will the record ball fetch?
• What they're saying about Bonds
• Tim Kurkjian: What if ...
• Jim Caple: Joining the masses in hopes of 756
• Eric Neel: Long-awaited No. 755 is one to savor
• Debate: Who's the greatest slugger of all time
• Imagine Sports: How would Aaron fare today?

SPORTSNATION
• Rank: Who could break Bonds' record?
• Poll: Do you consider Bonds the real HR champ?
• Rank: Is it the most respected sports record?
• Rank: Who are the greatest all-time HR hitters

VIDEO


• Watch Bonds hit No. 756
• Bonds on finally hitting No. 756
• Bonds still has more baseball in him
• Mike Bacsik on giving up No. 756
• Kirk Rueter on Bonds' achievement
• Hall of Fame case for Bonds
• Baseball Tonight breaks down No. 756
• Dusty Baker talks about Bonds
• Bonds speaks after breaking record
• Bonds: "The hardest part is over"
• Baseball Tonight: Is an asterisk needed?

AUDIO


• Baseball Today: Giants GM Brian Sabean
• Pedro Gomez: Bonds' record chase
• Mike Bascik Jr./Sr: Father, son on No. 756

• Buster Olney: Bonds is greatest of his time

• Bob Costas: Record handled with class

• Peter Gammons: Selig's eerie message

• Fay Vincent: Bonds' record was exciting

• Ernie Harwell: Accept Bonds as the new king


SPECIAL FEATURES
• Beyond 756 page: Everything on Bonds
• Milestone Meter: From 756 to 300 to 3,000
• ESPN.com: The Best On Bonds
• Slideshow: Reliving Hank Aaron's No. 715

PRE-755 CONTENT
• Jerry Crasnick: Ready to make the call
• Jayson Stark: Kuiper's the anti-Bonds
• Jim Caple: Bonds feeling no pressure
• Tim Kurkjian: Victims of landmark home runs
• Bonds' Town Hall: Did Bonds use steroids?


• Bonds' Town Hall: Did anyone know?


• Bonds' Town Hall: Media witch hunt


• Brokaw: The Long Winter of Henry Aaron

• Beyond 756: Chat with Amy Nelson

MOST SENT STORIES ON ESPN.COM