Winters, umpire in Bradley blowup, suspended for season
Updated:
September 27, 2007, 9:10 AM ET
ESPN.com news services
NEW YORK -- Umpire Mike Winters was suspended by Major League Baseball for the remainder of the regular season on Wednesday because of his confrontation with San Diego's Milton Bradley last weekend.
The Padres claimed Winters baited Bradley, who has a history of losing his temper. Bradley tore a knee ligament when his manager spun him to the ground while trying to keep him from going after the umpire during Sunday's 7-3 loss to Colorado in San Diego.
Winters was suspended because the commissioner's office concluded he had used a profanity aimed at Bradley, a baseball official said, speaking on condition of anonymity because the reason for the suspension was not announced.
"It's something that's handled internally by MLB. They handle the umpires, the Padres don't," San Diego manager Bud Black said in San Francisco before his team played the Giants.
The 48-year-old Winters became a major league umpire in 1990 and worked the World Series in 2002 and last year. He will not work during the postseason, the baseball official said.
Law: The Right Call

Major League Baseball's decision to suspend umpire Mike Winters for the remainder of the regular season left Keith Law surprised -- and thrilled. Blog

Winters became the first umpire suspended since 2003, when the commissioner's office announced that Bruce Froemming and John Hirschbeck each were receiving 10-day penalties. Froemming made an anti-Semitic slur about an umpiring administrator and baseball said Hirschbeck threatened a senior official in the commissioner's office.
ESPN has learned that Froemming never served the suspension, however.
Bob Watson, baseball's vice president in charge of discipline, has not decided whether to penalize Bradley, the commissioner's office said.
Padres closer Trevor Hoffman compared the quick action by baseball commissioner Bud Selig's office to decisions by the NFL's Roger Goodell and the NBA's David Stern.
"You can see what commissioner Goodell has done in the NFL, you've seen how commissioner Stern takes care of business," Hoffman said. "This is an opportunity for our commissioner to have a stronger voice in all facets of the game. It's an opportunity for commissioner Selig to have a stronger voice with how the players react. Bob Watson hears a lot of this stuff, but it doesn't seem to be deterring anything."
Hirschbeck, president of the World Umpires Association, declined comment.
"I want to wait until I have a chance to talk to our attorneys in the morning," Hirschbeck said.
Bradley tore the anterior cruciate ligament in his right knee and was scheduled to have surgery Thursday in Cincinnati, which is expected to sideline him for at least six months. His injury was a blow to the Padres, who began Wednesday with a one-game lead over Colorado and Philadelphia in the NL wild-card race.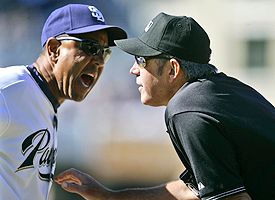 AP Photo/Lenny IgnelziMike Winters (right), seen yelling at Padres first base coach Bobby Meacham in Sunday's Colorado-San Diego game, has been suspended in connection with his confrontation with Milton Bradley in the same game.
"I think it's good to tell the players that the umpires are going to be kept in line. It'll be good to retain order during games knowing there's going to be repercussions if you let things get out of hand," Padres second baseman Geoff Blum said. "It's got to be satisfying to Milton knowing that what he said was true and that some consequence came of it."
Trouble began when plate umpire Brian Runge asked Bradley if he had flipped his bat in the ump's direction after taking a called third strike that ended the fifth inning. Runge indicated that Winters told him that Bradley had.
The dispute escalated after Bradley singled, then asked Winters if he told Runge he threw his bat.
First base coach Bobby Meacham and Black said Winters used profanity. Bradley called it "the most unprofessional and most ridiculous thing I've ever seen."
"It's terrible. And now, because of him, my knee's hurt," he said after the game. "If this costs me my season because of that, he needs to be reprimanded. I'm taking some action. I'm not going to stand pat and accept this because I didn't do nothing wrong."
The remainder of Winters' crew -- Froemming, Runge and Mark Wegner -- is scheduled to work San Diego's season-ending series at Milwaukee this weekend.
Information from The Associated Press is included in this report
SPONSORED HEADLINES
MORE MLB HEADLINES
MOST SENT STORIES ON ESPN.COM
EDITORS' PICKS
Ranking baseball's 30 farm systems for 2015.
Keith Law

What Ichiro Suzuki have left in the tank?
Jerry Crasnick »

Terry Francona wants the Indians to be better on defense in 2015.
Buster Olney