Source: Schoeneweis received 'roids; lefty denies it
Updated:
October 4, 2007, 10:58 PM ET
By
Shaun Assael
| ESPN The Magazine
Scott Schoeneweis, the veteran New York Mets reliever and a survivor of testicular cancer, received six steroid shipments from Signature Pharmacy while playing for the Chicago White Sox in 2003 and 2004, ESPN has learned.
According to a source in Florida close to the ongoing investigation of Signature, Schoeneweis' name appears on packages that were sent to Comiskey Park while the White Sox were battling to win the AL Central title in 2003. Two more shipments arrived at the stadium in 2004, months before Schoeneweis underwent arthroscopic surgery on his left elbow.

Relief Pitcher
New York Mets
2007 Season Stats

| | | | | | |
| --- | --- | --- | --- | --- | --- |
| GM | W | L | BB | K | ERA |
| 70 | 0 | 2 | 28 | 41 | 5.03 |
The doctor who prescribed the drugs, Ramon Scruggs of the New Hope Health Center in Tustin, Calif., also wrote prescriptions for Toronto third baseman Troy Glaus. Scruggs has since been suspended by California's state medical board on charges that he "prescribed approximately 6,073 prescriptions of dangerous drugs or controlled substances over the Internet without a good faith examination of the patients."
After the 2004 season, Schoeneweis was traded to Toronto, where he had two up-and-down years. The Cincinnati Reds signed him in 2006 and a strong finish convinced the Mets to offer him a $10.8 million, three-year deal. The 33-year-old Schoeneweis pitched 59 innings with a 5.03 ERA this year and was part of the bullpen collapse that caused the Mets to miss the postseason after having a seven-game lead in September.
Schoeneweis told the New York Daily News that he has never heard of Signature Pharmacy or received shipments from Florida.
"I don't even know what that is," Schoeneweis said, according to the Daily News. "Steroids in Florida? I never received anything from Florida. I'm not going to comment. I never even heard of it."
A Mets spokesman said the team had no knowledge of the situation and no comment on the report, according to the Daily News.
Major League Baseball spokesman Rich Levin said the league will investigate the allegations and most likely question Schoeneweis, according to The New York Times.
In a February interview with the New York Post, Schoeneweis, a New Jersey native, opened up about his bout with testicular cancer. He said he was diagnosed before his sophomore year at Duke in 1993 -- nine years before, according to the source, Schoeneweis received his first shipment from Signature.
Talking to the Post, Schoeneweis said surgery eliminated the tumor, but that his doctors wanted him to undergo an additional six months of chemotherapy. Since he didn't want to risk his sophomore season, he said his doctors "gave me the six months worth of chemo in three months."
[+] Enlarge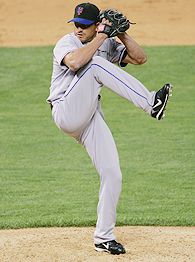 Doug Pensinger/Getty ImagesScott Schoeneweis was a member of the Mets team that collapsed this season.
As Schoeneweis told reporter Mark Hale, he was so weak afterward that he couldn't open a refrigerator door. After losing 20 pounds, Schoeneweis rallied to make the team again, but he suffered an elbow injury that required Tommy John surgery. He returned for a successful senior season and in 1996 pitched for the U.S. National Team.
The source who reviewed the invoices said that Schoeneweis spent $1,160 on the steroids. The packages he received on May 23 and June 25, 2003, contained 10 milliliter bottles of both testosterone and stanozolol. The package sent on Sept. 3 had double the dose of stanozolol -- the same drug that caused Rafael Palmiero to be suspended for 10 games in 2005 after it showed up in his urine. The last three shipments -- on Nov. 18, 2003, and April 15 and June 24, 2004 -- contained one 10-milliliter bottle of testosterone.
Gary Wadler, a physician and member of the World Anti-Doping Agency, said that while it might make sense for someone with hormone deficiencies to take testosterone, he had never heard of anyone taking stanozolol to help with the affliction.
"It's not an approved use, as far as I'm aware of," he said.
The disclosure about Schoeneweis is the latest to emerge from a year-long probe into Signature being conducted by Albany, N.Y., district attorney David Soares. Last month, Sports Illustrated reported that Baltimore outfielder Jay Gibbons received shipments of steroids and growth hormone from the pharmacy between 2003 and 2005. Gibbons met with MLB officials on Sept. 17, afterward telling reporters he was "happy to answer all of their questions." He did not elaborate.
Also last month, the Daily News reported that St. Louis Cardinals outfielder Rick Ankiel received shipments of HGH from Signature in 2004.
Soares is accusing Signature's owners, Stan and Naomi Loomis, of running a prescription mill in which doctors furnished prescriptions online for as little as $25 each without ever meeting patients. The married pharmacists are charged with unlawfully distributing steroids and other drugs.
Another 21 people have been indicted and 10 have pleaded guilty, including five doctors.
Schoeneweis is the second Mets reliever to be tainted by steroid allegations. Guillermo Mota missed the first 50 games of this past season after testing positive for performance-enhancing drugs.
Shaun Assael is a senior writer for ESPN The Magazine.
• Senior writer for ESPN The Magazine
• Author of "Wide Open: Days and Nights on the NASCAR Tour"; the New York Times best-selling "Sex, Lies and Headlocks"; and "Steroid Nation"
SPONSORED HEADLINES
MORE MLB HEADLINES
MOST SENT STORIES ON ESPN.COM
PERFORMANCE-ENHANCING DRUGS
The sports world finds itself under siege by a series of investigations into the illegal distribution of performance-enhancing drugs. Steroids. Human growth hormone. West Coast. East Coast. Baseball. Football. Boxing. It's an epidemic.
News
December 2007
•
Players' union files grievance on Guillen's behalf
•
Mitchell Report due next week
•
Guillen, Gibbons suspended 15 days
•
Chart: Players who have violated MLB policy
•
Sources: HGH suspension in works for Guillen
November 2007
• Angels owner: Mitchell report will include names
• HBO to turn Bonds steroids book into movie
• BALCO figures fear leaks
• Personal trainer pleads guilty to distribution
• Union: 11 free agents sought in Mitchell talks
• China promises to bust doping industry
• Radomski's sentencing delayed until December
• Matthews Jr. discusses HGH allegations with MLB
• Report: Guillen, Williams bought steroids

October 2007
•
Top lawyer defends MLB testing procedures
•
Report: Teams get advance notice of drug tests
•
Indians' Byrd admits to using HGH
•
NY raid nets $7.2 million in growth hormone
•
Union: Mitchell didn't offer to share evidence
•
Report: Mitchell gets papers from ex-Mets aide
•
Sources: Mitchell's report to reveal many names
•
MLB may suspend players who got banned drugs
September 2007
•
Source: Schoeneweis received steroids shipments
•
DEA pulls off series of steroid raids
•
ESPN The Magazine: China's open drug supply
•
Ankiel meets with MLB officials on HGH report
•
Report: MLB eyes use of HGH blood test in '08
•
Gibbons meets with MLB officials
•
Albany sits down with Mitchell Commission reps
•
MLB considers adding fertility drugs to banned list
•
MLB wants D.A.'s cooperation in pharmacy probe
•
MLB requests meeting with Gibbons
•
Report: Orioles' Gibbons received steroids, HGH
•
Report: Pharmacy shipped steroids to Glaus
•
Report: Ankiel linked to HGH
|
Gammons

•
Olney blog: 1998 all over again?
•
Harrison cooperated with prosecutors
•
Harrison suspended for four games by NFL
August 2007
•
Report: Ex-MLB clubhouse man names names
July 2007
•
Fla. man pleads guilty to steroid sales conspiracy
•
Judge denies request to release names in Grimsley case
•
Report: Feds provided players names to Mitchell
•
Feds: Mitchell got incomplete affidavit
June 2007
•
Ex-BALCO prosecutor says probe could end soon
May 2007
•
Sports leaders, feds discuss fight against steroids
•
O's quiet as steroids speculation spins
•
Mitchell seeks medical records
•
Former doc guilty in prescription scam
From The Archives
•
The Dope On Steroids
•
Mets did little to discourage steroid use
•
E-Ticket: Who knew?
Analysis
•
Howard Bryant: Steroids, HGH and the pennant races
•
Buster Olney: Blood test request on horizon

•
Jayson Stark: Applying double standards
•
Buster Olney: 1998 all over again?
•
Rob Neyer: No big deal

•
Ankiel timeline
•
Peter Gammons: Stuff of legend