If positive test is an issue, Bonds' defense team has options
Originally Published:
December 6, 2007
By
Mike Fish
| ESPN.com
For now, it's a fascinating nugget of information in the federal indictment against Barry Bonds on perjury and obstruction of justice charges. The indictment reads, in part, "During the criminal investigation, evidence was obtained including positive tests for the presence of anabolic steroids and other performance-enhancing substances for Bonds and other professional athletes."
But if the case against Bonds goes to trial, the reliability of the government's claim that it has evidence of a positive test for Bonds in 2000 could be open to serious challenge, defense attorneys and doping experts told ESPN.com.
According to the indictment, anabolic steroids were detected in Bonds' system during a November 2000 test, the results of which were obtained by federal agents during a Sept. 3, 2003, raid of the Bay Area Laboratory Co-Operative (BALCO), the Burlingame, Calif.-based supplements lab at the center of the steroids scandal. Some of the tests on Bonds and other BALCO-affiliated athletes were conducted by the sports testing division of Quest Diagnostics, which was then located in San Diego.
It isn't clear how crucial or relevant the positive test result will be in the trial. Prosecutors have other evidence they think will prove Bonds used steroids, and the test result could corroborate that. If the government establishes that he actually used steroids, the case the prosecution needs to make is that he knew he was using and lied about it.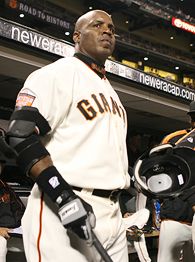 Phil Carter/US PresswireIf the government needs to prove that the positive test result it obtained from BALCO came from Barry Bonds' urine, it might have trouble.
The test was a private, outside-the-workplace drug screening, and strict protocols were not followed. Bonds' urine sample was mailed by BALCO officials to the Quest Diagnostics lab, which might pose a problem for the government. Typically in the drug testing of athletes, a trained collector of the same gender witnesses the sample being provided, and a paper trail documents the sealing of the sample as well as the place and time of every other human contact with it.
"It is unclear from the indictment how much of the case is based on those tests," said Howard Jacobs, an attorney who has represented high-profile athletes Floyd Landis and Marion Jones in doping cases. "If a lot of it is based on that, I think they have got some serious problems. You're in court with a 'beyond a reasonable doubt' standard in a criminal case. And if you can't definitively link those samples to Bonds and link every step of movement, forget it."
Bonds' legal team might have multiple options to pursue as it challenges the result, chief among them questioning whether the positive test even belongs to Bonds.
Barb Short, spokesperson for Quest Diagnostics, confirmed that the company performed testing for BALCO, and told ESPN.com that it turned over documents in 2004 after being contacted by federal authorities. Short said Quest was advised, at the time, that it was not a target of the investigation.
Short said "there is no documentation regarding the possession and handling of the specimen prior to its arrival at our facility" in the case of specimens received by Quest for which chain of custody is not a priority.
"The government would have to establish that every link in the chain of custody of the sample that was tested by Quest was documented, and that they actually have evidence to demonstrate who took it from place to place," said defense attorney Tim Heaphy, who has represented former 100-meter world record-holder Tim Montgomery in a fraud case. "It sounds like what Quest is saying is that they didn't get that documentation as to how it arrived to them. Was it Bonds himself or is it somebody else's?
"It may be that [the government] argues, 'Well, your honor, we don't have this link satisfied, but there is a pretty good basis here to show that this is Barry Bonds' sample, and therefore you ought to let it in and let the jury decide if there is any question.'"
In the sports arena, at least, adhering to protocol is critical to a successful drug-testing case. Referring to the collection of samples, Dr. Donald Catlin, head of the Anti-Doping Research Institute in Los Angeles, recently told the Wall Street Journal: "The whole system of testing grinds to a halt if the samples aren't perfectly collected. That means the right sample in the right bottle and the proper numbers and the proper name, and the chain of custody. It all starts with the collection."
Catlin declined comment about Bonds' specimen when contacted by ESPN.com, citing his former role as director of the UCLA lab that assisted the government in its case against BALCO.
Victor Conte, the BALCO founder who served four months in prison for dealing steroids, said his firm mailed hundreds of samples to Quest for what he termed "research purposes only." Conte said the lab reduced its charge from $120 to $80 per test because he agreed to cut out much of the paperwork and protocol.
"It had to do with determining whether there were positive test results that would come about from using certain substances," Conte said of the tests. "It had to do with, in some cases, determining whether or not things people were buying on the black market were the real deal or not. Some of this stuff on the market is phony. Another is to screen the Olympic-caliber athletes to make sure they weren't taking any tainted supplements."
As for Bonds, Conte said the 43-year-old slugger went through the same testing as other top athletes who came through the BALCO doors. The difference, Conte said, is that Bonds showed up with his personal trainer, Greg Anderson, and personal physician, Dr. Arthur Ting.
"It was just a part of an overall comprehensive package that went on," Conte said. "[BALCO vice president] Jim Valente went in there on a Saturday and met with a whole entourage of people, including Ting and Greg. And I am the one that set up all these, so we just pretty much had a whole package of tests that went out."
He added, "None of them had chain of custody. Not a single one."
Mike Fish is an investigative reporter for ESPN.com. He can be reached at michaeljfish@gmail.com.

BARRY BONDS INDICTED

Barry Bonds was indicted for perjury and obstruction of justice, charged with lying when he told a federal grand jury that he did not knowingly use performance-enhancing drugs.
News
•
Bonds pleads not guilty to refiled federal charges
•
Judge unseals Bonds testimony
|
Read it (pdf)
•
Bonds' lawyers set to make request for dismissal
•
Prosecutor cleared to work Bonds perjury case
•
Bonds asks judge to dismiss perjury charges
•
Bonds seeks to keep legal team in perjury case
•
Hearing to determine lawyers' conflict of interest
•
Bonds pleads not guilty; Feb. 7 next court date
•
Fish: Defense could challenge Bonds' positive test
•
Report: Agent says Bonds wants to play in 2008
•
Bonds lawyer shopping as arraignment nears
•
Bonds' new judge presiding over BALCO cases
•
Old friends-turned-foes to testify against Bonds
•
Bonds' trainer still won't testify if case goes to trial
•
Bonds indicted on perjury, obstruction charges
•
Bonds' trainer gains release after year in prison
•
Bonds latest name on sports' infamous legal list
•
Timeline: Bonds and steroid allegations
Analysis
•
Bryant: Remembering McGwire while Bonds is arraigned
•
Fainaru-Wada/Quinn: Answers to key questions as Bonds begins legal journey
•
Nelson: Bare market for Bonds
•
Bryant: Bonds a misguided martyr
•&nbsp
Hill: Indictment is just plain wrong
•
Olney: All roads lead to infamy

•
Fainaru-Wada/Quinn: Path to indictment
•
Bryant: Bonds case puts pressure on Mitchell
•
Olney: Era of dishonesty

•
Wojciechowski: Bonds' dare backfires
•
Fish: Bonds' positive test didn't come from MLB
•
Munson: Don't expect Bonds to cop a plea
•
ESPN.com: How should MLB react?
•
Kreidler: Mixed reaction in Bay Area
•
Neyer: How bad is it?

•
For the record: Legal definition of perjury
The indictment
•
United States v. Barry Lamar Bonds
SportsNation
•
Polling the reaction of SportsNation
ESPN Video
•
Indictment may end career
•
Bonds' attorney speaks out
•
Roger Cossack's take
•
Will Bonds be in the Hall of Fame?
•
Will Bonds play again?
•
Was race a factor in indictment?
•
Charles Barkley weighs in on Bonds
•
Buster Olney on Bonds
•
Steve Phillips on Bonds and A-Rod
ESPNRadio.com
•
Peter Gammons: A sad ending

•
Baseball Today: Peter Pascarelli
•
Shaun Assael on timing
•
Cossack on the indictment

The HR Chase
•
Bonds: Beyond 756
Background
•
The Dope On Steroids

MOST SENT STORIES ON ESPN.COM