McNamee takes center stage with bombshells about Clemens
Originally Published:
December 13, 2007
By
Shaun Assael, Luke Cyphers
and
Amy K. Nelson
| ESPN.com
For more than a dozen years, personal trainer Brian McNamee has hung around the edges of big time baseball, a working man content to earn his living in the shadows of stars. On Thursday, it came to light that McNamee, his hand forced by the federal authorities, is a central witness against the game he loved, and admittedly helped corrupt. It was revealed that he told the Mitchell Commission that Roger Clemens, one of the game's greatest pitchers, used steroids.
McNamee's allegations are bombshells. In Mitchell's report, McNamee says he personally injected Clemens and fellow Yankees pitcher Andy Pettitte, along with former Yankees second baseman Chuck Knoblauch, with performance-enhancing drugs. He took enough pride in his role in their use that, according to the report, "Occasionally McNamee acknowledged good performances by Knoblauch or Clemens by 'dropping hints,' such as, 'he's on the program now.'"
The report says McNamee wrote four checks to Kirk Radomski, a former Mets clubhouse employee turned steroid dealer whose indictment and guilty plea on federal drug distribution charges last spring supplied key information in the Mitchell report. That apparently led to McNamee's cooperation before the commission.
According to his attorney, Earl Ward, federal prosecutors will weigh his cooperation in the investigation when deciding whether to bring criminal charges.
[+] Enlarge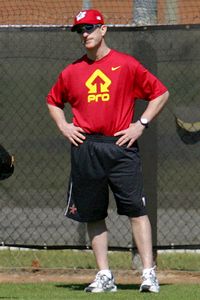 AP Photo/Steven SenneStrength coach Brian McNamee supervises a Roger Clemens workout at the Houston Astros minor league baseball mini camp in Kissimmee, Fla., in February 2006.
Ward said that McNamee would have no comment on the report, but the attorney added: "Brian wants everyone to know that he did not bring steroids into baseball. It was part of the culture when he got there and he got caught up in that culture. He knows people will attack his credibility, but he stands by his testimony as accurate and truthful."
By cooperating with the commission, he is avoiding possible federal prosecution for drug distribution, according to the Mitchell report.
McNamee's journey from trainer-to-the-stars to star witness has deep roots. McNamee grew up in New York City's Rockaway section, a Queens seaside enclave populated largely by ethnic civil servants. Like many of the kids on Gotham's "Irish Riviera," McNamee was the son of a cop and filled his days playing sports. He was good enough at baseball to start at catcher for Queens' Archbischop Malloy High School, and he went on to distinguish himself in college at St. John's. He was part of the late-'80s Redmen team that upset defending national champion Stanford and its star, Mike Mussina, in the NCAA tournament in 1988. McNamee scored a run in that game.
McNamee's teammates remember him as a guy who worked out, but wasn't a gym rat. Oakland's Bash Brothers -- Jose Canseco and Mark McGwire -- had begun to dominate in the majors, but McNamee wasn't a Jose Canseco wannabe.
"He wasn't muscular in that way," says former St. John's player Wally Heckel. "For his frame, which was like 6-foot, he got the most out of it. He was pushing 200 pounds. No bigger than that."
He was the on-field leader.
"Any time coach [Joe] Russo saw something wrong, he yelled at Brian, even if it wasn't Brian's fault," Heckel said. "He knew Mac was the guy who could take it. He was the kind of guy who'd catch a doubleheader and then went looking for a third game. He was a grinder. He was a worker."
But McNamee wasn't good enough for pro ball. In 1990, he joined the New York Police Department and worked in midtown Manhattan. In a profile of McNamee last year on SI.com, a former colleague on the force described McNamee as an undercover super-cop who made huge numbers of arrests. But he also described an incident that resulted in McNamee getting a 30-day suspension from the force, when a prisoner of his escaped.
The NYPD refused ESPN The Magazine's Freedom of Information Act request for McNamee's disciplinary file, but did confirm that he left the force in 1993. It did not give a reason.
In any event, McNamee's next job was a step down, but it brought him back to baseball. Through a connection in the Yankees front office, former assistant general manager Tim McCleary, McNamee was hired on as a bullpen catcher in the Bronx. McNamee traveled with the team in that capacity for three years. Sometimes, he told stories in the Yankees' locker room about his time as a cop, bragging that he answered the call when Eric Clapton's son, Conor, died from a fall from an open bedroom window in 1991. But McNamee didn't make much of a mark, says Gary Weil, a strength coach for the team.
"In a zoo of exotic animals," Weil said, "you don't notice a squirrel."
In 1995, McCleary left New York for the Blue Jays, and McNamee left the Yankees to be a personal trainer. After a couple of years outside the game, McNamee's career took off in 1998. He had been taking courses at Long Island University toward a master's degree in athletic training/sports science, and McCleary hired him as a strength coach in Toronto. There, McNamee met Clemens, a 36-year-old pitcher whom the Red Sox had apparently given up on and who appeared to be on the downside of his career. It was in Canada that Clemens' training regimen first drew notice. Toronto teammates began referring to it as "Navy Seal workouts."
[+] Enlarge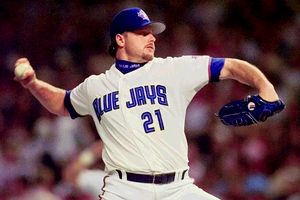 AP Photo/Beth KeiserRoger Clemens pitched in the 1997 All-Star Game for the Blue Jays during one of his two Cy Young seasons in Toronto.
Apparently, there was more to it than hard work. One of the players McNamee befriended was Jose Canseco. In mid-June of '98, he told investigators, he attended a lunch party at Canseco's Miami home where he saw Clemens huddling with Canseco. Toward the end of the road trip, he said, Clemens approached him and, for the first time, brought up the subject of steroids.
McNamee told the Mitchell Commission that Clemens asked McNamee in 1998 to inject him with the steroid Winstrol, which McNamee did. Later, Clemens asked McNamee about another steroid, Anadrol-50.
The rejuvenated Clemens won 41 games and two Cy Young Awards in his two seasons in Toronto, but he wasn't going to win a championship. He was traded to the Yankees in February 1999. McNamee joined him in New York in 2000. He was on the Yankees' payroll as a strength coach, but everyone knew the deal. Said Canseco, who had a stint with the Yankees in 2001, "He was Roger's personal guy."
The legend of Clemens' workout regimen grew in those years, helped along by the New York media: five-mile runs through the Bronx, followed by sprints, crunches, weight-training. Offseason workouts at Clemens' house were even harder. McNamee pushed him through it.
Randy Keisler was a young pitcher with the Yankees in 2000 and frequently worked out with McNamee, Clemens and Pettitte, even going to Clemens' home in Houston.
"They invited me to work out with them in the offseason," Keisler told ESPN in an interview last spring. "I jumped on that. Mac was there."
Keisler said he never saw any drug use.
"I give Roger all the credit in the world in how he prepares his game mentally and physically," he said. "Mac's his man. He loved Mac."
In his first years in New York, according to the Mitchell report, McNamee continued to inject Clemens, not only with steroids but also with human growth hormone. The source was Radomski, the ex-Mets clubhouse worker. McNamee said he was introduced to Radomski through David Segui, who spent the 2000 season playing for the Rangers and Indians.
By McNamee's account, Clemens stopped using HGH in 2001 because "he did not like the 'belly-button shot.'" The steroid injections continued through the 2001 season. But after that, the report says, Clemens never again used or discussed performance-enhancing drugs with McNamee. The trainer told the commission he did not know why.
Pettitte first asked McNamee about using human growth hormone during the 2001-02 offseason, the report says, and McNamee at the time discouraged him from using it. But in the spring of 2002, while Pettitte was recovering from elbow tendinitis, McNamee injected Pettitte with HGH. In 2003, when the BALCO case first broke, Pettitte asked McNamee what to say if asked about performance enhancers. McNamee told him to do what he liked. They never discussed the subject again.
As he trained and injected the players, McNamee tried to diversify beyond his job as a strength trainer. In 2000, a New York City company called InVite Health used McNamee as a consultant. The firm specialized in herbal products and natural remedies, and wanted to expand into the sports market made rich and infamous by Mark McGwire. McNamee introduced InVite's products to a number of players, including Clemens, Pettitte and Yankee reliever Mike Stanton.
"We're not as big as EAS [a giant in sports supplements]," InVite co-founder Rob Martin told ESPN. "We were never going to take out ads with pro sports figures, or anything like that. We just wanted something to sell weekend warriors, and Brian helped by giving us insights into the needs of athletes."
At the same time, McNamee and Clemens formed a "strategic alliance" with FitCare.com, which was described by the company's owner, Marty Jaramillo, as "a generalized health and fitness Web site that never got off the ground." Jaramillo refused to comment further about the company or McNamee. "It's way too many years ago, the company is defunct. I don't have anything to say."
He would not comment on whether he ever paid McNamee for the strategic alliance, which apparently died with the company in 2001.
While trying to expand beyond his Yankees training duties, McNamee began referring to himself as Dr. McNamee in his side gigs. He was featured in InVite's promotional magazine as "Dr. Brian McNamee, Ph.D," used the e-mail address "McNameePHD," and told people he had earned his doctorate at Columbus University in Louisiana. Columbus now operates out of Mississippi, after the state of Louisiana shut it down in 2001 for being a "diploma mill," churning out degrees to people who did little or no academic work.
Despite his efforts to branch out, McNamee kept a low profile until October of 2001, when he was suddenly in the New York tabloids. According to police reports, an employee of a St. Petersburg, Fla., hotel where the Yankees were staying had noticed a man and a woman apparently having sex in the hotel pool, while another man looked on from a few feet away. All three were naked in the pool. One of the men, Charles Wonsowicz, the former St. John's pitcher who was now the Yankees' video technician, left immediately when confronted by the employee. The other, McNamee, continued to hold on to the woman until the hotel employee asked him to leave again, according to police documents.
[+] Enlarge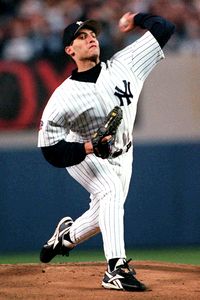 AP Photo/Mark LennihanIn October 1997, Andy Pettitte started Game 2 of the American League Division Series against Cleveland.
"You mean now?" he said. McNamee got out of the pool, leaving behind the woman, who witnesses said appeared "out of it." She said to the hotel employee, "Help me," and then McNamee pulled her out of the pool and tried to put clothes back on her.
Employees called police, and an ambulance also arrived. It turned out the woman had ingested a near fatal dose of GHB, a powerful drug used by bodybuilders, teenage "ravers" and date rapists -- who have used it to incapacitate victims. A bottle of the GHB was found on the pool deck.
Police investigated the incident as a rape and questioned McNamee the next morning.
The report of Detective Don Crotty, who questioned McNamee, cites McNamee as lying several times during the questioning: about where he first met the woman, saying it was the hotel lobby rather than another bar, as other witnesses said; and about his whereabouts over the course of the night. McNamee didn't mention that he was with the woman with several other Yankees players in Chuck Knoblauch's room. He denied to police that he even knew Wonsowicz, his college teammate and fellow Yankees employee. He said Wonsowicz looked familiar, and he might be a "green fly," ballplayer slang for a hanger-on who looks for autographs.
For more than a month in 2001, McNamee was a suspect. However, no charges were filed. Early in the investigation, the woman lied to investigators about her reason for being at the Renaissance Vinoy hotel -- she was having an affair with another Yankees employee who was married, and didn't want to reveal that. When investigators realized this, they declined to pursue the investigation of McNamee. A few months later, the Yankees quietly let McNamee go. But Clemens and Pettitte kept using him as their personal trainer.
For the most part, he kept a low profile, though he did get into a legal squabble. In 2003, the Dontzin Law Firm, LLP, a New York City shop that represented him during the 2001 rape investigation, sued McNamee for $41,261.78 in unpaid legal bills. McNamee paid some of the money, getting the bill down to about $24,000, then stopped, claiming Dontzin's firm was not licensed in Florida and should not have represented him there in the rape investigation. In the course of the litigation, McNamee said in court papers that he never received certain bills because he was living at a different address since he'd become estranged from his wife. The case was settled in 2004, and McNamee was ordered to pay $11,000 to Dontzin. The firm did not respond to ESPN The Magazine's requests for an interview.
After several years out of the public eye, McNamee once again was thrust into a spotlight, courtesy of the BALCO-related investigation of former Yankees pitcher Jason Grimsley.
In the summer of 2006, IRS agent Jeff Novitsky swore out an affidavit with five ballplayers' names and one trainer's on it, connecting them with performance-enhancement drugs. The names, which were allegedly given to Novitsky by Grimsley, were blacked out in versions of the document made public. The Los Angeles Times, claiming it saw a non-redacted copy of the document, printed the alleged roster on Oct. 1, 2006, including McNamee as the trainer who recommended a source for amphetamines, steroids and HGH.
Four days later, the federal prosecutor for the BALCO case, U.S. Attorney Kevin Ryan, released a statement saying the Times story contained "significant inaccuracies."
It is still unclear whether McNamee's name is on the Grimsley affidavit, though McNamee told the Mitchell Commission that he and Grimsley discussed steroids in the Yankees bullpen.
"Grimsley showed him a white bottle he said he had received from a pharmacist in Seattle," the report says. "Grimsley said the substance, was 'Winni 5,' which McNamee understood to be Winstrol tablets at 5 milligram dosage. McNamee advised Grimsley that steroids, taken orally, could be toxic."
McNamee also said that he used Grimsely as a conduit to pay Radomski a total of $5,550.
In interviews, McNamee has tried to paint himself as a victim. Last year, he told SI.com that Clemens and Pettitte paid him average "working wage and expenses," but that he had to juggle several other jobs to support his wife and three children, one of whom has diabetes. "Now some of those jobs are disappearing," he told the Web site.
One of those jobs was teaching at St. John's, his alma mater. He blamed the L.A. Times story.
"His professorship at St. John's University has been suspended," according to SI.com.
St. John's said that was not true. Dominic Scianna, the university's spokesman, told ESPN The Magazine last year that McNamee had a "one-year, full-time appointment" to teach in the sport management program from September 2005 to June 2006. "There was no suspension, no reprimand, none of those things," Scianna said, adding that the contract was up "well before the L.A. Times story. This hadn't even come to light."
Pettitte and Clemens both publicly defended McNamee after the L.A. Times story, and denied any use of performance enhancers. Clemens said he would continue to train with McNamee, and did.
"He's one of a kind," Clemens told reporters last year. But earlier this year, Clemens dropped him, according to the New York Daily News.
McNamee mostly kept quiet, publicly commenting for the first time in the SI.com profile in November 2006.
"McNamee stated several times," the story said, "that he is not involved in steroids."
With Thursday's release of the Mitchell report, it's clear that Brian McNamee was involved in steroids -- to the point that he's become one of the game's most damning witnesses.
Shaun Assael and Luke Cyphers are senior writers at ESPN The Magazine. Amy K. Nelson is a staff writer at ESPN.com.
THE MITCHELL REPORT

On March 30, 2006, baseball commissioner Bud Selig asked former Sen. George Mitchell to investigate steroid use in baseball. Now, the report is out.
The Mitchell report
•
Mitchell delivers his report
|
Read it (pdf)
•
Players: Who's named in the report
•
Recommendations from the report
•
Report reaction: What they're saying
•
Drugs listed in report
|
The Dope On Steroids
•
Evidence may limit Selig's punishment choices
•
Mitchell defends naming stars in report
•
Owners praise Selig, support extended tenure
•
Seligs hopes to finish review by spring
Clemens news
•
Reports: New name surfaces in Clemens saga
•
Date set for Clemens, McNamee depositions
•
McNamee unlikely to get congressional immunity
•
Mitchell reportedly tried to contact Clemens twice
•
McNamee's attorney defends immunity request
•
Source: Clemens hedges on giving deposition
•
Report of Clemens abscess raises more questions
•
Astros unsure if Clemens to help at camp
•
Clemens' accuser meets with federal prosecutors
•
Rocket reps: McNamee 'avoiding' being served
•
Source: No immunity expected for Clemens
•
Laywer: McNamee 'avoiding' being served papers
•
Clemens denies steroid use in taped conversation
•
Trainer's lawyers alert Congress to second tape
Pettitte news
•
Pettitte undecided if he'll testify before Congress
•
Pettitte gets new lawyer for congressional hearing
•
Pettitte admits using HGH in 2002
Grimsley/Radomski documents
•
Unsealed documents:
Radomski
|
Grimsley
•
Federal agent Jeff Novitzky's sworn affidavit
•
Watson denies allegations in Grimsley affidavit
•
Hearst wants goverment. to explain conduct
Other News
•
Players, owners try to modify drug agreement
•
Fehr: Foreign players deserve equal drug penalties
•
Pujols bans TV station that erroneously named him
•
MLB establishes drug investigations unit
•
Report: Knoblauch ends silence on steroid report
•
Kent: Players should undergo blood testing
•
Rose investigator says Mitchell undermined report
•
Report: Congressional hearing postponed
•
MLB to crack down on clubhouse security
•
Congressman blasts Selig on steroids policy
•
Report: Players may still testify at hearing
•
Report: MLB players won't testify for Congress
•
Rose says users 'making a mockery' of game
•
Selig defends baseball's drug-testing program
•
Post-'03 cases face most MLB scrutiny
•
Congress calling new hearings on steroids, HGH
•
Report: Deal with feds led to McNamee testimony
•
Report: Roberts admits one-time steroid use
•
Nats prez: Team had no advance copy of report
•
Indians' Byrd discusses HGH use with MLB
•
Vina admits HGH use, but disputes steroid claims
•
MLB's man: Progress in urine test to detect HGH
•
O's respond to Mitchell findings
•
A-Rod's reply to Canseco: I never doped
•
Bush: MLB must take report seriously
•
Pujols sets record straight on inaccurate report
•
Reliever Donnelly 'sick' over inclusion in report
•
Former D-back Cabrera denies using steroids
•
Lowell calls for stronger steroid testing
Analysis
•
Munson: Delay means Congress serious
•
Wojciechowski: Rocket's logic fizzles
•
Assael: Clemens throws up and in at McNamee
•
Munson: Clemens' lawsuit is part propaganda
•
Olney: There's one thing Clemens can't change
•
Crasnick: A tale of two Rockets on "60 Minutes"
•
Neyer: Time to stop behaving like a child

•
Bryant: Odds are against Clemens in interview
•
Munson Q&A: Clemens, McNamee on the hot seat
•
Neyer: Investigate all players

•
Wojciechowski: Time for Clemens to speak up
•
Neyer: Does HGH enhance performance?

•
Hill: Pettitte's apology was a joke
•
Stark: Pettitte no different than Pats' Harrison
•
Stark: Clemens, Bonds tales similar, yet different
•
Bryant: Selig must address steroids era records
•
Santangelo admits HGH use; will 'face the music'
•
Helyar: Not good for short-term business
•
Fish: Baseball's steroids crisis management
•
Crasnick: Clemens' Hall of Fame chances?
•
Gammons: Drug culture quite slimy

•
Hall of Fame voters speak out on Clemens
•
Stark: Indelible impact on the game
•
Wojciechowski: Thaw needed in cold war
•
Bryant: Mitchell report flat without feds
•
Fainaru-Wada: Report sheds light on Bonds
•
Crasnick: Recently acquired players named
•
The man behind Clemens, Pettitte bombshells
•
Munson: Legal challenges troublesome
•
Fish: Congress reacts quickly to report
•
Helyar: Anti-doping experts don't agree on report
•
Nelson: Fehr, MLBPA kept in dark on report
•
Neyer: Non-surprising names

•
Neyer: Scout's telling take on Gagne

Video
•
Complete coverage
Audio
•
David Justice on The Herd
•
Best of Mike & Mike, on report's fallout
•
PTI discussion over report's release
•
Michael Kay Show
•
ESPN.com's Keith Law
SportsNation
•
SportsNation reacts to Mitchell report
•
What do you think of it?
•
Fan blogs: How fans are reacting
More
•
Mitchell investigation timeline
•
Kirk Radomski timeline
•
List of suspended MLB players

MOST SENT STORIES ON ESPN.COM