Commentary
Santangelo admits HGH use, says he'll 'face the music'
Updated:
December 14, 2007, 10:18 PM ET
By
Wayne Drehs
| ESPN.com
As he sat in front of his television Thursday, waiting for the official release of the Mitchell report, former major league outfielder F.P. Santangelo feared the worst. He knew he had purchased human growth hormone from former New York Mets clubhouse attendant Kirk Radomski. He knew Sen. George Mitchell's investigators had asked to speak with him, a request he had denied.
And yet as Santangelo watched ESPN reporter Jeremy Schaap on live TV, quickly thumbing through the report's 409 pages before Mitchell eventually spoke, Santangelo prayed that his name wouldn't be read.
"I just kept saying, 'Please Lord, don't name me right here, right now. Don't be one of the first guys. Don't be one of the first guys,'" Santangelo told ESPN.com on Friday. "And I wasn't. That was a relief."
But the relief didn't last long. Minutes later, when the report was released online, Santangelo was one of at least 86 people accused by Mitchell of using performance-enhancing drugs.
Yet Santangelo has handled the 24 hours after his appearance in the report differently. While the aftermath of the report's release has been littered with no comments and vehement denials, there was Santangelo, who now works on Sacramento's KHTK Radio as a member of, "The Rise Guys" morning show, on the air Friday morning, admitting what he had done and taking calls from listeners who were equally eager to praise and condemn him.
[+] Enlarge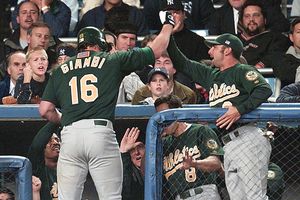 TIMOTHY A. CLARY/AFP/Getty ImagesOakland A's at the time, F.P. Santangelo, right, and Jason Giambi high-five after a Giambi home run against the New York Yankees in the 2001 AL Division Series. Said Santangelo, who acknowledged he used HGH: "I made this bed and now I have to lie in it."
In an emotional two-hour radio appearance, the seven-year major league veteran, who last played with the Oakland A's in 2001, confessed to using human growth hormone, explained how and why he did it and publicly apologized to his two kids, his ex-wife, his parents and listeners. He talked about the difficulty he had in explaining it all to his children, and the concern he had that his son, F.P. Jr., would be teased Friday in middle school.
He even shared a story of reporters hiding outside his home Thursday evening and the guilt he felt each time the doorbell rang and he saw a look of fear on the faces of his kids.
"That was the part that made me feel, as a Dad, as bad as I've ever felt," Santangelo told listeners. "They were scared. That was the one thing that really hit home is that I made these bad decisions and now my kids are scared. I almost felt like a pedophile."
Santangelo's honesty, his candor and his willingness to accept responsibility for what he had done touched some listeners and infuriated others. Opinions ranged from, "You're a liar," "You should resign," and "What should I tell my kid?" to "You don't owe anyone an apology," "I commend you for telling the truth," and "Keep your head up."
Santangelo absorbed it all, telling listeners, "I made this bed and now I have to lie in it."
After the show, he received numerous phone calls from media outlets eager to make him into some sort of hero for telling the truth. It's a role he says he's entirely uncomfortable with.
"I don't want to be this out-front crusader guy," Santangelo told ESPN.com. "I did something absolutely wrong. I shouldn't be made a hero. I made a bad decision against everything I believe.
"I admitted it and I faced the music. And if by me being embarrassed helps generations to come not have to make the difficult decisions that I had to make, then it's good that this all came out. But I don't want to be Mr. Public Speaker and go talk to every high school in the world. Through my radio show, I just hope to get the word out about how bad this stuff is."
According to the Mitchell report, Santangelo purchased $1,400 worth of human growth hormone from Radomski in October of 2000. In addition, Radomski told Mitchell's investigators that Santangelo purchased the steroid Deca-Durabolin as well as testosterone "once or twice" while he was a member of the A's in 2001.
On the radio, Santangelo denied ever using or purchasing steroids or testosterone from Radomski. Santangelo did, however, say he purchased human growth hormone from the Mets clubhouse attendant.
Santangelo explained to listeners that he struggled with his rehab after shattering his knee cap in 1998. That winter, when his quadriceps muscle refused to fire and the Expos informed him that they weren't going to renew his contract, he feared his career was at stake. He researched HGH and mentioned the idea to a couple of his doctors, but they were unaware of the hormone's healing effects. So he called Radomski, whom he had met through a former teammate, and asked for help. He ended up taking a two-week cycle of HGH.
"When I was faced with the decision, in my mind, of my career ending or keeping it going, I compromised my morality and my beliefs," Santangelo said on the air. "I did what I thought I had to do."
In 2000, Santangelo struggled with the Los Angeles Dodgers, missing the last month of the season with a torn ligament in his hand. When the ligament failed to heal properly, he again turned to HGH for another two-week cycle.
"I figured if it worked once, it would work twice," he said. "I knew it was wrong, I felt dirty when I did it, but it worked. I love baseball and I love competing and the thought of not doing that scared the hell out of me. I panicked."
Santangelo said he declined the opportunity to speak with Mitchell's investigators because they never provided him with any evidence of what they had on him, and he didn't see how his involvement would help the game.
As for the discrepancies between his story and Radomski's and what that might mean for the rest of the report, Santangelo encouraged listeners to consider the source.
"I know this guy. He was a clubhouse guy" Santangelo said. "He wasn't organized, running out of a store or keeping track of shipments."
Friday, Santangelo described the release of the Mitchell report as a "relief," telling ESPN.com it was something he had wanted to "scream from the top of a mountain" for some time now, but fear of litigation kept him from doing so.
"I was scared," he said. "From a legal standpoint, there was an investigation going on and from a personal standpoint, I didn't know what they would do with my career. I wanted to tell everybody."
He said he met with radio station representatives earlier this week, explaining his likely inclusion in the report and asking how it should be handled. The original plan was to let things settle before discussing it on the air Monday. But after Santangelo heard the reaction on Thursday, he changed his mind, going on there air briefly Thursday night before joining his regular show Friday morning.
"This is just me," he said. "I hit things head-on. I'm honest to a fault. I never run away from anything. Once I knew this was coming out, I wasn't going to hide from it."
Though several listeners called for Santangelo to resign, CBS Radio, the parent company of KHTK, released a statement Thursday, saying, "This occurred well before he worked here and there's no change in his employment status."
During Friday's show, several listeners were critical of Santangelo, who on the air had previously denied using performance-enhancing drugs. One listener, Mike, was particularly frustrated. "You really painted yourself as the blue-collar, hard-working guy who did it the right way and didn't cheat. Guys like me can relate to that," Mike said. "Now I think your credibility is shot. In your field that you're in right now, that's every bit as bad as taking steroids in the pros."
Santangelo's response: "I respect your opinion. I would say I did do it the right way except for four weeks out of my 15-year baseball career. I agree with a lot of what you're saying. I can't argue with you."
As difficult as it was to listen to critical phone calls, Santangelo said the hardest part was sitting down with his kids a month ago to explain to them about the decision he'd made. When a caller asked what he should tell his 10-year-old son about Santangelo's inclusion in the report, the former major leaguer instructed him to tell him the exact same thing he told F.P. Jr.
"I told him, 'You make mistakes. If you make the right decision in the first place, you won't have to go through what I have. But if you do make a wrong decision, you handle it head-on, with humility and you move on.'
"My kids are learning a very good life lesson right now. Their Dad screwed up but he faced the music and is dealing with it head-on."
From the first time he injected himself with HGH, Santangelo told listeners he regretted it. He despised the way it made him feel and hated the fact that he had compromised his integrity.
He declined to discuss specifics with ESPN.com, but he said it changed his personality and caused him to make decisions he otherwise wouldn't have made.
But at the same time, it worked.
"That's the danger," he said. "It helped me heal. But it changes who you are. If you're a jerk, you become a bigger jerk. If you're impatient, you become more impatient. It accentuates whatever personality you have to the utmost. It gives you this false confidence."
Friday, when a 23-year-old caller named Jose told Santangelo he was considering taking HGH and that his trainer had access to the drug, Santangelo urged him not to inject himself, going as far as to get the caller's phone number so they could talk off the air.
"If you take it, you'll look great, but your life will change for the worse," Santangelo told Jose during the show. "You sound like a great guy, but you'll turn into an a--hole. You'll look good in the mirror and then the minute you come off it you'll look like a fat pig. Don't do it. Just promise me you won't do it."
At the end of his two-hour radio stint, Santangelo again apologized to his friends, his family and his listeners. He again took accountability for his actions and admitted he made a horrible mistake and that everyone's criticism was warranted.
And then, before he signed off, he explained one last thing: As he sees it, if all this attention helps one person, if all of his embarrassment helps Jose choose not to take performance-enhancing drugs, then, he said, it will all be worth it.
Wayne Drehs is a senior writer for ESPN.com. He can be reached at wayne.drehs@espn3.com. To learn more about Wayne, visit his ESPN Fan Page.
Senior writer for ESPN.com
Written for ESPN.com since 2000
Three-time Sports Emmy Award winner
THE MITCHELL REPORT

On March 30, 2006, baseball commissioner Bud Selig asked former Sen. George Mitchell to investigate steroid use in baseball. Now, the report is out.
The Mitchell report
•
Mitchell delivers his report
|
Read it (pdf)
•
Players: Who's named in the report
•
Recommendations from the report
•
Report reaction: What they're saying
•
Drugs listed in report
|
The Dope On Steroids
•
Evidence may limit Selig's punishment choices
•
Mitchell defends naming stars in report
•
Owners praise Selig, support extended tenure
•
Seligs hopes to finish review by spring
Clemens news
•
Reports: New name surfaces in Clemens saga
•
Date set for Clemens, McNamee depositions
•
McNamee unlikely to get congressional immunity
•
Mitchell reportedly tried to contact Clemens twice
•
McNamee's attorney defends immunity request
•
Source: Clemens hedges on giving deposition
•
Report of Clemens abscess raises more questions
•
Astros unsure if Clemens to help at camp
•
Clemens' accuser meets with federal prosecutors
•
Rocket reps: McNamee 'avoiding' being served
•
Source: No immunity expected for Clemens
•
Laywer: McNamee 'avoiding' being served papers
•
Clemens denies steroid use in taped conversation
•
Trainer's lawyers alert Congress to second tape
Pettitte news
•
Pettitte undecided if he'll testify before Congress
•
Pettitte gets new lawyer for congressional hearing
•
Pettitte admits using HGH in 2002
Grimsley/Radomski documents
•
Unsealed documents:
Radomski
|
Grimsley
•
Federal agent Jeff Novitzky's sworn affidavit
•
Watson denies allegations in Grimsley affidavit
•
Hearst wants goverment. to explain conduct
Other News
•
Players, owners try to modify drug agreement
•
Fehr: Foreign players deserve equal drug penalties
•
Pujols bans TV station that erroneously named him
•
MLB establishes drug investigations unit
•
Report: Knoblauch ends silence on steroid report
•
Kent: Players should undergo blood testing
•
Rose investigator says Mitchell undermined report
•
Report: Congressional hearing postponed
•
MLB to crack down on clubhouse security
•
Congressman blasts Selig on steroids policy
•
Report: Players may still testify at hearing
•
Report: MLB players won't testify for Congress
•
Rose says users 'making a mockery' of game
•
Selig defends baseball's drug-testing program
•
Post-'03 cases face most MLB scrutiny
•
Congress calling new hearings on steroids, HGH
•
Report: Deal with feds led to McNamee testimony
•
Report: Roberts admits one-time steroid use
•
Nats prez: Team had no advance copy of report
•
Indians' Byrd discusses HGH use with MLB
•
Vina admits HGH use, but disputes steroid claims
•
MLB's man: Progress in urine test to detect HGH
•
O's respond to Mitchell findings
•
A-Rod's reply to Canseco: I never doped
•
Bush: MLB must take report seriously
•
Pujols sets record straight on inaccurate report
•
Reliever Donnelly 'sick' over inclusion in report
•
Former D-back Cabrera denies using steroids
•
Lowell calls for stronger steroid testing
Analysis
•
Munson: Delay means Congress serious
•
Wojciechowski: Rocket's logic fizzles
•
Assael: Clemens throws up and in at McNamee
•
Munson: Clemens' lawsuit is part propaganda
•
Olney: There's one thing Clemens can't change
•
Crasnick: A tale of two Rockets on "60 Minutes"
•
Neyer: Time to stop behaving like a child

•
Bryant: Odds are against Clemens in interview
•
Munson Q&A: Clemens, McNamee on the hot seat
•
Neyer: Investigate all players

•
Wojciechowski: Time for Clemens to speak up
•
Neyer: Does HGH enhance performance?

•
Hill: Pettitte's apology was a joke
•
Stark: Pettitte no different than Pats' Harrison
•
Stark: Clemens, Bonds tales similar, yet different
•
Bryant: Selig must address steroids era records
•
Santangelo admits HGH use; will 'face the music'
•
Helyar: Not good for short-term business
•
Fish: Baseball's steroids crisis management
•
Crasnick: Clemens' Hall of Fame chances?
•
Gammons: Drug culture quite slimy

•
Hall of Fame voters speak out on Clemens
•
Stark: Indelible impact on the game
•
Wojciechowski: Thaw needed in cold war
•
Bryant: Mitchell report flat without feds
•
Fainaru-Wada: Report sheds light on Bonds
•
Crasnick: Recently acquired players named
•
The man behind Clemens, Pettitte bombshells
•
Munson: Legal challenges troublesome
•
Fish: Congress reacts quickly to report
•
Helyar: Anti-doping experts don't agree on report
•
Nelson: Fehr, MLBPA kept in dark on report
•
Neyer: Non-surprising names

•
Neyer: Scout's telling take on Gagne

Video
•
Complete coverage
Audio
•
David Justice on The Herd
•
Best of Mike & Mike, on report's fallout
•
PTI discussion over report's release
•
Michael Kay Show
•
ESPN.com's Keith Law
SportsNation
•
SportsNation reacts to Mitchell report
•
What do you think of it?
•
Fan blogs: How fans are reacting
More
•
Mitchell investigation timeline
•
Kirk Radomski timeline
•
List of suspended MLB players

MOST SENT STORIES ON ESPN.COM