Commentary
How did baseball handle its big day? The reviews are in
Originally Published:
December 13, 2007
By
Mike Fish
| ESPN.com
A day after the Mitchell report re-traced the history of steroids in baseball and pumped up the list of known chemically-enhanced players, the questions can be asked: How did the main characters fare under the bright lights? And where is all this headed?
The three leading men -- former Senate majority leader George Mitchell, Commissioner Bud Selig and union chief Don Fehr -- have been invited to a Jan. 15 hearing in Washington to kick around the report with the House Committee on Oversight and Government Reform. By most accounts, the politicians won't brow-beat them, but rather encourage the game's management and union leadership to act on Mitchell's recommendations to further strengthen baseball's drug program. "I think this was a crisis that was avoided for a long time," committee chairman Rep. Henry Waxman, D-Calif., told ESPN.com on Friday. "And finally, baseball has owned up to the fact that they have lived through a very ugly era, which has done a great deal of harm to the sport and, more importantly, to young people and their public health. They have come face to face with a crisis, and we're looking to see that they keep pushing forward."
[+] Enlarge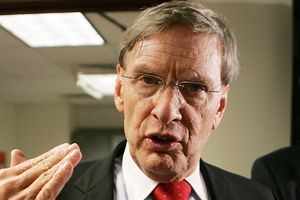 Justin Sullivan/Getty ImagesHe had 72 hours to pore through the Mitchell Report before Thursday's release. Did Bud Selig use that time wisely?
So if the release Thursday of the voluminous report, followed by a succession of hand-wringing news briefings, is baseball's version of hell, then how well or how poorly -- was the crisis handled? Who dealt with it best? Who struggled and where? Did Selig, who had a copy of the report in advance, come across as prepared in addressing the game's sullied reputation and Mitchell's account of his blind eye to the problem early on? Did Fehr appear to be overly protective of the players? Was the long day of news conferences a positive experience for baseball? "I do think they were smart to look forward," said Gene Grabowski, vice president of Levick Strategic Communications, a Washington, D.C.-based crisis communications firm. "Don't try to punish people backward. I think a lot of writers are going to do that with their Hall of Fame votes. But looking forward, I think they have to be a lot stricter [on violators]." Mitchell has drawn praise for recommending baseball not go through the process of trying to punish players for past misdeeds. But Selig backed away from that position in his comments, saying he will judge each situation on an individual basis. Waxman said he thinks Selig eventually will accept the recommendation, which surely will be on the agenda at the next hearings in Washington. However, the commissioner might have no choice but to back off his tough-guy act, as more than two-thirds of the players identified in the report are out of the game, and a number of the alleged violations occurred before baseball's current drug program was in place. As for Selig's performance Thursday, Grabowski said he could have "looked better prepared," based on the thought that little in the report should have come as a surprise. Baseball leadership, he said, had 20 months to anticipate the nature of the report and should have been able to present a more concise plan of action. Grabowski, who counsels major law firms and Fortune 500 companies in crisis communications, did give Selig kudos for commissioning the report. "That's something you recommend all the time for crisis clients," Grabowski said. "You create a blue-ribbon entity to study a situation for a few months. That buys you the time that you need and deflects immediate questions before you have answers. So that was smart. But you need to use that time wisely to prepare for the outcome." The idea for the investigation, as it happens, might not have originated in the commissioner's office. After the dramatic congressional hearings in 2005, which were highlighted by the vague testimony of Sammy Sosa, Rafael Palmeiro and Mark McGuire, Waxman said committee leadership told Selig that baseball should appoint an independent person to do a historical review of the game's steroid problem.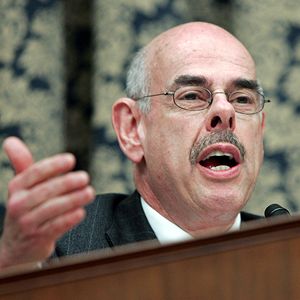 AP Photo/Susan WalshRe. Henry Waxman liked what he saw and heard on Thursday, but says Congress will continue to apply pressure to baseball to clean up its steroids problem.
"We said if baseball didn't set it up, that Congress would have to do the job," Waxman said Friday. "So I was pleased as result of that that he asked Sen. Mitchell to do this investigation and his report. We now have a dramatic reading of an era that is not a very pretty one for baseball." So what happens next? Grabowski said if he was faced with the damaging information in the Mitchell Report, he'd put a plan in place to deal with future violators and address how to handle the game's statistics and records. He'd act boldly, as the NFL has done with recent suspensions of Pacman Jones and Michael Vick for their parts in legal troubles off the field. "If you take a look at what the NFL has done, not that it is a perfect guide, but it understands that in a crisis, the gods demand a sacrifice," Grabowski said. "Irrespective of what Michael Vick might have anticipated with the legal action, I think the NFL had already taken some strong action. I think what they did with Pacman Jones -- you have to make an example. And in my business, we call that making a sacrifice. The gods demand it. Look, there is a reason that ancient cultures and tribes sacrificed. It is symbolic. And in crisis, it is no different." The problem in that course of action, as Selig well knows, is that lawyers for the baseball union will fight him every step of the way if he attempts to make an example of a player. Grabowski said Fehr, the union leader, has to budge a bit, too. And Fehr didn't appear ready to do that as he made his remarks Thursday. As for the accused players, Grabowski believes they would have been wise to cooperate with Mitchell's investigators. "Look, one of the keys here is that the players were ill-advised by their attorneys," he said. "When George Mitchell came asking for information, they should have participated. They should have defended themselves. Refusing to sit down with Mitchell and refusing to defend yourself before the report comes out, and then after the report comes out to deny it? That puts you at a real disadvantage." The Mitchell report cast both the owners and players' union as villains and enablers, slow to react to the problem. If, indeed, this is a crisis, the last thing they need is to feud, dig in their heels and go back to their old contentious ways rather than agree on corrective steps.
Mike Fish is an investigative reporter for ESPN.com. He can be reached at michaeljfish@gmail.com.

SPONSORED HEADLINES
MORE MLB HEADLINES
MOST SENT STORIES ON ESPN.COM
THE MITCHELL REPORT

On March 30, 2006, baseball commissioner Bud Selig asked former Sen. George Mitchell to investigate steroid use in baseball. Now, the report is out.
The Mitchell report
•
Mitchell delivers his report
|
Read it (pdf)
•
Players: Who's named in the report
•
Recommendations from the report
•
Report reaction: What they're saying
•
Drugs listed in report
|
The Dope On Steroids
•
Evidence may limit Selig's punishment choices
•
Mitchell defends naming stars in report
•
Owners praise Selig, support extended tenure
•
Seligs hopes to finish review by spring
Clemens news
•
Reports: New name surfaces in Clemens saga
•
Date set for Clemens, McNamee depositions
•
McNamee unlikely to get congressional immunity
•
Mitchell reportedly tried to contact Clemens twice
•
McNamee's attorney defends immunity request
•
Source: Clemens hedges on giving deposition
•
Report of Clemens abscess raises more questions
•
Astros unsure if Clemens to help at camp
•
Clemens' accuser meets with federal prosecutors
•
Rocket reps: McNamee 'avoiding' being served
•
Source: No immunity expected for Clemens
•
Laywer: McNamee 'avoiding' being served papers
•
Clemens denies steroid use in taped conversation
•
Trainer's lawyers alert Congress to second tape
Pettitte news
•
Pettitte undecided if he'll testify before Congress
•
Pettitte gets new lawyer for congressional hearing
•
Pettitte admits using HGH in 2002
Grimsley/Radomski documents
•
Unsealed documents:
Radomski
|
Grimsley
•
Federal agent Jeff Novitzky's sworn affidavit
•
Watson denies allegations in Grimsley affidavit
•
Hearst wants goverment. to explain conduct
Other News
•
Players, owners try to modify drug agreement
•
Fehr: Foreign players deserve equal drug penalties
•
Pujols bans TV station that erroneously named him
•
MLB establishes drug investigations unit
•
Report: Knoblauch ends silence on steroid report
•
Kent: Players should undergo blood testing
•
Rose investigator says Mitchell undermined report
•
Report: Congressional hearing postponed
•
MLB to crack down on clubhouse security
•
Congressman blasts Selig on steroids policy
•
Report: Players may still testify at hearing
•
Report: MLB players won't testify for Congress
•
Rose says users 'making a mockery' of game
•
Selig defends baseball's drug-testing program
•
Post-'03 cases face most MLB scrutiny
•
Congress calling new hearings on steroids, HGH
•
Report: Deal with feds led to McNamee testimony
•
Report: Roberts admits one-time steroid use
•
Nats prez: Team had no advance copy of report
•
Indians' Byrd discusses HGH use with MLB
•
Vina admits HGH use, but disputes steroid claims
•
MLB's man: Progress in urine test to detect HGH
•
O's respond to Mitchell findings
•
A-Rod's reply to Canseco: I never doped
•
Bush: MLB must take report seriously
•
Pujols sets record straight on inaccurate report
•
Reliever Donnelly 'sick' over inclusion in report
•
Former D-back Cabrera denies using steroids
•
Lowell calls for stronger steroid testing
Analysis
•
Munson: Delay means Congress serious
•
Wojciechowski: Rocket's logic fizzles
•
Assael: Clemens throws up and in at McNamee
•
Munson: Clemens' lawsuit is part propaganda
•
Olney: There's one thing Clemens can't change
•
Crasnick: A tale of two Rockets on "60 Minutes"
•
Neyer: Time to stop behaving like a child

•
Bryant: Odds are against Clemens in interview
•
Munson Q&A: Clemens, McNamee on the hot seat
•
Neyer: Investigate all players

•
Wojciechowski: Time for Clemens to speak up
•
Neyer: Does HGH enhance performance?

•
Hill: Pettitte's apology was a joke
•
Stark: Pettitte no different than Pats' Harrison
•
Stark: Clemens, Bonds tales similar, yet different
•
Bryant: Selig must address steroids era records
•
Santangelo admits HGH use; will 'face the music'
•
Helyar: Not good for short-term business
•
Fish: Baseball's steroids crisis management
•
Crasnick: Clemens' Hall of Fame chances?
•
Gammons: Drug culture quite slimy

•
Hall of Fame voters speak out on Clemens
•
Stark: Indelible impact on the game
•
Wojciechowski: Thaw needed in cold war
•
Bryant: Mitchell report flat without feds
•
Fainaru-Wada: Report sheds light on Bonds
•
Crasnick: Recently acquired players named
•
The man behind Clemens, Pettitte bombshells
•
Munson: Legal challenges troublesome
•
Fish: Congress reacts quickly to report
•
Helyar: Anti-doping experts don't agree on report
•
Nelson: Fehr, MLBPA kept in dark on report
•
Neyer: Non-surprising names

•
Neyer: Scout's telling take on Gagne

Video
•
Complete coverage
Audio
•
David Justice on The Herd
•
Best of Mike & Mike, on report's fallout
•
PTI discussion over report's release
•
Michael Kay Show
•
ESPN.com's Keith Law
SportsNation
•
SportsNation reacts to Mitchell report
•
What do you think of it?
•
Fan blogs: How fans are reacting
More
•
Mitchell investigation timeline
•
Kirk Radomski timeline
•
List of suspended MLB players