Mitchell report can't be good for baseball's short-term business
Updated:
December 15, 2007, 5:23 PM ET
By
John Helyar
| ESPN.com
George Mitchell's steroids report hasn't rocked simply the game of baseball. It figures to shake the business of baseball, too.
As an industry, MLB has been even hotter than Josh Beckett in October. It posted record revenues of $6 billion this year. Baseball has more than doubled its take of a decade ago and is closing fast on the NFL as the top-grossing league in sports.
The Mitchell report, though, could jeopardize that run. Maybe commissioner Bud Selig just couldn't stand too much prosperity. He ordered up the Mitchell report and refocused attention on a problem that, in many fans' eyes, had faded as a concern. The Mitchell probe also reopened fissures between the owners and the players' union, just as it seemed peace had broken out after decades of labor battles.
"Steroids has been a smoldering issue for baseball, and the Mitchell report has reignited the fire," says Bill Glenn, a vice president of The Marketing Arm, a sports and entertainment agency in Dallas.
If baseball's owners and players don't take steps in the next three months to address Mitchell's recommendations, he adds, "MLB and some of these individual players have a major issue with marketability."
[+] Enlarge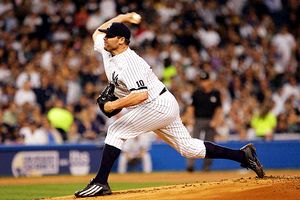 Jim McIsaac/Getty ImagesThe Mitchell report might have put a dent in Roger Clemens' endorsement appeal.
Among players, Roger Clemens figures to be the top marketability casualty. He earned an estimated $3.5 million in endorsement deals this year, according to Burns Entertainment & Sports Marketing, an Evanston, Ill., agency that matches companies and celebrity endorsers. Will AT&T, which featured him in a funny cell phone ad this fall, come calling again? Not likely.
An AT&T spokesman said that Clemens was hired for just the one commercial, which ceased airing in early November, and that he wasn't under contract. The spokesman declined to comment on whether the company would consider using the pitcher again. In the spot, Clemens calls his wife to ask whether she's OK with his returning to the Yankees. She emphatically replies no, but he doesn't hear because the call gets dropped.
But there's far more downside for the industry as a whole. In 2007, MLB drew a record 79.5 million fans. But scratch the surface of many avid fans, Glenn believes, and the steroids issue reveals big concerns about the game's traditions and underpinnings.
"The steroids era has rewritten records," he says. "People care about these records, and they know baseball has been playing with the tradition and integrity of the game."
If fans don't see the problem as solved, they don't flock to the ballparks. If the public turns off to MLB, as in the bad old days of the strike-marred '90s, so do the sponsors. Will corporate America head for the exits?
No way, insists John Brody, head of corporate sales and marketing for MLB. He says he discussed the investigation and the steroids issue with baseball's 20 national sponsors throughout the 20-month probe. Then he briefed all 20 of them on the report itself in the 48 hours after it arrived in the commissioner's office this week.
"They have all been supportive," he says. "It's an important issue to deal with, and they feel like we are dealing with it."
Officials with two sponsors currently negotiating with MLB for new deals play down concerns.
"Nothing unexpected came out of the report," says Ryndee Carney, a spokesman for General Motors, whose sponsorship expired at the end of the 2007 season. "The sport is healthy."
Says Jeff Urban, sports marketing chief of Gatorade, "I don't think fans will view baseball any differently the day after the Mitchell report than the day before. [The steroids issue] was already part of their perception of the game. When it's Opening Day, the fans will be there for baseball."
But whatever the sponsors say for public consumption or tell the MLB suits, the Mitchell report cannot possibly be good for business. The steroids cloud over baseball had been dissipating over the past two years, after MLB and the players' union agreed to tougher drug policies in November 2005. And this past year, the steroids focus has been almost solely on one player, Barry Bonds, and not on the game.
But the Mitchell report has gathered the clouds over MLB again. Baseball's corporate partners have to be wondering whether the industry really has a handle on the problem, according to former MLB broadcast chief Tom Villante.
"It's created a sense of 'When is the other shoe going to drop?'" he says. "That's not a good thing."
John Helyar is a senior writer for ESPN.com and ESPN The Magazine. He previously covered the business of sports for The Wall Street Journal and Fortune magazine and is the author of "Lords of the Realm: The Real History of Baseball."
John Helyar is a senior writer for ESPN.com and ESPN The Magazine. He previously covered the business of sports for The Wall Street Journal and Fortune magazine and is the author of "Lords of the Realm: The Real History of Baseball."
THE MITCHELL REPORT

On March 30, 2006, baseball commissioner Bud Selig asked former Sen. George Mitchell to investigate steroid use in baseball. Now, the report is out.
The Mitchell report
•
Mitchell delivers his report
|
Read it (pdf)
•
Players: Who's named in the report
•
Recommendations from the report
•
Report reaction: What they're saying
•
Drugs listed in report
|
The Dope On Steroids
•
Evidence may limit Selig's punishment choices
•
Mitchell defends naming stars in report
•
Owners praise Selig, support extended tenure
•
Seligs hopes to finish review by spring
Clemens news
•
Reports: New name surfaces in Clemens saga
•
Date set for Clemens, McNamee depositions
•
McNamee unlikely to get congressional immunity
•
Mitchell reportedly tried to contact Clemens twice
•
McNamee's attorney defends immunity request
•
Source: Clemens hedges on giving deposition
•
Report of Clemens abscess raises more questions
•
Astros unsure if Clemens to help at camp
•
Clemens' accuser meets with federal prosecutors
•
Rocket reps: McNamee 'avoiding' being served
•
Source: No immunity expected for Clemens
•
Laywer: McNamee 'avoiding' being served papers
•
Clemens denies steroid use in taped conversation
•
Trainer's lawyers alert Congress to second tape
Pettitte news
•
Pettitte undecided if he'll testify before Congress
•
Pettitte gets new lawyer for congressional hearing
•
Pettitte admits using HGH in 2002
Grimsley/Radomski documents
•
Unsealed documents:
Radomski
|
Grimsley
•
Federal agent Jeff Novitzky's sworn affidavit
•
Watson denies allegations in Grimsley affidavit
•
Hearst wants goverment. to explain conduct
Other News
•
Players, owners try to modify drug agreement
•
Fehr: Foreign players deserve equal drug penalties
•
Pujols bans TV station that erroneously named him
•
MLB establishes drug investigations unit
•
Report: Knoblauch ends silence on steroid report
•
Kent: Players should undergo blood testing
•
Rose investigator says Mitchell undermined report
•
Report: Congressional hearing postponed
•
MLB to crack down on clubhouse security
•
Congressman blasts Selig on steroids policy
•
Report: Players may still testify at hearing
•
Report: MLB players won't testify for Congress
•
Rose says users 'making a mockery' of game
•
Selig defends baseball's drug-testing program
•
Post-'03 cases face most MLB scrutiny
•
Congress calling new hearings on steroids, HGH
•
Report: Deal with feds led to McNamee testimony
•
Report: Roberts admits one-time steroid use
•
Nats prez: Team had no advance copy of report
•
Indians' Byrd discusses HGH use with MLB
•
Vina admits HGH use, but disputes steroid claims
•
MLB's man: Progress in urine test to detect HGH
•
O's respond to Mitchell findings
•
A-Rod's reply to Canseco: I never doped
•
Bush: MLB must take report seriously
•
Pujols sets record straight on inaccurate report
•
Reliever Donnelly 'sick' over inclusion in report
•
Former D-back Cabrera denies using steroids
•
Lowell calls for stronger steroid testing
Analysis
•
Munson: Delay means Congress serious
•
Wojciechowski: Rocket's logic fizzles
•
Assael: Clemens throws up and in at McNamee
•
Munson: Clemens' lawsuit is part propaganda
•
Olney: There's one thing Clemens can't change
•
Crasnick: A tale of two Rockets on "60 Minutes"
•
Neyer: Time to stop behaving like a child

•
Bryant: Odds are against Clemens in interview
•
Munson Q&A: Clemens, McNamee on the hot seat
•
Neyer: Investigate all players

•
Wojciechowski: Time for Clemens to speak up
•
Neyer: Does HGH enhance performance?

•
Hill: Pettitte's apology was a joke
•
Stark: Pettitte no different than Pats' Harrison
•
Stark: Clemens, Bonds tales similar, yet different
•
Bryant: Selig must address steroids era records
•
Santangelo admits HGH use; will 'face the music'
•
Helyar: Not good for short-term business
•
Fish: Baseball's steroids crisis management
•
Crasnick: Clemens' Hall of Fame chances?
•
Gammons: Drug culture quite slimy

•
Hall of Fame voters speak out on Clemens
•
Stark: Indelible impact on the game
•
Wojciechowski: Thaw needed in cold war
•
Bryant: Mitchell report flat without feds
•
Fainaru-Wada: Report sheds light on Bonds
•
Crasnick: Recently acquired players named
•
The man behind Clemens, Pettitte bombshells
•
Munson: Legal challenges troublesome
•
Fish: Congress reacts quickly to report
•
Helyar: Anti-doping experts don't agree on report
•
Nelson: Fehr, MLBPA kept in dark on report
•
Neyer: Non-surprising names

•
Neyer: Scout's telling take on Gagne

Video
•
Complete coverage
Audio
•
David Justice on The Herd
•
Best of Mike & Mike, on report's fallout
•
PTI discussion over report's release
•
Michael Kay Show
•
ESPN.com's Keith Law
SportsNation
•
SportsNation reacts to Mitchell report
•
What do you think of it?
•
Fan blogs: How fans are reacting
More
•
Mitchell investigation timeline
•
Kirk Radomski timeline
•
List of suspended MLB players

MOST SENT STORIES ON ESPN.COM