Ex-Mets clubhouse attendant Radomski sentenced to 5 years probation
Updated:
February 9, 2008, 12:12 AM ET
By
Mike Fish
| ESPN.com
SAN FRANCISCO -- Kirk Radomski, the one-time New York Mets clubhouse attendant who injected juice into former Sen. George Mitchell's nearly two-year steroid investigation, walked out of federal court Friday afternoon a free man.
That's the reward for cooperation these days.
Radomski was slapped with a fine of $18,575 and five years probation, but no prison time for his guilty plea on charges of distributing steroids and laundering money. He had faced the possibility of up to six months in prison.
In arguing for leniency, assistant U.S. Attorney Matt Parrella told the court, "He's been the most significant cooperator in the arena of sports [steroids investigations] to date."
Radomski's attorney, John Reilly, went a step further, telling the court that Radomski was cooperating with investigators as late as Thursday.
"In some small way, his cooperation may have changed the face of baseball as we know it," Reilly told the court.
This was a "coming out" of sorts for Radomski, who by design had dodged the limelight since his name surfaced in connection with baseball and steroids, leaving Roger Clemens and his ex-trainer, Brian McNamee, to fight public battles through hired legal hands over their roles in the Mitchell report. Now, Radomski will step into the public eye on a grand stage in Washington next Wednesday when he joins Clemens and McNamee -- as well as pitcher Andy Pettitte and former infielder Chuck Knoblauch -- in a hearing before the House Oversight and Government Reform Committee.
Radomski declined comment upon leaving the federal courthouse Friday.
Wearing a black suit, Radomski's blocky build and thick neck gave him the look of a bodybuilder or a gym rat as he stood before U.S. District Court Judge Susan Illston. His hair was closely cropped in almost a military cut. He addressed the court briefly, looking down at notes and speaking in a thick New York accent, a product of his Bronx roots.
Shortly after entering the courtroom and pulling up a seat on the front row, he was joined by IRS special agent Jeff Novitzky, who has led the government's widespread crackdown on drugs in professional sports. Novitzky has had a testy relationship with some athletes during the steroid cases, particularly home run king Barry Bonds, but his relationship with Radomski appeared chummy, based on their interaction and comments by Radomski's attorney upon leaving the court.
"I take full responsibility," Radomski told the court.
[+] Enlarge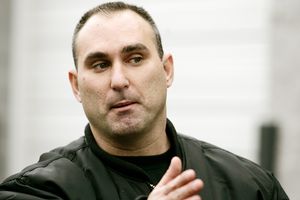 AP Photo/Ed BetzKirk Radomski, shown here outside his business in St. James, N.Y., in December, walked out of a federal courthouse a free man on Friday.
Radomski told the judge that it has been a difficult time for his young family, adding "I have received threats."
His lawyer later said Radomski was referring to anonymous telephone calls.
As for his most recent cooperation, Reilly said it had nothing to do with the latest controversy surrounding Clemens. Nor, he said, was it related to events on Capitol Hill.
His light sentence came at the behest of federal prosecutors, who filed with the court what is known as a 5K1.1 letter, noting Radomski's cooperation and specifically requesting that he receive only probation.
"I don't take lightly what happened," Judge Illston said upon rendering her sentence. "Probation is not a free lunch, either."
Illston sternly warned Radomski to abide by the terms of probation, saying, "Or you'll be back here and the conversation will be very different than it is right now."
But on this day, the government had reason to treat him kindly.
Without "Murdock," which is what his friends call him, the baseball-and-steroids story would be remarkably different. This is the man who broke the game's steroid scandal wide open. If not for Radomski, Mitchell would have been able to produce little more other than a very expensive academic study of sport and drugs, left to recycle names already mentioned in past investigations and media reports. His investigators would have had access to none of the bank records, receipts, and phone records that bolstered the findings in the report.
Clemens, for example, would be preparing to start spring training or retirement about now -- not running up lawyer fees, chatting up McNamee on a tape-recorded phone line and meeting with members of Congress. Very few would have heard of McNamee, the ex-New York City cop. A cast of current and former players wouldn't have been exposed as alleged steroid users. Federal agents wouldn't have knocked on Jason Grimsley's door. There would be no congressional sideshow.
And a lot of people likely would still believe that Bonds is only high-profile player tied to steroids.
It was Novitzky, lead investigator in the original BALCO drug scandal, who gained the cooperation of Radomksi. The 38-year-old Radomski, a supplier of steroids to MLB players until 2005, agreed to become an informant and wear a listening device after federal investigators carried out a surprise raid at Radomski's home on Long Island in December 2005.
An audit of his bank records by federal agents turned up 23 checks written to Radomski by current or former players, as well as McNamee, former trainer to Clemens and Pettitte. Federal investigators believe the checks, totaling more than $30,000, were for the purchase of performance-enhancing drugs.
McNamee, engaged in a high-stakes showdown with Clemens that is certain to be center stage on Capitol Hill next Wednesday, has told authorities that he injected the seven-time Cy Young Award winner more than a dozen times with human growth hormone and steroids in 1998, 1999 and 2001. Clemens denies the allegation.
The records obtained by federal agents apparently didn't go back that far, though the investigation found checks that McNamee had written to Radomski in subsequent years. They include:
• A check for $1,000 dated Nov. 24, 2003.

• A check for $3,275 dated July 16, 2004.

• A check for $2,400 dated Nov. 12, 2004.
As part of his plea deal, Radomski agreed to cooperate with federal authorities as well as with Mitchell's investigators. His sentencing had been continued three times before Friday.
Next week, he goes to Washington, where, no doubt, he faces a flurry of questions about the stand-off between Clemens and McNamee.
Mike Fish is an investigative reporter for ESPN.com. He can be reached at michaeljfish@gmail.com.
SPONSORED HEADLINES
MORE MLB HEADLINES
MOST SENT STORIES ON ESPN.COM
CONGRESS BRINGS BASEBALL TO THE HILL
Baseball commissioner Bud Selig, Mitchell report author George Mitchell and players union executive director Donald Fehr spoke to a congressional committee about steroids in the sport in January. Now, it's Roger Clemens and Brian McNamee who come to Capitol Hill.
Stark's live blog
Round 2
News
•
Pettitte admits additional use of HGH in 2004
•
McNamee: I injected Clemens more than I claimed
•
Jeter says hearings "a bad time for the game"
•
Canseco affidavit backs Clemens' denials
•
Congress hears from PED experts
•
Report: Pettitte affidavit supports McNamee
•
Pettitte, 2 others won't testify at hearing
•
Selig: Third party not needed for drug testing
•
Waxman: Hardin 'attempt to intimidate' a concern
•
Waxman's letter (PDF)
•
Report: Professors refute Clemens' stats analysis
•
Lawyer: Clemens wasn't at Canseco's 1998 party
•
Radomski convinced McNamee holds truth
•
Clemens continues informal hearings on Hill
•
McNamee deposed; Clemens back on Hill
•
McNamee gives evidence to investigators
Analysis
•
Bryant: Hearing about Mitchell and Clemens
•
Helyar: What's at stake for Clemens? Plenty
•
Fish: Radomski made Mitchell report sing
•
Wojciechowski: Congress, take this seriously
•
Munson: Stats professors have Clemens' number
•
Munson Q&A on McNamee evidence
•
Olney: Pettitte tiebreaker between McNamee, Clemens

Round 1
News
•
Congress mixes praise for Selig, criticism of MLB
•
Congress asks for inquiry into Tejada testimony
•
WADA blasts MLB for drug-testing loopholes
•
Report: Mitchell tried to contact Clemens twice
•
McNamee attorney defends immunity request
•
Source: Clemens hedges on giving deposition
•
Source: Clemens not expected to receive immunity
•
Trainer's lawyers alert Congress to second tape
Analysis
•
Bryant: Congress believes MLB getting it
•
Munson: The losers, Tejada, Magowan and Sabean
•
Jayson Stark's day-long hearings blog
•
Quinn/Fainaru-Wade: Selig's legacy in balance
•
Bryant: Hold others accountable, too
•
Munson: Who knew what, and when
The Mitchell report
•
Mitchell delivers his report
|
Read it (pdf)
•
Players: Who's named in the report
•
Recommendations from the report