Clemens says Pettitte 'misremembered' him; McNamee grilled
Updated:
February 13, 2008, 9:04 PM ET
ESPN.com news services
WASHINGTON -- Separated by only a few feet, Roger Clemens and his accuser were never further apart.
There they sat, the star pitcher and his former personal trainer, Brian McNamee, sharing a wooden witness table Wednesday while speaking to Congress under oath and facing blistering questions. For 4½ hours, both men stuck to their versions of the he-said, he-said disagreement over whether McNamee injected Clemens with steroids and human growth hormone.
Clemens insisted it never happened. McNamee insisted it did.
His reputation and Hall of Fame candidacy potentially at stake -- not to mention the possibility of criminal charges, should he lie -- Clemens said: "I have never taken steroids or HGH. No matter what we discuss here today, I am never going to have my name restored."
For some members of the House Committee on Oversight and Government Reform, Clemens' denials rang hollow, particularly in light of a new account of his discussion of HGH use, revealed by his friend and former teammate Andy Pettitte in a sworn affidavit.
"It's hard to believe you, sir," Rep. Elijah Cummings, D-Md., told Clemens. "I hate to say that. You're one of my heroes. But it's hard to believe."
Clemens and McNamee by all accounts once good friends, rarely looked at one another. Seated between them was a third witness, Charles Scheeler, a lawyer who helped compile the report on drug use in baseball headed by former Senate majority leader George Mitchell.
Occasionally, Clemens stuck out his famous right arm -- the one that earned 354 major league wins, seven Cy Young Awards and $160 million -- to jab a finger in McNamee's direction. Even when the pitcher gestured, though, he stared straight ahead. Just like the Rocket's mound glare.
[+] Enlarge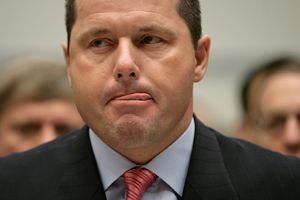 Chip Somodevilla/Getty ImagesRoger Clemens was grilled over inconstistencies between his testimony and statements made under oath by his teammate and friend Andy Pettitte.
"I have strong disagreements with what this man says about me," Clemens intoned.
Just like their stories, Clemens' Texas drawl was in strong contrast to the clipped cadences of McNamee, a former New York police officer.
"I told the investigators I injected three people -- two of whom I know confirmed my account," McNamee said. "The third is sitting at this table."
Ultimately, the matter could wind up with the Justice Department if prosecutors believe either man made false statements. The Justice Department is also reviewing used needles and bloody gauze pads McNamee turned over. He said they contained performance-enhancing drugs and Clemens' DNA.
"We found conflicts and inconsistencies in Mr. Clemens' accounts," said Rep. Henry Waxman, D-Calif., the committee's chairman. "During his deposition, he made statements we know are untrue."
McNamee was asked about why he saved what he claims to be physical evidence connecting Clements to steroid use, including bloodied gauze and used medical needles.
In 2005, a source associated with McNamee told ESPN The Magazine's Shaun Assael that McNamee saved a blood sample from Clemens that would show steroid use. The sample was never shown to Assael.
Waxman said afterward he hadn't "reached any conclusions" as to whether a criminal investigation is warranted, although several congressmen said a referral from the committee isn't needed to trigger one. As ranking Republican Tom Davis of Virginia, put it: "Both can't be telling the truth."
In addition, ABC News reported that at least six FBI agents were in attendance at the hearing. While the Department of Justice will wait to see if the committee refers the matter for investigation, the agency can also open a probe on its own without a referral.
[+] Enlarge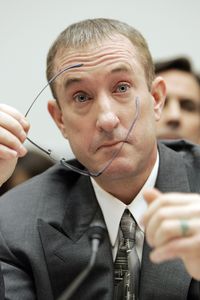 AP Photo/Susan WalshBrian McNamee came under intense scrutiny for not being fully forthright with federal agents about the number of injections he gave and the physical evidence in his possession.
Bonds, baseball's home run king, was indicted in November on charges of perjury and obstruction of justice stemming from his 2003 testimony to a grand jury in which he denied knowingly using performance-enhancing drugs. Because of his denials under oath, Clemens could be subjected to a similar criminal probe.
The session, held on the same day pitchers and catchers started reporting for spring training in Florida and Arizona, came exactly two months following the release of the Mitchell report.
That investigation was prompted by another hearing on steroids held by the same committee in the same wood-paneled room, on March 17, 2005. That is best remembered for having tarnished the reputations of Mark McGwire -- who infamously repeated, "I'm not here to talk about the past" -- and Rafael Palmeiro -- who wagged his finger and declared he never had used steroids, then failed a drug test months later.
In a reference to that day, Rep. Mark Souder, R-Ind., cautioned Clemens and McNamee: "It's better not to talk about the past than to lie about the past."
Wednesday's hearing, which Waxman indicated would be his committee's last on the subject, was prompted by Clemens' various and vigorous denials of what McNamee told Mitchell. The Mitchell report was the first public accounting of McNamee's allegations that he injected Clemens with HGH and steroids 16 to 21 times from 1998 to 2001. McNamee said Wednesday he now thinks those numbers are too low.
"They don't disagree on a phone call or one meeting," Waxman said. "If Mr. McNamee is lying, he has acted inexcusably and he has made Mr. Clemens an innocent victim. If Mr. Clemens isn't telling the truth, then he is acting shamefully and has smeared Mr. McNamee. I don't think there is anything in between."
Waxman said he considered calling off the hearing, but said he was persuaded to go forth by Clemens' lawyers, an account they disputed. He also accused Clemens of possibly trying to influence statements to the committee by the pitcher's former nanny.
Congressmen noted that Pettitte and another former Yankees teammate of Clemens, Chuck Knoblauch, both acknowledged that McNamee was correct when he said they used performance enhancers.
At times, Clemens struggled to find the right words as he was pressed by lawmakers. Clemens said Pettitte "misremembers" things. He mispronounced McNamee's name at one point. Toward the end, Clemens raised his voice to interrupt Waxman's closing remarks. The chairman pounded his gavel and said, "Excuse me, but this is not your time to argue with me."
[+] Enlarge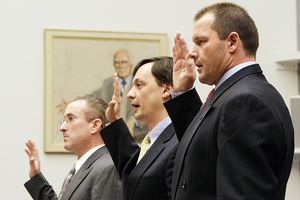 AP Photo/Pablo Martinez MonsivaisFormer New York Yankees baseball pitcher Roger Clemens, right, lawyer Charles Scheeler center, and Clemens' former personal trainer Brian McNamee, are sworn in Wednesday before testimony before the House Committee on Oversight and Government Reform.
It seemed clear early the committee would not treat Clemens with kid gloves, despite face-to-face meetings he did with representatives in recent days -- sometimes posing for photos or signing autographs for staff members.
There was one wide-eyed fan moment, when Rep. William Clay, D-Mo., relayed to Clemens that a colleague "wants to know what uniform will you wear into the Hall of Fame?"
Eventually, the committee split largely along party lines, with the Democrats reserving their most pointed queries for Clemens, and the Republicans giving McNamee a rougher time.
"You're here under oath, and yet we have lie after lie after lie after lie," Rep. Dan Burton, R-Ind., told McNamee.
Rep. Christopher Shays, R-Conn., repeatedly called McNamee a "drug dealer."
One of McNamee's lawyers, Earl Ward, called it a "public flogging."
When it was over, Clemens shook hands with Davis, then left through a back door.
Clemens later briefly told reporters: "I'm very thankful and very grateful for this day to come. I'm glad for the opportunity finally. And, you know, I hope I get -- and I know I will have -- the opportunity to come here to Washington again under different terms."
His wife, Debbie, sat behind him and listened as Waxman implicated her in HGH use, citing statements by Pettitte. Clemens testified his wife took HGH once, although according to the transcript of last week's sworn deposition, Clemens told committee lawyers he didn't know of family members taking HGH.
IRS Special Agent Jeff Novitzky, a key member of the team prosecuting Barry Bonds, watched from a second-row seat. Bonds, baseball's home run king, was indicted in November on charges of perjury and obstruction of justice stemming from his 2003 testimony to a grand jury in which he denied knowingly using performance-enhancing drugs.
Pettitte, who was excused from testifying, said in a statement to the committee that Clemens told him nearly 10 years ago that he used HGH. Waxman read from affidavits by Pettitte and his wife, Laura, supporting the accusations.
"Andy Pettitte is my friend. He was my friend before this. He will be my friend after this and again. I think Andy has misheard," Clemens said. "I think he misremembers."
In his deposition, Pettitte also said that in 2003 or 2004, McNamee told him Clemens had used steroids. Committee lawyers asked Pettitte how he decided what to say, given that he was caught between conflicting accounts from two friends.
"I have to live with myself. And one day, I have to give an account to God -- and not to nobody else -- of what I've done in my life," Pettitte replied. "And that's why I've said and shared the stuff with y'all that I've shared with y'all today -- that I wouldn't like to share with y'all."
Portions of that transcript and others were shown on flat-panel TVs on walls in the room. It was jarring in black and white.
The Associated Press contributed to this report.
SPONSORED HEADLINES
MORE MLB HEADLINES
MOST SENT STORIES ON ESPN.COM
CONGRESS CALLS FOR JUSTICE


The congressional committee that grilled Roger Clemens and Brian McNamee on allegations of performance-enhancing drug use in the Mitchell report has asked the U.S. Department of Justice to investigate whether Clemens committed perjury when he testified on Capitol Hill.
Perjury Probe
•
Clemens issues apology for personal 'mistakes'
•
Report: Clemens alleged to have had affair
•
Republican's report questions if Clemens lied
•
Report: Clemens probe expands to Houston clinic
•
Congressman asks FBI to drop Clemens inquiry
•
FBI opens probe of whether Clemens was truthful
•
Congress asks Justice to examine Clemens
•
Waxman: Seven contradictions (.pdf)
•
Rocket mum on Congress' investigation request
•
Text of committee's letter to Justice department
•
Fainaru-Wada: Damning analysis on Clemens
•
Wojciechowski: Clemens' inconsistent truth
•
Poll: Clemens lied, but should be voted into Hall
•
Astros owner might reconsider Clemens contract
After The Hearing
•
Radomski says new HGH receipt found under TV
•
Report: Receipts show HGH shipments to Clemens
•
U.S. GM: Clemens not welcome on Olympic team
•
Judge allows Clemens to keep Hardin in lawsuit
•
Lawyer talking with Clemens about dropping suit
•
McNamee's attorneys ask judge to remove Hardin
•
Investigator wants to talk to Canseco about Clemens
•
Report: McNamee selling off signed Clemens items
•
McNamee tells students to learn from his mistakes
•
Hardin makes case to represent Clemens
•
Reports: McNamee faints behind wheel, hits bus
•
McNamee's lawyers want Clemens' suit tossed
•
Report: McNamee nearly joined Mets as coach
•
Report: Photo exists of Clemens at party
•
Pettitte reports, apologizes
•
Report: Pettitte's HGH provided by ex-classmate
•
Posada: 'I believe Rocket' about steroid claims
The Hearing
•
Transcripts: McNamee attempted to warn Rocket
•
Report: Waxman wishes hearings didn't happen
•
Parties divide over Clemens' treatment at hearing
•
Stark's running blog
•
Clemens: Pettitte 'misremembered' him on HGH
•
Fish: Clemens' support breaks along party lines
•
Fish: Pettitte's role was clincher for Cummings
•
Pettitte says he also used HGH in 2004
•
Clemens statement: I never took steroids
•
McNamee statement: I told truth about Clemens
•
Statement on behalf of Andy Pettitte on affadavit
•
Debbie Clemens admits HGH use
Analysis
•
Munson: The Rusty Hardin effect on Rocket's lawsuit
•
Wojciechowski: Clemens feeds feds' case
•
Fainaru-Wada: Damning analysis on Clemens
•
Stark: Pettitte saga doesn't end here
•
Wojciechowski: Pettitte deals with past
•
Hill: Truth will set Andy free
•
Bryant: Clemens blames all but himself
•
Wojciechowski: Pettitte speaks loudest
•
ESPN experts: Who was more credible?
•
Munson Q&A on Wednesday's hearing
•
Drehs: Body language breakdown
•
Stark: Pettitte's shadow looms large
•
Neyer: What matters to Roger is Roger

Video
•
Complete coverage from the hearings

Committee Depositions/Interviews (pdf)
•
Andy Pettitte
|
Brian McNamee
•
Roger Clemens
|
Chuck Knoblauch
•
Clemens' nanny
The Mitchell report
•
Mitchell delivers his report
|
Read it (pdf)
•
Players: Who's named in the report
•
Recommendations from the report