Commentary
Pro-Clemens or anti-Clemens? Might depend on political party
Originally Published:
February 13, 2008
By
Mike Fish
| ESPN.com
WASHINGTON -- What was billed as a congressional hearing to get to the bottom of the ugly he-said, he-said squabble between baseball pitching icon Roger Clemens and his former personal trainer came close to turning into a partisan debate on Capitol Hill.
Clemens went door-to-door chatting up members of the House Committee on Oversight and Government Reform over the past week, and the effort apparently scored points with many of the committee's Republican members. At one point Wednesday in Room 2154 of the Rayburn House Office Building, Clemens volunteered that a former president, presumedly George H.W. Bush, contacted Clemens while he was out deer hunting and told him to "stay strong."
Committee members from the Republican side of the aisle at times fawned over the seven-time Cy Young Award winner and tore into the credibility of Brian McNamee, who claims to have injected Clemens with anabolic steroids and human growth hormone, calling Clemens' former trainer everything from a lying ex-cop to a drug dealer with a phony doctorate.
Conversely, the Democrat members of the committee -- led by chairman Henry Waxman of California and Elijah Cummings of Maryland -- went after Clemens, trying to trap him in lies and raising the specter by hearing's end of the possibility that he had perjured himself before Congress. Despite this, Waxman said as the hearing neared a close that, "This is not anything that separates us as Democrats and Republicans."
[+] Enlarge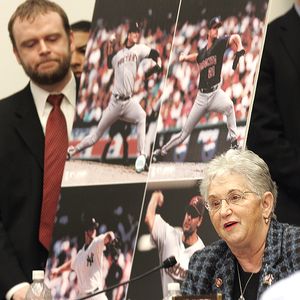 AP Photo/Susan WalshRep. Virginia Foxx (R-N.C.) used photos submitted by Roger Clemens' legal team to ask him a friendly question.
With few exceptions, though, the party members appeared to be taking opposite sides.
At one point, Rep. Virginia Foxx, R-N.C., quizzed McNamee about whether he planned to write a book. When he responded no, she said sarcastically, "We'll see about that."
Over her right shoulder, as Foxx questioned McNamee, an aide had placed a large poster board that contained four color photos of Clemens pitching at different stages of his career -- early on when he was with the Boston Red Sox, followed by action photos taken during his stints the Toronto Blue Jays, New York Yankees and Houston Astros.
The very same photos -- all of which depicted Clemens stretched out in full delivery on the mound -- were part of the 62 pages of supportive documents that Clemens' legal team made available to the media prior to Wednesday's hearing.
"You appear to me about the same size in all those photos," offered Foxx, addressing Clemens without mentioning the source of the material. "It doesn't appear [your] size changed much."
Steroids and other performance-enhancing drugs are known to add bulk to those who use them. Clemens couldn't have been more pleased by the Congresswoman's observations.
But cozying up to Clemens, a baseball icon, wasn't limited to Republicans. Some of the Democrats had their moments, too.
Rep. Carolyn Maloney of New York thanked him for his service to the New York Yankees.
Rep. William Lacy Clay of Missouri asked what uniform he'd be wearing upon induction to the Hall of Fame.
Rep. Eleanor Norton of the District of Columbia assured Clemens that better things await him than just the Hall of Fame.
"All I can say, Mr. Clemens, is I'm sure you're going to heaven," Norton said with a smile, perhaps born from her frustration with Clemens' answers to her questions.
That remark came after Clemens had struggled to explain why he'd continued to work with McNamee up until this past season, despite the fact that Clemens said he was outraged to learn that the trainer had injected Clemens' wife, Debbie, with steroids in 2003 in their master bedroom. (Clemens said the injections resulted in minor circulatory problems for his wife.) He also accused McNamee of lying about his education and a previous criminal incident. Clemens, however, said he didn't fire him because he is a "forgiving person."
[+] Enlarge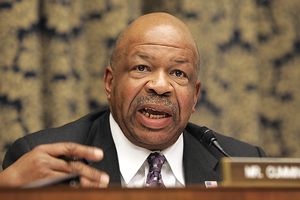 AP Photo/Susan WalshRep. Elijah Cummings (D-Md.) ended his questions to Clemens by saying, 'It's hard to believe you.'
The attacks on McNamee from the Republicans were far from subtle.
Rep. Dan Burton of Indiana, said, "You're here to tell the truth, yet we have lie after lie. I know one thing I don't believe -- and that is you."
Rep. Darrell Issa of California suggested McNamee's Ph.D should stand for "piled high and deep."
As he wrapped up the hearing, Waxman, the committee's chairman, apologized to McNamee for some of the treatment he received, without mentioning the names or affiliation of the committee members who delivered it.
In the post-hearing spin, Clemens' legal team claimed not to have seen any partisanship, though lead attorney Rusty Hardin directed a critical comment at committee chair. Hardin alleged that Waxman strategically waited until more supportive members of the committee were out of the room to raise questions about the Clemens team's cooperation in locating a nanny formerly employed by the pitcher.
McNamee's attorneys were livid about the Republicans' treatment of their client.
"They disgraced their office; that was outrageous," Richard Emery said in reference to the Republicans' questions and comments. "There is no excuse for them to behave that way in public. I don't know whose water they're carrying. But clearly, [Clemens'] lobbying paid off."
No one on either side of the aisle, in the end, could deny that someone at the hearing was lying to them. Both Clemens and McNamee raised their right hands at the beginning of the proceeding and swore under oath to tell the truth, but, given the conflicting testimony, one may have committed perjury in front of Congress and a national TV audience.
As he walked out of the Rayburn Building late in the afternoon, Issa, one of the committee members whose questions appeared to favor Clemens, was asked if perjury charges should be pursued against one of the two witnesses.
"Well, to be honest, the Justice Department does not pick up these things and just make their own decisions," Issa said. "So it is fairly rare, particularly considering the U.S. attorneys have real bad guys -- thugs and bad guys -- to go after. So my assumption is they probably won't."
Mike Fish is an investigative reporter for ESPN.com. He can be reached at michaeljfish@gmail.com.
CONGRESS CALLS FOR JUSTICE


The congressional committee that grilled Roger Clemens and Brian McNamee on allegations of performance-enhancing drug use in the Mitchell report has asked the U.S. Department of Justice to investigate whether Clemens committed perjury when he testified on Capitol Hill.
Perjury Probe
•
Clemens issues apology for personal 'mistakes'
•
Report: Clemens alleged to have had affair
•
Republican's report questions if Clemens lied
•
Report: Clemens probe expands to Houston clinic
•
Congressman asks FBI to drop Clemens inquiry
•
FBI opens probe of whether Clemens was truthful
•
Congress asks Justice to examine Clemens
•
Waxman: Seven contradictions (.pdf)
•
Rocket mum on Congress' investigation request
•
Text of committee's letter to Justice department
•
Fainaru-Wada: Damning analysis on Clemens
•
Wojciechowski: Clemens' inconsistent truth
•
Poll: Clemens lied, but should be voted into Hall
•
Astros owner might reconsider Clemens contract
After The Hearing
•
Radomski says new HGH receipt found under TV
•
Report: Receipts show HGH shipments to Clemens
•
U.S. GM: Clemens not welcome on Olympic team
•
Judge allows Clemens to keep Hardin in lawsuit
•
Lawyer talking with Clemens about dropping suit
•
McNamee's attorneys ask judge to remove Hardin
•
Investigator wants to talk to Canseco about Clemens
•
Report: McNamee selling off signed Clemens items
•
McNamee tells students to learn from his mistakes
•
Hardin makes case to represent Clemens
•
Reports: McNamee faints behind wheel, hits bus
•
McNamee's lawyers want Clemens' suit tossed
•
Report: McNamee nearly joined Mets as coach
•
Report: Photo exists of Clemens at party
•
Pettitte reports, apologizes
•
Report: Pettitte's HGH provided by ex-classmate
•
Posada: 'I believe Rocket' about steroid claims
The Hearing
•
Transcripts: McNamee attempted to warn Rocket
•
Report: Waxman wishes hearings didn't happen
•
Parties divide over Clemens' treatment at hearing
•
Stark's running blog
•
Clemens: Pettitte 'misremembered' him on HGH
•
Fish: Clemens' support breaks along party lines
•
Fish: Pettitte's role was clincher for Cummings
•
Pettitte says he also used HGH in 2004
•
Clemens statement: I never took steroids
•
McNamee statement: I told truth about Clemens
•
Statement on behalf of Andy Pettitte on affadavit
•
Debbie Clemens admits HGH use
Analysis
•
Munson: The Rusty Hardin effect on Rocket's lawsuit
•
Wojciechowski: Clemens feeds feds' case
•
Fainaru-Wada: Damning analysis on Clemens
•
Stark: Pettitte saga doesn't end here
•
Wojciechowski: Pettitte deals with past
•
Hill: Truth will set Andy free
•
Bryant: Clemens blames all but himself
•
Wojciechowski: Pettitte speaks loudest
•
ESPN experts: Who was more credible?
•
Munson Q&A on Wednesday's hearing
•
Drehs: Body language breakdown
•
Stark: Pettitte's shadow looms large
•
Neyer: What matters to Roger is Roger

Video
•
Complete coverage from the hearings

Committee Depositions/Interviews (pdf)
•
Andy Pettitte
|
Brian McNamee
•
Roger Clemens
|
Chuck Knoblauch
•
Clemens' nanny
The Mitchell report
•
Mitchell delivers his report
|
Read it (pdf)
•
Players: Who's named in the report
•
Recommendations from the report

MOST SENT STORIES ON ESPN.COM