Commentary
Excerpt: Ty Cobb and Carl Mays
Originally Published:
May 20, 2008
By
Rob Neyer
| Special to ESPN.com
Editor's Note: The following is an excerpt from "Rob Neyer's Big Book of Baseball Legends" by Rob Neyer. Copyright (c) 2008 by the author and reprinted by permission of Simon & Schuster. Click here for information on how to purchase the book.
*****
[+] Enlarge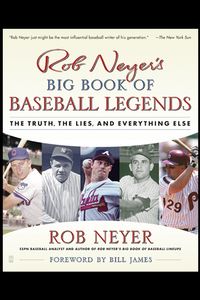 Courtsey Simon & Schuster
Our club got to where we could beat Carl Mays, the great underhand pitcher, most any time he started, and fans often wondered why. We did it because we had studied his way of thinking, and crossed him.

It is well known among batters that Mays' great point of strength was in his low ball. He keeps it just about the knees and worries a batter to death. But he always manages to keep it high enough for the umpire to call it a strike.

We discovered one day that if Mays couldn't control his low ball he lost his poise and was easy to beat. His mind was in such habit of having that low one -- his strength -- work successfully that when it didn't his grip was gone.

After watching him closely I found that he sized up batters according to where they stood in the batter's box. As you may know, I usually stand well forward and meet the ball out in front. By pitching to me in that position Mays's low ball would come just above my knees. The next time up I stood far back in the box, which put me a yard farther away from him. His low ball came over as usual, but when it reached the back end of the box it was an inch or two below my knees.

The umpire called two balls and Mays was surprised. Something was wrong, but he couldn't understand. I knew, of course, he would have to steady himself and get the next one up. Instead of waiting, I swung on that one and got a hit.

One after another of our batters tried the scheme and we drove Mays from the box. After that we could beat him most any time we wanted to by standing in the back of the box. That shifting completely upset him.
-- Ty Cobb in Memoirs of Twenty Years in Baseball (ed. William R. Cobb, 2006)
[+] Enlarge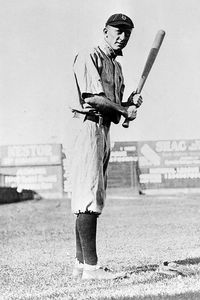 AP PhotoTy Cobb was the most feared player of his era.
One thing you have to love about the Peach: he never let a chance to establish his own brilliance pass without taking a vicious cut. What's not clear is how brilliant Cobb actually was. He's often regarded as a self-made player who thought his way into stardom. I don't know about that, though. At nineteen, he was one of the dozen or so best hitters in the American League. At twenty, he was the best. Cobb did apparently have a powerful intellect, but it wouldn't have done him much good if he'd not been blessed with all that physical talent.
Anyway, Mays pitched in the American League from 1915 through '23, and Cobb was active throughout those seasons, all of them with the Tigers. And those Tigers could really hit. In addition to Cobb -- the greatest hitter in the American League before Babe Ruth hit his stride -- the Detroit lineup featured stars Bobby Veach and Harry Heilmann. From 1915 through '23, the Tigers finished 1st, 1st, 2nd, 3rd, 3rd, 6th, 3rd, 2nd, and 2nd in the American League in runs scored. Over those nine seasons the Tigers scored more runs than anybody else in the league.
So how did Carl Mays fare against these hard-hitting Tigers? Using Mays's daily sheets from the Hall of Fame, we find that in fifty-two games he went 23-12 with a 2.72 earned run average against Detroit. Over those same nine seasons, his ERA against everybody else was -- coincidentally enough -- also 2.72. So considering the Tigers' propensity for scoring, Mays actually pitched better against the Tigers than against other teams. Which should at the very least result in some skepticism about Cobb's story.
But of course it's possible that Mays dominated the Tigers for some years, only to have the tables turned by Cobb's brainstorm. So let's look at those nine seasons individually. If Cobb's tale is true, we would expect to see some obvious point at which the Tigers went from patsies to powerhouses …
Games
Innings
Batting
Avg.
W-L
ERA
1915
4
11
.210
0-1
4.22
1916
5
36
.234
3-2
1.77
1917
5
40
.145
4-1
0.90
1918
7
59
.234
4-3
2.12
1919
5
29
.319
1-1
2.48
1920
8
55
.311
6-1
3.13
1921
8
38
.237
3-0
2.84
1922
7
43
.332
1-3
5.23
1923
3
17
.299
1-0
3.63
Totals
52
328
.263
23-12
2.72
Well, if we're looking for a line, we can place it between 1921 and 1922, right?
The rest of the Cobb-Mays story
In 1972, Exposition Press published Baseball's Great Tragedy: The Story of Carl Mays -- Submarine Pitcher. Authored by Boston newspaperman Bob McGarigle and little-known today, the book was assembled with a great deal of help from Mays, whom McGarigle interviewed at some length. The story Cobb tells about Mays does not appear in the book, but Cobb does play a key role. According to McGarigle, one afternoon in Fenway Park, Mays "decked the Georgia Peach in a tight situation and Ty had responded by throwing his bat at him. Cobb had needed police protection to get off the field that day." That was in 1915, Mays's rookie season. Which apparently set the tone for their professional relationship. Before another game Cobb challenged Mays, who recalled, "The first time he came to bat I decked him but good." Cobb wasn't going to let that go. On the next pitch (again, according to Mays) Cobb "dragged a bunt down the first base line." Mays fielded the ball, but before he could throw to first, Cobb slammed into him, spikes first. "I lay there stunned for a moment and then rolled over onto the infield grass and sat up. When I got courage enough to look at my leg, it was just a bloody mess. I remember wondering if I would ever run again "The mistake I made was in getting in his way on the baseline. The baseline was his -- according to him -- and he just ran right over me after knocking me to the ground. I carry the scar of that spiking to this day. It is more than six inches long. The doctor, incidentally, did a wonderful repair job and I only missed a couple of pitching turns." The book includes a wonderful full-page photo of Mays's scar, which resembles the head of an elephant with an extraordinarily long trunk. One can imagine how much blood was shed that afternoon. One quibble, though: from 1915 through '22, Mays went more than five days without pitching after an appearance against the Tigers just once. After starting against them on August 8, 1922, he didn't pitch again until the 16th (coincidentally enough, against the Tigers again). But Mays pitched a complete game on the 8th, and the newspapers don't mention any spiking. In 1923, he went nearly three weeks without pitching after a start against the Tigers, but again the papers didn't mention any incident involving Cobb. Mays did go for long stretches without pitching in 1923 -- his last season in the American League--but he attributed this to Miller Huggins's not liking him (and the Times mentioned Mays leaving the club to tend to his ill wife, during one of those stretches). So I don't know what to make of Mays's scar, except that he must have gotten it somewhere. That's not the end of the Cobb-Mays story (as told by Mays). On August 16, 1920, Mays beaned Ray Chapman. The next day, Chapman died. Mays's next start was on the 23rd, against the Tigers. According to Mays, before the game a note was delivered to him from Cobb. It read: If it was within my power, I would have inscribed on Chapman's tombstone these words: Here lies the victim of arrogance, viciousness and greed. Mays gave up ten hits that afternoon, but beat the Tigers 10-0. He recalled, half a century later, "After reading that note from Cobb I wouldn't have let them score a run if I had to pitch twenty-seven innings to beat them. … The Yankees played great ball behind me, didn't make an error. And if my memory is as keen as I think it is, Del Pratt staked me to a good lead in the first inning by hitting a three-run homer. Or maybe it was the Babe. The Babe was always rising to occasions like that." Mays's memory was keen. The Yankees did play errorless ball, and the Babe racked up two assists. In the first inning, Del Pratt did hit a three-run homer (and knocked in four more runs later in the game).
Unfortunately, that "analysis" has two big problems. The first, and the more obvious, is that if we were guessing when that line would be drawn, we would have guessed much earlier. If Cobb and his Tigers did figure out how to beat Mays, why did it take them seven years?
The other, less obvious problem is that interesting things don't really care what year the calendar says it is. When you see the results broken down by year, you might assume there really was a dividing line. On May 14 in 1922, Mays got hammered by the Tigers: twelve hits and seven runs in seven innings. Ah, dividing line. Or not. In his next three starts against Detroit, Mays pitched twenty-three innings and didn't allow more than two runs in a game.
There's another possibility for a dividing line, which can be seen by looking at the column for batting average. Granted, batting averages were generally trending upward in the late teens and early '20s. But the Tigers' batting average against Mays seemed to take a great leap forward in 1919, and we can in fact trace the surge back to 1918.
That season, Mays beat the Tigers with complete games on July 19 and then again three days later, giving up seven hits in eighteen innings. But in their next meeting, on the 6th of August, the Tigers touched Mays for fourteen hits in ten innings, and three weeks later they got him for eleven hits in nine innings.
Now, it should be said that in neither of those games did the Tigers "drive Mays from the box"; he started and completed both games. Still, the first nineteen times Mays pitched against the Tigers, from May 11, 1915, through July 22, 1918, he posted a 1.56 ERA and limited them to a .189 batting average. Afterward, in thirty-three games and 201 innings, his ERA was 3.49 and the Tigers batted .305 against him.
So maybe that is the game -- if there is one -- and the dividing line: August 6, 1918. Beginning with that game, the Tigers did hit Mays harder than they had before. But to what end? Remember Cobb's other claim? "After that we could beat him most any time we wanted to by standing in the back of the box. That shifting completely upset him."
Here's a simple graphical representation of Mays's twenty-three wins and twelve losses against the Tigers, with 8/6/18 highlighted (going in order from left to right):
| | | | | | | | | | | | |
| --- | --- | --- | --- | --- | --- | --- | --- | --- | --- | --- | --- |
| L | L | W | W | L | W | W | W | W | L | W | L |
| L | W | W | W | L | L | W | L | W | W | W | W |
| W | W | W | W | W | W | L | W | L | L | W | |
Now, I make no pretense of being a mathematician, or even a statistician. But does that look to you as if the Tigers could beat Mays "most any time we wanted," as Cobb claimed? If anything, it looks as if Mays could, as they used to say, just throw his glove on the mound and expect to beat the Tigers. Mays beat the Tigers on August 6, 1918. He did get roughed up in his next couple of starts -- one more in 1918, the next in 1919 -- but then he pitched six shutout innings against the Tigers. And after a loss -- a well-pitched loss, but still a loss -- in May 1920, Mays won nine straight decisions against Cobb's Tigers (they really were his Tigers, as Cobb took over as manager in 1921).
So, did they not beat Mays because they didn't want to beat him? Or did they not beat Mays because he was, regardless of whatever adjustment Cobb and his mates might (or might not) have made, a great pitcher perfectly capable of making his own adjustments?
I will suggest that most of the evidence points to the latter. The Tigers did get in their lumps in 1922, knocking Mays around pretty good in four of his seven starts against them. But if Cobb really was smart enough to figure out how to hit one of the top pitchers of that era, it wouldn't have taken him seven years.
SPONSORED HEADLINES
MORE MLB HEADLINES
MOST SENT STORIES ON ESPN.COM
EDITORS' PICKS
Buster Olney examines the potential MLB impact.
Blog

A path to the playoffs for all teams in the AL East.
David Schoenfield »

The Nationals were the clear winners of the 11-player trade.
Keith Law