Top 10 legendary stories from SportsNation
Originally Published:
May 20, 2008
ESPN.com
SportsNation had the opportunity to share their favorite stories of legend like those found in "Rob Neyer's Big Book of Baseball Legends." As judged by Neyer, here are the top 10 legendary stories submitted by ESPN.com users. They are listed in no particular order:
*****
[+] Enlarge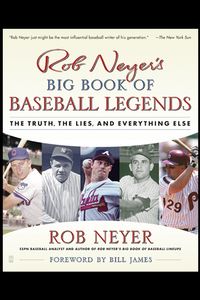 Courtsey Simon & Schuster
Click here
for information on how to purchase the book.
"In the summer of 1988, I was covering the Triple-A Nashville Sounds for the now-defunct Nashville Banner. In August of that season, I witnessed no-hitters in consecutive games on consecutive days. Randy Johnson (yes, that Randy Johnson) threw a no-hitter for Indianapolis, but Johnson lost the decision 1-0. Nashville's Lenny Harris drew a first-inning walk, stole a base and later scored on a groundout. The run stood up as Nashville's Keith Brown tossed a two-hitter. I remember Indianapolis had to pinch-hit for Johnson in the eighth inning and Pat Pacillo pitched the bottom of the eighth. The next day, Nashville pitcher Jack Armstrong happened upon Johnson prior to that day's game. Johnson told Armstrong, "Don't throw a no-hitter and lose.'' Armstrong took Johnson's advice. He threw a no-hitter and won 4-0. Armstrong's no-hitter was nearly a perfect game; the only blemish was a walk to the fabulously named Razor Shines. You can look it up."
--Mike Waters (Syracuse. N.Y.)

"ROBERTO CLEMENTE THROWS OUT BOBBY BONDS WITH AN AMAZING HUCK FROM DEEP RIGHT FIELD. It was either 1971 or 1972, and I attended an S.F. Giants night game at Candlestick Park. At some point in the game with the Giants batting and Bonds on first, a Giant crushed a sure double off the fence in right. Clemente played the carom perfectly. Bonds, one of the NL's fastest, took off like a shot, his goal being third base. Clemente unleashed a seed to nip Bonds at third and he was called out. While such plays were de rigueur for Clemente, it was a Hall of Fame play to witness. I was 13 years old at the time and it was the greatest defensive play I've seen live at an MLB venue. I am 50 now."
--Jon Leonoudakis

"I have never seen anyone write about this, but it was the hardest hit ball I have ever witnessed. On Opening Day of 1986 (I believe), Larry Herndon (Tigers) hit a ball off of, I believe, Dennis Rasmussen (Yankees) at Tiger Stadium that hit the facade of the upper deck in straightaway center field (440 feet away). If the ball was on its way down when it hit the wall, it was just barely past its apex. It was a line drive that seemed to have just leveled off when it hit the front of the section. I went home that day hoping to see highlights of the homer, but the cameras really didn't track the ball until after it hit the facing and landed on the field. I swear that ball would have gone close to 600 feet, but I never hear anyone talk about it (other than my Dad and I, who were at the game). I would be very interested to hear if any of the players that day remember that massive HR from a rather unexpected source."
--Brit (Woodstock, Ga.)

"In 1969, I saw Cesar Tovar and Rod Carew steal around the bases. They both got on base, then completed a double steal to get to third and second. Tovar stole home, and Carew took third. That same inning Carew stole home. (By the way, the only runs that the Twins scored that day, I think!) Has it ever happened again that there were two steals of home in the same inning?
--Patrick Hansel (Minneapolis)

"This is a college baseball story, but about a current major leaguer, so hopefully it qualifies. I remember watching Pat Burrell, who had already clubbed two homers for Miami against the J.D. Drew-led Seminoles. His next time up, the pitcher threw a fastball right at him. But instead of diving away, Burrell took his hand off the bat and caught the ball with his bare hand. He threw it to the ground in disgust, stared down the pitcher (who probably soiled himself), then went on to hit another home run later for good measure."
--JT (Miami)

"Back about 5 or 6 years ago, I went to the Baseball Assistance Team charity dinner in New York City. I was 13 or 14 at the time. The dinner is a fund-raiser to benefit B.A.T., which raises money to help major league players who played back before salaries skyrocketed and players had pensions. Before the dinner there was a cocktail hour in which many former major leaguers were there, including ESPN's Joe Morgan. They all signed autographs and were very nice. Later on the evening, in the bathroom, former Yankees great Hank Bauer was washing his hands at the same time I was. He said hello to me and my younger brother, before saying something along the lines of "Hey kids, want to see me brush my teeth right now?" He then went ahead to pop out his dentures and wash them off in the sink, held them up, and said, "Look guys, no cavities." It is a story I will never forget, and although I never got to see him play, I will always remember him for that. Unfortunately, he passed away last year.
--Evan G (Massapequa)

"Originally from Dallas, Texas, I was lucky enough to see my share of Nolan Ryan moments. I was at the game against the Kansas City Royals when a young bat-breaking Bo Jackson was making a big name for himself. Bo hit a line drive back at the mound that struck Nolan Ryan in the face. Blood shot out of his lip and splattered on his uniform. Ryan found the ball on the ground and calmly picked it up for the out at first. When Bo came up to bat again no one was left sitting in their seats. We were pumped and cheered because everyone in Arlington Stadium knew what was coming. Four pitches were thrown, all fastballs, and they were the fastest pitches I'll ever see. Bo nicked one of them, but couldn't catch up to the other three. When you think about it, he never really did have a chance."
--Will (Milwaukee) "I heard that while in Seattle, Ken Griffey Jr. hit six straight home runs in batting practice (not the legend, it happens a lot I am sure), but Lou Piniella bet him a steak dinner he couldn't hit the next one out. Griffey agreed and the ball didn't get out of the cage. Lou kept hounding him for the steak dinner throughout the night, so Griffey had a cow delivered to the locker room the next day. Not sure if it's true but great story."
--Phillip

"I witnessed a pitcher strike out the same batter twice in a row on six pitches, (literally the same person, consecutively for the second and third outs of the inning). It was the bottom of the first inning in a significant high school game, with one out and the all-region shortstop at the dish. This guy was by far the best player on the field and was hitting in the 3-hole as he had all year. He proceeded to look foolish on three straight pitches (very unusual) and made his way back to the dugout. It was then called to the umpire's attention that he had batted out of order. He was penciled in to bat fourth this game and no one caught it. He went right back up to the plate to bat in the correct order and again struck out on three straight pitches. This guy had just struck out two times in a row, on six pitches, and the pitcher was his first cousin. He only struck out four times that entire season and two of them came not only in the same inning, but on consecutive at-bats."
--Doug (Athens, Ga.)

"Jimmy Piersall -- he was a favorite of mine for reasons I still can't fathom to this day. I'm at Fenway one afternoon with my dad, and he hits a home run to right that the umpire declared foul. Piersall goes crazy (well, he already was certified crazy anyway!), but he really went nuts! He was swiftly restrained by the manager and a teammate or two. Next pitch, you guessed it -- a homer to left over the Monster! Never has there been a slower home run 'trot' around the bases at Fenway!"
--Canaan
SPONSORED HEADLINES
MORE MLB HEADLINES
MOST SENT STORIES ON ESPN.COM
EDITORS' PICKS
These players are vital to their team's success.
Blog

Ranking baseball's 30 farm systems for 2015.
Keith Law