Report: Alou says he would have caught Bartman ball
Updated:
June 3, 2008, 12:54 PM ET
ESPN.com news services
Moises Alou wants to set the record straight -- again.
[+] Enlarge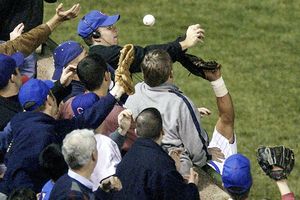 AP Photo/Morry GashMoises Alou -- that's his glove reaching up -- says he could have caught this foul ball in the 2003 NLCS had it not been for Steve Bartman (in Cubs hat and headphones).
Months after being quoted as saying he would not have caught the foul ball that
Chicago Cubs
fan Steve Bartman reached for in the eighth inning of the 2003 National League Championship Series, Alou said he would have indeed caught the ball had it not been for fan interference, the Palm Beach Post reported on Tuesday.
In March, Alou was quoted by Associated Press columnist Jim Litke as saying that he would not have caught the foul ball that Cubs fan Steve Bartman reached for in the eighth inning of Game 6 of the NLCS. The Florida Marlins rallied for the lead in that inning and went on to win the game and the series.
"Everywhere I play, even now, people still yell, 'Bartman! Bartman!' I feel really bad," Litke quoted Alou as saying in March. "You know what the funny thing is? I wouldn't have caught it anyway."
Litke wrote that Alou, now with the New York Mets, told him this when he ran into him last summer at a department store. But Alou said last week that he did not recall telling Litke that.
"I don't remember that,'' he said, according to the Post. "If I said that, I was probably joking to make [Bartman] feel better. But I don't remember saying that.''
Another thing Alou wants to make clear is that Bartman -- whose life was turned upside down from that infamous moment -- should be forgiven and left alone.
"It's time to forgive the guy and move on. I said that the night it happened,'' Alou said, according to the Post.
The Cubs were leading the Marlins three games to two in the 2003 NLCS, ahead 3-0 in the top of the eighth inning and five outs from returning to the World Series for the first time since 1945 when Florida's Luis Castillo lifted a foul down the line in left just past the bullpen.
Alou raced over and leapt for the ball, but it hit the heel of Bartman's hand and caromed farther back into the stands.
A few pitches later, Cubs shortstop Alex Gonzalez botched a grounder that should have been an inning-ending double play. Florida erupted for eight runs and went on to win the game, the NLCS and the World Series.
Information from The Associated Press was used in this report.
SPONSORED HEADLINES
MORE MLB HEADLINES
MOST SENT STORIES ON ESPN.COM
EDITORS' PICKS
The idea of eliminating defensive shifts is absurd.
Buster Olney

If A-Rod hits enough home runs to earn his bonuses, the Yanks should be more than happy to pay them.
Wallace Matthews

The Red Sox should wait before trying to upgrade their rotation.
Mike Petriello