Bonds pleads not guilty to refiled federal charges
Updated:
June 6, 2008, 9:23 PM ET
Associated Press
SAN FRANCISCO -- Barry Bonds is headed to trial next March on federal charges of lying to a grand jury about his use of performance-enhancing drugs.
The trial date was set Friday after baseball's home run king pleaded not guilty when he was re-arraigned on 15 felony counts of lying under oath and obstruction of justice.
Lead Bonds attorney Allen Ruby entered a plea of not guilty to the charges on the slugger's behalf, while Bonds stood silently in front of the judge. Ninety minutes later, Ruby agreed to a March 2, 2009, trial date before a second judge.
Bonds, who has not signed with a team this season, pleaded not guilty to similar accusations last December, but a judge ordered prosecutors to rewrite the indictment. The new indictment includes no new allegations.
Bonds was charged with 14 counts of lying under oath and one count of obstruction of justice.
Prosecutors say Bonds lied when he told a grand jury investigating the Bay Area Laboratory Co-Operative, known as BALCO, in 2003 that he never knowingly took steroids or other performance-enhancing drugs.
A much smaller and subdued crowd attended the Bonds hearings Friday than had showed up to his first federal court appearance Dec. 17. Dressed in a black, pinstripe suit, Bonds stepped out of a black SUV with his attorney and a couple of bodyguards and entered the courthouse through a back entrance without addressing reporters.
[+] Enlarge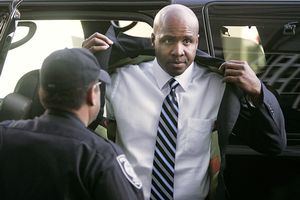 AP Photo/Marcio Jose SanchezBarry Bonds was accompanied in court by his lead attorney, a couple of bodyguards, and his aunt, Rose Kreidler, sister of Bonds' father, Bobby, who passed away in 2003.
Bonds embraced his aunt, Rose Kreidler, after the hearing.
"The reason that I am here is because his father is deceased," said Kreidler, sister to Bonds' father, Bobby Bonds, who died in 2003 of cancer. "This is such a tremendous blow to his family. It is so much on us. He's a great person. We are all praying for him."
A jury earlier this year convicted cyclist Tammy Thomas of lying to the same grand jury that Bonds is accused of misleading. Last month, another jury convicted track coach Trevor Graham of lying to federal investigators.
In all, six of the 11 people charged in connection with the BALCO investigation were accused of lying during the government's investigation started in 2002.
"The outcome of other cases has no effect on ours," Ruby said outside court. "He didn't lie to the grand jury."
Five men, including Bonds' personal trainer, Greg Anderson, have pleaded guilty to selling performance-enhancing drugs.
Prosecutors allege that Anderson supplied Bonds with performance-enhancing drugs and at least on one occasion injected Bonds with drugs.
Anderson spent nearly a year in prison last year after refusing to testify before a grand jury about whether he supplied Bonds with drugs. Anderson's attorneys say the trainer also will refuse to testify at Bonds' trial, making it likely Anderson will be returned to prison on contempt charges if the slugger doesn't plead guilty.
The Major League Baseball Players Association said last month it was investigating whether to file a collusion grievance against teams for not pursuing Bonds, who became a free agent when the San Francisco Giants decided they didn't want him back after 15 seasons.
The 43-year-old outfielder, a seven-time NL MVP, says he wants to play this year. His agent claims no team has made an offer for the 14-time All-Star.
Outside court, another Bonds attorney Mike Rains shot down rumors that the slugger and Red Sox were in talks. But, he said, "Barry is in great spirits."
Bonds hit 28 homers last year to raise his total to 762, seven more than Hank Aaron's previous record.

Copyright 2008 by The Associated Press
BARRY BONDS INDICTED

Barry Bonds was indicted for perjury and obstruction of justice, charged with lying when he told a federal grand jury that he did not knowingly use performance-enhancing drugs.
News
•
Bonds pleads not guilty to refiled federal charges
•
Judge unseals Bonds testimony
|
Read it (pdf)
•
Bonds' lawyers set to make request for dismissal
•
Prosecutor cleared to work Bonds perjury case
•
Bonds asks judge to dismiss perjury charges
•
Bonds seeks to keep legal team in perjury case
•
Hearing to determine lawyers' conflict of interest
•
Bonds pleads not guilty; Feb. 7 next court date
•
Fish: Defense could challenge Bonds' positive test
•
Report: Agent says Bonds wants to play in 2008
•
Bonds lawyer shopping as arraignment nears
•
Bonds' new judge presiding over BALCO cases
•
Old friends-turned-foes to testify against Bonds
•
Bonds' trainer still won't testify if case goes to trial
•
Bonds indicted on perjury, obstruction charges
•
Bonds' trainer gains release after year in prison
•
Bonds latest name on sports' infamous legal list
•
Timeline: Bonds and steroid allegations
Analysis
•
Bryant: Remembering McGwire while Bonds is arraigned
•
Fainaru-Wada/Quinn: Answers to key questions as Bonds begins legal journey
•
Nelson: Bare market for Bonds
•
Bryant: Bonds a misguided martyr
•&nbsp
Hill: Indictment is just plain wrong
•
Olney: All roads lead to infamy

•
Fainaru-Wada/Quinn: Path to indictment
•
Bryant: Bonds case puts pressure on Mitchell
•
Olney: Era of dishonesty

•
Wojciechowski: Bonds' dare backfires
•
Fish: Bonds' positive test didn't come from MLB
•
Munson: Don't expect Bonds to cop a plea
•
ESPN.com: How should MLB react?
•
Kreidler: Mixed reaction in Bay Area
•
Neyer: How bad is it?

•
For the record: Legal definition of perjury
The indictment
•
United States v. Barry Lamar Bonds
SportsNation
•
Polling the reaction of SportsNation
ESPN Video
•
Indictment may end career
•
Bonds' attorney speaks out
•
Roger Cossack's take
•
Will Bonds be in the Hall of Fame?
•
Will Bonds play again?
•
Was race a factor in indictment?
•
Charles Barkley weighs in on Bonds
•
Buster Olney on Bonds
•
Steve Phillips on Bonds and A-Rod
ESPNRadio.com
•
Peter Gammons: A sad ending

•
Baseball Today: Peter Pascarelli
•
Shaun Assael on timing
•
Cossack on the indictment

The HR Chase
•
Bonds: Beyond 756
Background
•
The Dope On Steroids

MOST SENT STORIES ON ESPN.COM