Commentary
Inoa, 16, at head of Latin American prospect class
Updated:
June 12, 2008, 10:47 AM ET
By
Enrique Rojas
| ESPNdeportes.com
Less than a month after Major League Baseball's first-year player draft comes the big auction for Latin American prospects. No draft slot is necessary. Just bring loads of cash and make your best pitch.
Starting on July 2, 16-year-old international players who will turn 17 after Sept. 6 may sign with major league clubs. Players who are 17 or older before Sept. 6 may sign at any time
[+] Enlarge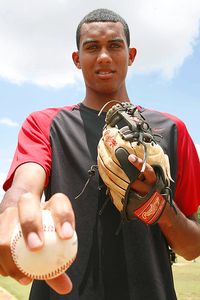 Victor Perez/ESPNdeportes.comHigh expectations are likely to follow 6-foot-7 Michael Inoa wherever he goes.
The 2008 sign-off edition features Dominican pitcher Michael Inoa, the crown jewel among the pool of 16-year-old players, any of who may sign with any major league club that meets his desires.
Inoa (6-foot-7, 210 pounds) is a right-handed hurler with a three-pitch repertoire consisting of a fastball (93 mph), changeup and curve.
"His most attractive asset is the fact that he has a lot of control for such a tall guy, and he knows what to do once he gets on the mound," said Ezequiel Sepulveda, a scout for the L.A. Dodgers in the Dominican Republic. "Inoa is every scout's dream. He has it all."
Inoa has been evaluated by every MLB organization. The Yankees' Brian Cashman, San Diego's Kevin Towers, and Oakland's Billy Beane are a few of the major league GMs who made the trip to the Dominican Republic to catch a glimpse of the young gun.
According to data obtained by ESPNdeportes.com, at least seven teams are ready to offer Inoa a $3 million signing bonus. Oakland, however, has the upper hand; the A's are ready to pay up to $4 million for Inoa.
Right behind Inoa, two outfielders and one pitcher also have raised a lot of interest: right-handed pitcher Adis Portillo and outfielder Yorman Rodriguez of Venezuela, and Dominican outfielder Rafael Rodriguez.
Each player will garner signing bonuses of at least six figures.
"Inoa, Rodriguez, Yorman and Portillo would [challenge] the first selection if they were eligible for the American draft this year; I have no doubt about that," said a top AL executive.
Also with high expectations on the prospect list are shortstops Gustavo Pierre and Alvaro Aristy, right-handed pitchers Santo Franco and Elvin Tavarez, left-handed pitcher Swarling Jimenez, and outfielder Julio Morban of the Dominican Republic; Venezuelan outfielders Luis Domoromo and Ramon Flores; Panamanian catcher Christian Betancourt; and Nicaraguan pitcher Jose Valdivia.
Meanwhile, Dominican outfielder Juan Duran (Cincinnati/$2.0 million) and Betancourt (Atlanta/$600,000) already have been signed because they turned 17 before July 2.
BEST LATINO PROSPECTS OF 2008

NO.
PLAYER
POS
AGE (BIRTHDATE)
COUNTRY
1
Michael Inoa
RHP
16 (Sept. 24, 1991)
Dominican Republic
Comment: His father was an outstanding amateur ballplayer (Simon Inoa) and his mother a stellar softball hurler (Juana Ventura), so it is only fitting to find him throwing strikes so comfortably and consistently. Inoa could get a bonus in the range of $3 million to $4 million. The Oakland A's loom as the front-runner.

2
Yorman Rodriguez
OF
16 (N/A)
Venezuela
Comment: Many scouts compare Rodriguez with his countryman Miguel Cabrera. Like the Detroit star, Rodriguez is not fleet-footed, but his bat is extremely powerful and fast. His agent stopped showing him around awhile ago, which presumably indicates that he already has an oral agreement with a club.
3
Adis Portillo
RHP
16 (Dec. 20, 1991)
Venezuela
Comment: A big guy (6-3) with big hands and fingers, Portillo can toss a mean fastball (88-92 mph), changeup and curve with great command. He keeps the ball around the plate and is not afraid to throw his changeups in the dirt. Many clubs want him, but none of them will get him for less than $2 million.
4
Rafael Rodriguez
OF
16 (N/A)
Dominican Republic
Comment: To many, he is a duplicate of Vladimir Guerrero because of his size and power with the bat. Rodriguez can work the entire outfield and drive the ball anywhere. He has reportedly accepted an offer from the San Francisco Giants worth $2.5 million.
5
Luis Domoromo
OF
16 (Feb. 4, 1992)
Venezuela
Comment: Domoromo looks like a typical center fielder, although he has a good arm that could be used in right. He is a smart hitter and occasionally hits powerfully to the alleys. Perhaps he'll get $1.2 million from San Diego? It's possible.
6
Alvaro Aristy
SS
16 (Dec. 9, 1991)
Dominican Republic
Comment: A great middle infielder with good legs and average arm. Aristy has solid mechanics in his swing but lacks power. He has a solid build (6-0, 155) with room for growth in weight and strength. San Diego is closing in on him.
7
Gustavo Pierre
SS
16 (N/A)
Dominican Republic
Comment: Many scouts suggest Pierre's big frame (6-2) could cause teams to move him to third base early in his career. An agile player with a great swing, he has looked better in batting practice than in games. Rumors say he may have agreed to a deal with Toronto for almost $700,000.
8
Santo Franco
RHP
16 (Nov. 28, 1991)
Dominican Republic
Comment: Franco has a great build for a pitcher (6-5, 175). His fastball (88-90 mph) has yet to reach its potential, but he has shown good command of his changeup and curve. He has looked better in real games than in exhibitions.
9
Swarling Jimenez
LHP
16 (Nov. 27, 1991)
Dominican Republic
Comment: Jimenez is a left-handed version of Pedro Martinez. He is not so big (6-0, 165 pounds), but he has wide shoulders and a good arm. He likes to pitch inside using a fastball (88-90 mph), changeup and curve.
10
Elvin Tavarez
RHP
16 (Sept. 7, 1991)
Dominican Republic
Comment: Tavarez (6-2, 170 pounds) is a diamond in the rough that, once properly polished, can become a great pitcher in the majors. Right now he has an 87-90 mph fastball that may speed up with more maturity. He has great presence on the mound.
11
Julio Morban
OF
16 (Feb. 13, 1992)
Dominican Republic
Comment: Morban can play anywhere in the outfield, but his good defense and arm belong in center field. He is not too big (5-11, 178) but has speed on the base paths and swings an occasionally powerful bat. Morban bats from the left side and has a strong grasp of the game.
12
Ramon Flores
OF
16 (March 26, 1992)
Dominican Republic
Comment: Flores is a fast runner and an excellent defensive outfielder. This left-handed hitter has good mechanics at the plate, great control of the bat and power to the alleys. He can easily add 25 pounds to his frame (6-0, 160) and gain more power in the process.
13
Jose Valdivia
RHP
16 (March 19, 1992)
Nicaragua
Comment: Valdivia has a nice build (6-3, 185) but needs to work on his mechanics, something that is not surprising if we take into account that he turned 16 in March. Valdivia pitches with a three-quarter arm slot, and his fastball reaches 91 mph.
14
Carlos Perez
LHP
16 (Nov. 20, 1991)
Dominican Republic
Comment: Perez is a lefty with a lot of presence, a loose arm and smooth moves on the mound. He will have to work on toning his body. He has a fastball that moves a lot and a curve with a lot of spin. The Yankees have showed great interest in him and are rumored to have offered a hefty $850,000 bonus for him.

OTHER HOT PROSPECTS

Dominican Republic: 3B Aderilyn Rodriguez, OF Easdras Abreu, OF Yeico Calderon, SS Jose Osoria, 3B Jose Lorenzo, LHP Alfredo Heredia, RHP Manuel Montilla, SS Engel Vallejos, 3B Jefry Peña, 3B Roberto Pina, 3B Darwin Rivera

Venezuela: C Jackson Valera, LHP Ismael Guillon, RHP Alvin Mejias, C Oscar Perez, SS Luis Cortes, RHP Jose Perdomo, SS Luis Villogas, RHP Josue Castellanos

Colombia: SS Jonathan Barrios, OF Jair Lopez

Panama: OF Abdul Nieto

Note: This report was based on an investigation by ESPNdeportes.com and contains evaluations by MLB scouts, open-market projections and industry rumors.
ESPNdeportes
Enrique Rojas is a reporter and columnist for ESPNdeportes.com and ESPN.com.