Sources: MLB wants A-Rod to talk
Updated:
February 19, 2009, 1:55 PM ET
By
T.J. Quinn
| ESPN.com
Alex Rodriguez isn't finished answering questions yet.
Major League Baseball will ask the disgraced slugger to meet with its investigators in the coming weeks to further explain his admitted use of performance-enhancing drugs, two sources familiar with MLB's plans told ESPN.
After two public confessions, one with ESPN's Peter Gammons and the other at a news conference in Tampa, Fla., on Tuesday, Rodriguez will be asked to give a full account of how extensive his drug use was and the identity of the "cousin" who Rodriguez says injected him with a drug believed to be the anabolic steroid methenolone. Rodriguez said they bought the drug, which he termed "boli," from a pharmacy in the Dominican Republic.
"They're more interested in what happened in the States than in the Dominican," one source said.
Representatives from MLB's department of investigations are expected to ask Rodriguez whether his cousin, whom Rodriguez declined to name, had access to major league clubhouses and other players, and whether he or Rodriguez ever distributed drugs to other players. Under baseball's labor agreement, Rodriguez cannot be punished for any banned substances he took before 2004, but he could be punished if MLB were to determine that he supplied drugs to other players.
MLB officials declined comment, and Rodriguez's agent, Scott Boras, did not immediately return a phone call and e-mail message seeking comment.
When reached last night, MLBPA executive director Donald Fehr said: "I don't know anything about this, it's the first I heard of it. To my knowledge, I don't know it to be true."
However, a union official confirmed there was a brief conversation Wednesday between MLB officials and the union on the matter.
When asked whether MLB must formally request a meeting through the players' association, and if Rodriguez would be allowed to appear with a lawyer and a union representative if he chose, Fehr agreed, saying that would be any player's right, under federal law and the terms of the basic agreement.
The sources who spoke to ESPN also said that MLB must formally request a meeting through the players' association and that Rodriguez will be allowed to appear with a lawyer and a union representative if he chooses.
One source said commissioner Bud Selig could choose to punish Rodriguez if he believes the player isn't forthcoming, although the union would be likely to fight any such action.
T.J. Quinn is a reporter for ESPN's Enterprise/Investigative unit. He can be reached at tjquinn31@yahoo.com. ESPN news editor Claire Smith contributed to this report.
T.J. Quinn joined ESPN in November 2007 as an investigative reporter for ESPN's Enterprise Unit, which is charged with developing long-form, investigative features to be presented across multiple platforms.
SPONSORED HEADLINES
MORE MLB HEADLINES
MOST SENT STORIES ON ESPN.COM
A-ROD FACES THE MEDIA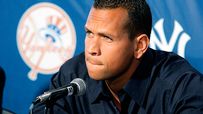 Alex Rodriguez arrived at Yankees camp Tuesday and answered questions about his admission of using performance-enhancing drugs during 2001-2003 with the Rangers.
NEWS
ANALYSIS
VIDEO
AUDIO
SPORTSNATION