Commentary
Mauer's season could rank among best
Joe Mauer already has won two batting championships -- the first catcher to win a batting title since Ernie Lombardi in 1942 -- but he's added more power to his repertoire in 2009, leading the American League in slugging percentage at the All-Star break (no catcher has led his league before). Despite missing all of April, he still could turn in one of the greatest hitting seasons ever.
Here are our top 10 hitting seasons by catchers, looking at those who combined a high slugging percentage and on-base percentage while playing enough to both drive in and score a lot of runs. We used OPS-plus (a player's combined on-base and slugging percentages, adjusted for league and home park context) and runs created totals as listed on baseball-reference.com.
[+] Enlarge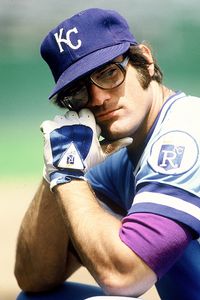 Getty ImagesDarrell Porter was the 1982 World Series MVP with St. Louis but tore the cover off the ball in 1979.
10. Darrell Porter, Royals, 1979: .291, 20 HR, 112 RBI, .412 OBP, .484 SLG, 142 OPS-plus
There have been only nine seasons in which a catcher both scored and drove in 100-plus runs. Mike Piazza did it twice, and the others are current or future Hall of Famers: Roy Campanella, Johnny Bench, Yogi Berra, Mickey Cochrane, Carlton Fisk and Pudge Rodriguez. And then there's Porter, a good player most of his career who turned in one extraordinary season. Thanks to a league-leading 121 walks, he ranked second in the AL in on-base percentage and reached base more times than any other player. He ranked fifth in the league in RBIs and ninth with 101 runs. His 119 runs created are 10th-best for a catcher.
9. Joe Torre, Braves, 1966: .315, 36 HR, 101 RBI, .382 OBP, .560 SLG, 156 OPS-plus
Many fans don't know or have forgotten how good Torre was as a player: a borderline Hall of Famer, 1971 MVP (while playing third base for St. Louis) and nine-time All-Star. Torre set a career high in '66 with his 36 bombs and ranked fifth in the National League in OPS-plus. He did benefit from playing 36 games at first base.
8. Darren Daulton, Phillies, 1992: .270, 27 HR, 109 RBI, .385 OBP, .524 SLG, 156 OPS-plus
The numbers might not impress you, but remember this happened: (A) before the 1993 expansion and the influx of new parks with shorter power alleys; (B) before the beginning of the steroids era; (c) before Daulton started believing in aliens. Anyway, Daulton's season was superb. He led the NL in RBIs (yes, back in 1992, you could drive in 22 more runs than Albert Pujols had at the 2009 All-Star break and lead the league), was fourth in OPS and OPS-plus, and was second in offensive winning percentage. Daulton hit only .270 but drew 88 walks, grounded into only three double plays and always made sure Lenny Dykstra had a supply of chew on hand.
7. Bill Dickey, Yankees, 1937: .332, 29 HR, 133 RBI, .417 OBP, .570 SLG, 145 OPS-plus
A left-handed pull hitter who took advantage of Yankee Stadium's short right-field porch (135 of his 202 career home runs were hit there), Dickey had hit .362 with a 158 OPS-plus in 1936, but he played much more in '37, giving him 124 runs created for the season, tied for fourth-most by a catcher.
6. Javy Lopez, Braves, 2003: .328, 43 HR, 109 RBI, .378 OBP, .687 SLG, 169 OPS-plus
Quick, who holds the best single-season slugging percentage for a catcher? Yes, it's Lopez. While he was an excellent hitter (he hit .300 three times and slugged .500 five times), Lopez's 2003 season at age 32 obviously stands out as a fluke, especially coming on the heels of a .233 season in 2002. He tore the cover off the ball in Atlanta that year, hitting .376 with 26 home runs in just 205 at-bats.
5. Yogi Berra, Yankees, 1950: .322, 28 HR, 124 RBI, .383 OBP, .533 SLG, 135 OPS-plus
Berra's OPS-plus wasn't the highest of his career, but what made this season so amazing was that Berra caught in 148 of New York's 154 games, making him productive and durable (Berra's ability to play nearly every day helped make Casey Stengel look very smart throughout his managing tenure in the Bronx). He finished third in the AL in RBIs and fourth in runs, with 116. He also struck out just 12 times in 656 plate appearances. While Berra would win three MVP awards, 1950's was not one of them -- he finished third in the voting behind teammate Phil Rizzuto, who hit .324 and scored 125 runs, and Boston's Billy Goodman, who hit .354 but with just four home runs and 68 RBIs. (Somehow, four voters thought Goodman was the best player in the league, while only three believed it was Berra.)
[+] Enlarge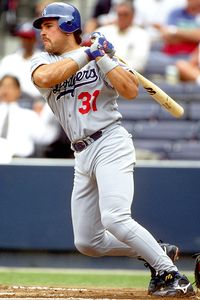 US PresswireWith a .308 average and 427 home runs, Mike Piazza is the best-hitting catcher of all time.
4. Roy Campanella, Dodgers, 1953: .312, 41 HR, 142 RBI, .395 OBP, .611 SLG, 155 OPS-plus
Campanella had an odd, up-and-down career -- he won MVP awards in 1951, '53 and '55, averaging 35 home runs and 119 RBIs, and hitting better than .300 each season. But he also hit .207 in 1954 and .219 in 1956. The down seasons show how it difficult it is for most catchers to remain healthy and consistent.
3. Mike Piazza, Dodgers, 1996: .336, 36 HR, 105 RBI, .422 OBP, .563 SLG, 166 OPS-plus
Easily the best-hitting catcher of all time, Piazza owns three of the top four OPS-plus (and six of the top 23) seasons for catchers (minimum of 100 games played). We easily could have included four or five Piazza seasons in the top 10. Is he the best player to never win an MVP award? Probably. His top-10 finishes in the voting were second, second, third, fourth, sixth and seventh. Baseball-reference.com keeps track of MVP award shares, which tracks performance in MVP voting. The only player to rate higher than Piazza without winning is Eddie Murray.
2. Johnny Bench, Reds, 1972: .270, 40 HR, 125 RBI, .379 OBP, .541 SLG, 166 OPS-plus
Bench had 45 home runs and 148 RBIs in 1970 -- when he was just 22 years old; it's possible no 22-year-old in baseball history was more valuable than Bench -- but 1972 was a better year in context, mostly because he improved his on-base percentage by drawing 100 walks. While Bench led the NL both seasons in home runs and RBIs, his adjusted OPS was much higher in '72 (it was 141 in 1970) and ranked second in the league, compared to a 10th-best number in 1970.
1. Mike Piazza, Dodgers, 1997: .362, 40 HR, 124 RBI, .431 OBP, .638 SLG, 185 OPS-plus
Piazza's adjusted OPS is the best ever for a catcher, his 150 runs created are 21 more than any other catcher (Gabby Hartnett had 129 in the big-hitting year of 1930) and his .362 average is the best ever for a catcher with at least 400 plate appearances. Amazingly, Piazza didn't win NL MVP honors, finishing second to Colorado's Larry Walker, who hit .366 BA/.452 OBP/.720 SLG with 49 home runs. While Walker's raw batting stats were slightly better, he also had the Coors Field advantage. Piazza's adjusted OPS was better than Walker's. Walker hit .384 at home, compared to .346 on the road (although it should be noted that Walker hit 29 home runs and slugged .733 on the road). Piazza, meanwhile, hit .368 on the road. And that, perhaps, is the final exclamation point on Piazza's career: He's regarded as the best-hitting catcher of all time despite playing most of his home games at Dodger Stadium and Shea Stadium, two pitcher-friendly parks. For his career, Piazza hit .294 and slugged .515 at home; he hit .320 and slugged .572 on the road.
David Schoenfield is a senior editor for ESPN.com.
SweetSpot blogger
Senior writer of SweetSpot baseball blog
Former deputy editor of Page 2
Been with ESPN.com since 1995
SPONSORED HEADLINES
MORE MLB HEADLINES
MOST SENT STORIES ON ESPN.COM
EDITORS' PICKS
Better believe in Jonathan Lucroy and the Brewers.
Jim Caple »

The Pirates broke out to overpower the Dodgers.
Recap

Headley's day began with a deal, ended with a win.
Wallace Matthews »