Cardinals acquire help in Holliday
Updated:
July 25, 2009, 3:26 PM ET
ESPN.com news services
PHILADELPHIA -- Matt Holliday wanted to join his new team quickly, so he hopped on a train with his wife and two sons and got to the ballpark in plenty of time.
Holliday was traded to the St. Louis Cardinals from the Oakland Athletics on Friday for a package of prospects. The three-time All-Star outfielder gives the Cardinals a big bat for their pennant drive and provides protection in the lineup for slugger Albert Pujols.
If We Took A Holliday...

The trade sending Athletics outfielder Matt Holliday to the Cardinals looks like a win for both teams, writes Keith Law. Blog
• Does trade boost Holliday's value? Fantasy Spin
Holliday was in New York for Oakland's series against the Yankees when he learned about the deal. To avoid getting stuck in traffic, he chose public transportation over a car ride down congested I-95.
"Getting from New York to Philly on a Friday afternoon can be tough," Holliday said. "I'm extremely excited to be back in the National League, to be back in a pennant race. This is a great team, a great organization."
Holliday made it to Citizens Bank Park early enough for manager Tony La Russa to pencil him into the lineup in left field and bat him cleanup behind Pujols for Friday night's game against the World Series champion Philadelphia Phillies.
He made an immediate impact, going 4 for 5 in an 8-1 win over the Phillies.
"It's a heck of a move for our club," La Russa said. "There are guys who are going to lose at-bats, but they're excited because he improves our club. We'll be tough to pitch to."
Holliday's presence will make opponents think twice about pitching around Pujols, who has been intentionally walked 34 times.
"You look at the lineup card and it's exciting," said outfielder Ryan Ludwick, who moves down to the No. 5 spot from cleanup. "You take a hitter like him and it's instant offense."
The NL Central-leading Cardinals had a 1½-game lead over the Chicago Cubs and Houston entering Friday's games. They already added utilityman Mark DeRosa from the Cleveland Indians late last month and then shortstop Julio Lugo in a Wednesday swap with the Boston Red Sox.
Moving Day

Matt Holliday may welcome another change of scenery. His numbers have taken a hit in 2009, especially when hitting the ball in the air. Could the difference be in his home park? He moved from one of the friendliest hitting parks in the majors to one of the least -- from Colorado to Oakland this offseason.
Flyballs at Home

| | | |
| --- | --- | --- |
| | 2008 | 2009 |
| BA | .492 | .357 |
| Slugging pct. | 1.008 | .750 |
| Flyball/HR | 8.6 | 12.1 |
"Matt is an impact player who gives us an instant added threat in the middle of our lineup," Cardinals general manager John Mozeliak said. "These types of opportunities are rare. The price to complete this deal was steep, but our organization feels that it should greatly improve our chances to compete for a postseason berth."
The A's sent Holliday and $1.5 million to the Cardinals and receive power-hitting third baseman Brett Wallace, a top offensive player in the St. Louis farm system; outfielder Shane Peterson and right-hander Clayton Mortensen.
Holliday could be an expensive short-term rental for St. Louis because he can become a free agent after the season. He's earning $13.5 million in the final year of a contract he signed after helping lead the Colorado Rockies to the World Series in 2007.
"I'm pretty sure I'm excited to be a St. Louis Cardinal and pretty excited to hit," Holliday said, ducking a question about testing the free-agent market.
Holliday struggled in his only season with the A's, batting .286 with 11 home runs and 54 RBIs. Oakland traded for Holliday during the winter, knowing he might only be with the club for half a season.
"We knew there were going to be a lot of options," A's general manager Billy Beane said in a conference call. "We're happy we traded for Matt. We had to be prepared for anything."
MLB Rumor Central

ESPN Insider has the updated buzz from the Major League Baseball rumor mill.
Story

The 29-year-old Holliday had his best game for Oakland at home on Monday, hitting two home runs with a grand slam as the A's rallied from 10 runs down to beat the Minnesota Twins 14-13.
Many scouts attended recent games in Oakland to watch Holliday, who spent his first five major league seasons with the Rockies.
"I wouldn't say it's surprising," said Oakland's Mark Ellis, who learned about the trade when Holliday stopped by his hotel room Friday morning. "It's disappointing. Maybe if we would have played better we would have hung onto him."
The teams began discussions about a month ago, and things picked back up this week. Most of the work was finished Thursday night, Beane said, with final details completed Friday.
"They were definitely the most motivated," Beane said.
Wallace could provide the A's some depth at third base in the absence of six-time Gold Glove winner Eric Chavez, who is recovering from season-ending back surgery. The A's are optimistic Chavez will be ready by spring training 2010.
"We're all hopeful Eric's our third baseman next year," Beane said. "Obviously long term it's probably one area in the organization we have a need. We're going to keep (Wallace) over there, be patient with him and see how it goes."
Wallace, who Oakland has liked since he was a freshman at Arizona State, moved quickly through the Cardinals farm system and was considered their top offensive prospect. The 13th overall draft pick last year, he was already at Triple-A Memphis.
The 6-foot-2, 205-pound Wallace, a left-handed hitter born in the Bay Area, was batting .293 with six homers, 19 RBIs and 11 doubles in 62 games for Memphis after starting the year in Double-A. He played in the All-Star Futures Game in St. Louis earlier this month.
The Cardinals have been without third baseman Troy Glaus, who had shoulder surgery in January.
The A's recalled infielder/outfielder Eric Patterson from Triple-A Sacramento to fill Holliday's spot on the 25-man roster. He was expected to join the team for Friday night's game at New York.
"We got three players that we've always kind of liked," A's manager Bob Geren said. "Happy about the trade, happy for Matt, too. Matt's going to go over to St. Louis and be right in the middle of a pennant race. It's a good deal for everybody."
ESPN The Magazine's Buster Olney and Tim Kurkjian and The Associated Press contributed to this report.
HOLLIDAY TRADED TO CARDINALS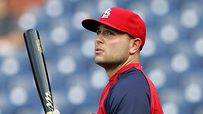 The Oakland A's traded left fielder Matt Holliday to the St. Louis Cardinals for three prospects.
NEWS/ANALYSIS
VIDEO

MOST SENT STORIES ON ESPN.COM