Mariners, Ackley agree to deal
Updated:
August 18, 2009, 5:14 PM ET
ESPN.com news services
SEATTLE -- The Seattle Mariners and No. 2 overall pick Dustin Ackley have agreed to a five-year contract worth at least $7.5 million.
Ackley's deal could be worth $10 million, depending on how quickly he arrives in the big leagues. Sources familiar with the contract told ESPN.com's Jayson Stark that Ackley will collect a $6 million signing bonus, payable in five annual installments of $1.2 million each. And from 2010-14, he could earn anywhere from $1.5 million to $4 million in salaries, depending on whether he's in the minor leagues or major leagues.
His minor league salaries would be $400,000 in 2010, $300,000 in 2011, $200,000 in 2012, $300,000 in 2013 and $300,000 in 2014.
If he's in the major leagues, his salary would be $500,000 next year, $600,000 in 2011, $900,000 in 2012, $1.5 million in 2013 and $500,000 in 2014. Once he is eligible for salary arbitration, Ackley can opt out of those salaries and negotiate new figures while going through the arbitration system.
If there had not been an agreement, Seattle would have lost rights to the star hitter from the University of North Carolina. Instead, the Mariners have added a centerpiece to their long-term rebuilding plan.
"We're very happy to get this kid signed. We think this kid will be a bat in the middle of our lineup for years to come," Mariners general manager Jack Zduriencik said.
The first-year GM said the deal was agreed upon 15 minutes before baseball's midnight ET deadline to sign draft picks who had college eligibility remaining.
A final negotiation issue was the demand of Ackley's advisers that the sweet-swinging outfielder and North Carolina's only three-time baseball All-American sign a major league contract and be on the major league roster immediately.
"We thought enough of this player that if takes a major league contract to get this done, we were willing to do that," Zduriencik said. "I mean, you're looking at the first position player taken in the draft."
Another factor stalling the deal was that Ackley's adviser was Scott Boras -- who represented six first-round picks, including No. 1 Stephen Strasburg. He signed about the same time Ackley did.
When asked what single factor made missing out on Ackley a real possibility for the Mariners, Zduriencik said: "When you are talking the magnitude of a major league contract and the magnitude of adding him to the major league roster, it makes it tend to drag on a little.
"We made them a very nice package. We met a lot of their demands. Their family, their agent and the Seattle Mariners are very happy this deal came together."
The GM said Ackley, the Tar Heels' career batting leader with a .410 average, will report to Seattle's spring training complex in Peoria, Ariz., soon. The Mariners will assess his physical status there -- Ackley hasn't played since the College World Series in late June and was coming off Tommy John ligament replacement surgery in his right arm entering this season.
The plan is for the left-handed hitter to play in the instructional league in Arizona this fall, then report to spring training next February while on the major league roster.
"He'll probably be on a faster track than most [to the majors]," Zduriencik said, "just because of his track record and the maturity he has." In June, Ackley became only the third outfielder in 22 years selected first by the Mariners. The other outfielders: Jose Cruz Jr. in 1995 -- and some kid named Ken Griffey Jr., their first overall pick in 1987.
Just don't mention to slugger from Walnut Cove, a former platation-turned-town outside Winston-Salem, N.C., that he's now following the same paths into the Seattle outfield as Griffey and eight-time All-Star Ichiro Suzuki.
"I mean, that's crazy," Ackley said two months ago.
Information from The Associated Press and ESPN.com's Jayson Stark was used in this report.
STRASBURG SIGNS WITH NATIONALS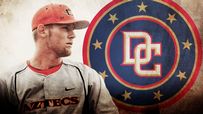 Before the Aug. 17 deadline, top pick Stephen Strasburg agreed to a four-year, $15.1 million contract with the Washington Nationals.

2009 MLB draft page | Draft blog
NEWS
ANALYSIS
INSIDER
VIDEO
SPORTSNATION
RADIO