Ex-Cards slugger says ban McGwire
Updated:
January 16, 2010, 2:54 AM ET
ESPN.com news services
Jack Clark's time in the spotlight fell mostly in the years before the so-called steroids era.
That didn't stop the former Cardinals and Giants All-Star slugger from revealing an extreme distaste for players who might have availed themselves of a performance-enhancing drug during their time in the big leagues.
Clark Pulls No Punches On McGwire

Former 18-year veteran Jack Clark vilified Mark McGwire in the wake of his steroids admission. More of what Clark said to the
St. Louis Post-Dispatch concerning McGwire and others:
• "If his hand-eye coordination was so good, why did he feel the need to apologize to the Maris family?"
• "It's a shame that he thinks we're all stupid, that he only did [steroids] because of injuries. That's such a cop-out, such a lie. These guys did [steroids] to take the money to pump up their egos and then take their consequences down the road."
• Steroid abusers and suspected users "are all lucky they didn't end up in jail. It's all comical to a certain point. It's a three-ring circus. It really is. From [commissioner] Bud Selig to Tony [La Russa] to A-Rod to Manny Ramirez to Palmeiro ... What a joke."
• "[McGwire's] own manager never knew that [Jose] Canseco and McGwire and anybody else ever had taken steroids? Trust me, from [a former player], I have a lot of insight into who did what and when but I'm not even going to talk about it. It really doesn't matter."
• "This thing stretches a long way back and it's really ugly and just really shocking."
• "These guys are playing the game for their own benefits and it's really disgusting. ... They go up there and shed a tear and they think all is forgotten. Well, it's not forgotten and it never will be."
• "[McGwire is] a sad excuse for a player in the industry of baseball. Just seeing him in uniform makes me throw up."
• "He should not be in baseball. He should be banned from baseball more than ever."
"A lot of them should be banned from baseball, including Mark McGwire," Clark told the
St. Louis Post-Dispatch.
Clark served as the Dodgers' hitting coach several years ago. He said McGwire, who will return to baseball this season as the Cardinals' hitting coach, was in a group of players that clearly didn't warrant consideration for Cooperstown.
"All those guys are cheaters -- A-Rod [Alex Rodriguez]. Fake, phony. Rafael Palmeiro. Fake, a phony," Clark told the newspaper. "[Roger] Clemens, [Barry] Bonds. [Sammy] Sosa. Fakes. Phonies. They don't deserve to be in the Hall of Fame.
"They should all be in the Hall of Shame," Clark said. "They can afford to build it. They've all got so much money. And they could all go there and talk about the next way to rub something on your skin. The whole thing is creepy.
"They're all creeps. All these guys have been liars."
Clark, a four-time All-Star who hit .267 and belted 340 home runs in 18 seasons, mocked the apologetic and sorrowful tone of McGwire's Monday admission that he used steroids during much of his major league career.
"They're not really a man's man," Clark said. "They're just whimpering boys who are just sad to watch. They try to put it off on somebody else. I don't know how they sleep at night, looking at all their fame, let alone the money they took by faking everybody out and lying to everybody."
Clark's former Cardinals teammate, Andy Van Slyke, took a more subtle tack when speaking with the Post-Dispatch.
"I never condoned a player who used steroids while they played, but I've never been mad at a player," Van Slyke said. "But I think if you have an opportunity to tell the truth and you continue to be disingenuous and lie, then there's every right for people to be upset by the continued lying or finger-pointing.
"There's a lot of finger-pointing by Mark McGwire," Van Slyke continued. "He blames it on not being tested and he blames it on the era. Why would you blame baseball for taking steroids?
"That's like me saying the reason I was drunk-driving was because I knew that on this particular highway, they didn't have anything for me to blow into."
Van Slyke was also a teammate of Bonds. Van Slyke said he hoped the home run king would be truthful if he ever did reveal whether steroids played a role in his conditioning and performance.
"One thing about Barry -- he's not afraid to speak the truth," Van Slyke said. "For the last four years [since his appearance before a congressional committee], McGwire could have said something."
MARK MCGWIRE COMES CLEAN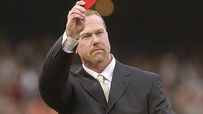 Mark McGwire admitted Jan. 11 that he used steroids on and off for nearly a decade, including during the 1998 season when he broke the then single-season home run record.
NEWS
ANALYSIS
VIDEO
AUDIO
SPORTSNATION
PAST LINKS