Johnson tosses 1st pitch for Mariners
Updated:
April 13, 2010, 12:16 AM ET
Associated Press
SEATTLE -- Randy Johnson stood on the mound once again, and fired a strike to Dan Wilson behind the plate. Then he was joined on the field by Edgar Martinez, Jay Buhner and Ken Griffey Jr.
Of course, the Safeco Field crowd roared.
Twelve years after Johnson last took the mound in a Mariners uniform, The Big Unit threw out a ceremonial first pitch before Seattle's home opener against Oakland on Monday.
[+] Enlarge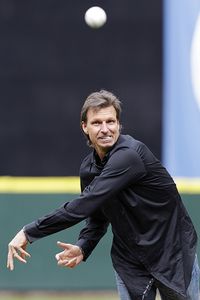 AP Photo/Elaine ThompsonRandy Johnson spent 10 seasons with the Mariners and still holds two franchise records.
Any acrimony over Johnson's departure during the 1998 season was gone in this moment, punctuated by the roaring approval of a sellout crowd eager to honor five of the stars from the most memorable time in Mariners history.
"Seattle professionally and personally has always had a great deal of meaning, to be a part of the history of this franchise and probably the biggest time in this franchise when the team was kind of floundering and on its way out," Johnson said before the Mariners' 4-0 loss to the A's..
"The team doing what we did and the fans supporting us the way they did, to be a part of that, I look back at all the memories of the players I played with here ... I have a lot of positive memories."
The 6-foot-10 Johnson announced his retirement in January after 22 seasons and five Cy Young Awards. He finished with 303 victories, becoming the 24th pitcher to reach the 300-win mark last June.
Johnson went 130-74 with a 3.42 ERA between 1989 and 1998 in Seattle, and still holds the franchise records for shutouts and strikeouts. He spent his final season with the San Francisco Giants, and also played for Montreal, Houston, Arizona and the New York Yankees.
The 46-year-old left-hander became one of the most dominant pitchers in the game during his time in Seattle, where the nickname "The Big Unit" became his moniker.
His ceremonial return was quite the scene.
With a giant Johnson banner hanging from the center field backdrop, his own eyes glaring above the top of his black glove, he walked from center to the mound to a loud ovation from a sellout crowd of 45,87 that a year ago gave a similar welcome back to Griffey.
Johnson's fastball split the plate, about knee high and right to Wilson, who caught the majority of his starts in Seattle.
"Maybe we can find someone who is 6-10 out on the street who has a good arm," Johnson joked beforehand.
Much has been made of Johnson's departure from Seattle in 1998. He was in the final year of his contract and there was uncertainty about his future at age 34. Johnson went 9-10 in 23 starts with Seattle before being dealt to Houston. He went 10-1 with a 1.28 ERA over the final two months to help the Astros reach the postseason.
Johnson admitted Monday that while his effort that season should never be questioned, the uncertainty may have impacted him mentally.
"The six inches between my ears were a little clouded back then in '98, being caught up in the trade talk and all that," he said.
Johnson now is comfortably settling into retirement. He spent the offseason with his kids, rather than getting ready for another year of fastballs and sliders. He estimated this will be his first season without baseball since he was 7. His only connection to the game now is helping coach his son's eighth-grade team.
Johnson turned down the Diamondbacks' offer to throw out the first pitch before their home opener because it fell on his son's birthday.
"Now I'm interacting and being able to do things I haven't been able to do," he said. "I'm enjoying those moments as anybody does when they retire. You're able to do the things that you normally aren't able to do."

Copyright 2010 by The Associated Press
EDITORS' PICKS
Why the Nationals will win the 2014 World Series.
Jayson Stark »

Could MLB's collision rule be headed for controversy in the postseason?
Story »

Ranking the postseason pitching rotations.
Jim Bowden