Commentary
Little, if any, suspense left in ALCS
Yankees' blowout of Angels in Game 4 pushes them to within one win of World Series
ANAHEIM, Calif. -- In lieu of an actual baseball game, the Yankees and Angels will work out Wednesday at Angels Stadium. Then they'll soak up the sun, catch some pool time with their families, and do whatever it is that idle athletes do on a dreamy autumn day in Southern California.
"Just the beach and some dinner," said New York first baseman Mark Teixeira. "You never get time for yourselves during the baseball season, so that's what we'll be doing."
Welcome to life in Foregone Conclusion-Land.
Just for fun, we can pretend there's an iota of suspense left in the American League Championship Series. The Angels are a strong-willed team, and they've never been cowed by the Yankees' mystique and big payroll even when they were short on talent against New York.
But it's time to embrace the inevitable. Barring some strange and sudden Westward momentum shift in the next two days, we're looking at a New York-Philadelphia World Series and CC Sabathia squaring off against Cliff Lee in a matchup of former Indians teammates. It's great news for Fox, better for Amtrak, and not so hot for Cleveland baseball fans whose psyches were battered by too many Fausto Carmona and Carlos Carrasco sightings this year.
The Yankees took a Big Foot-sized step toward their next goal Tuesday night, as Sabathia stifled the Los Angeles lineup for eight innings, Alex Rodriguez added another chapter to his transcendent October, and New York put the ThunderStix and Rally Monkey in cold storage with a 10-1 thrashing of the Halos before 45,160 at Angels Stadium.
The Yankees need only one more victory to reach the World Series for the first time since 2003. You know the end is near when Hall of Famer and noted front-runner Reggie Jackson is holding court with reporters in the visiting clubhouse after the game.
Still, the Yankees are approaching the next two days with the same focused, relentless, boring approach that veteran teams know is required at this point in the season. Derek Jeter, taking note that the score was 5-1 entering the eighth inning, wouldn't even concede that the Game 4 victory was on the comfortable side.
"It wasn't a breather," Jeter said. "If they get a couple of guys on base, the monkey comes out, and you don't know what's going to happen."
Conversely, the Angels maintained the obligatory brave face. That's not easy for a team that's scored a total of 10 runs and hit an aggregate .201 in the first four games of the series. The Angels look nothing like the team that split 10 games with New York during the regular season and swept Boston in the first round.
"We just have to find a way," said Bobby Abreu. "Right now we're having a lot of trouble. When we hit the ball good, it's right at somebody. We're striking out and hitting some bad pitches. We just have to concentrate more and try not to do too much."
One thing everybody could agree upon Tuesday was the lack of aesthetic appeal to this one. Between Scott Kazmir's agonizingly tentative pitching, Jorge Posada losing track of the outs and running toward his dugout prematurely, more shaky umpiring, and the late-inning unraveling of the Angels' bullpen, this was the ugliest late-night spectacle since Conan O'Brien suffered a concussion in a match race with Teri Hatcher.
"At this point, it doesn't make any difference how it looks," Jeter said. "We're just trying to win."
When Yankees manager Joe Girardi wasn't shrugging off that Mariano Rivera YouTube spitting video during his pregame press session, he was skillfully sweeping up the residual mess from Game 3. Girardi had consulted his beloved "book" in extra innings, and things didn't work out too well when he replaced David Robertson for Alfredo Aceves in the 11th inning and Jeff Mathis produced the winning double for the Angels.
But Girardi deserves credit for staying composed and showing no trace of defensiveness. He refused to second-guess himself amid a torrent of criticism.
"Yeah, you're under a microscope," Girardi said. "But if you manage a game not to be second-guessed, then I don't think you're managing the game correctly."
It helps to have an ace in your deck, and Sabathia is going to make every manager look smart when he throws the way he did in Game 4.
Girardi's decision to pitch his No. 1 starter on short rest was rooted in large part on Sabathia's impressive history. Even though Sabathia pitched poorly for Milwaukee in the division series opener against Philadelphia in 2008, he was a career 3-2 with a 2.37 ERA on three days' rest for the Indians and Brewers.
An economical approach is paramount on short rest, and Sabathia had that part of the drill down pat. He breezed through the Angels' lineup with a mere 38 pitches -- 25 of them strikes -- through four innings. The Angels are a more patient team at the plate this year, but on this night, patience was an invitation to be down 0-1 or 0-2 before they knew what hit them.
"You got a guy like CC throwing 94 or 95, and you've gotta sit on the fastball," said Torii Hunter. "When he has that changeup sinking away -- in the strike zone and out of the strike zone -- it's pretty impressive. This guy didn't miss a beat."
Sabathia labored through the middle innings but pitched out of enough jams to maintain the lead that A-Rod helped construct for him with an early single and home run. Rodriguez is now slugging an otherworldly 1.000 in the playoffs, and his teammates are running out of adjectives to describe his play.
So here's the challenge that awaits the Angels: They have to generate some offense and reassert themselves against A.J. Burnett on Thursday. Then they have to return to New York and beat a Yankees team that posted a major league-best 57-24 home record. And even if the Angels make it back to the Bronx, they'll have to beat Andy Pettitte and Sabathia, who are a combined 4-0 with a 1.78 ERA in the postseason this year. Good luck with that.
For what it's worth, the 2009 Yankees endured only two three-game losing streaks in 75 games after the All-Star break. The Yankees dropped three straight to the White Sox in late July, and three to Kansas City and Tampa Bay in the final week of the regular season after they'd clinched the American League East and were basically resting and setting up their pitching for the playoffs.
Three weeks later, the Yankees are on such a roll, they don't even mind the prospect of a day off when they have so much momentum working in their favor. There's a quiet confidence to the beachgoers and everybody else in the clubhouse.
"Maybe I'll go to the movies," said Jeter, when asked for his off-day plans.
Whatever film he chooses, it's pretty sure to have a happy ending.
Jerry Crasnick covers baseball for ESPN.com. His book "License To Deal" was published by Rodale. Click here to order a copy. Jerry can be reached via e-mail.
SPONSORED HEADLINES
MORE MLB HEADLINES
MOST SENT STORIES ON ESPN.COM
ALCS GAME 4: YANKEES 10, ANGELS 1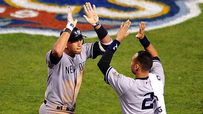 Alex Rodriguez and CC Sabathia were too much for the Angels, as the Yankees rolled to a 10-1 victory and a 3-1 series lead. ALCS page
STORIES
VIDEO