Commentary
A Rays revival in ALDS Game 3
Once-dead bats come alive in late innings of 6-3 victory over Rangers
ARLINGTON, Texas -- It's amazing how quickly the emotional burden can shift in a five-game series. When the Tampa Bay Rays arrived in Texas late Thursday night, wielding their Nerf bats and the memory of two straight stinkers in St. Petersburg, they sure talked a good game. In one interview after another, the Rays described themselves as loose, relaxed and ready for the challenge of winning two straight games in Arlington to take the series back home to Tropicana Field.
It sure sounded inspirational. And then you looked at the Rays' .125 team batting average and couldn't help but wonder: Were they showing admirable poise amid trying circumstances, or simply whistling in the graveyard?
"

I was so nervous, hoping that we didn't get swept. That was the main thing -- just don't get swept. It almost feels like we're winning the series right now.

"

-- Rays left fielder Carl Crawford
As it turns out, the optimism wasn't just for show. Tampa Bay won 96 regular-season games for a reason.
Competition lives in one American League Division Series, and it's because the Rays rediscovered what got them here. As 51,746 fans were poised to celebrate an actual postseason series victory in Arlington, Tampa Bay reverted to the pitching, defense and timely hitting formula that produced an AL East title.
Matt Garza pitched six strong innings to get the ball to Joaquin Benoit and Rafael Soriano at the back end of the bullpen. Tampa Bay's offense made its 2010 postseason debut, and the Rays beat the Rangers 6-3 to pull within 2-1 in the best-of-five series.
There's only a 16-hour window until the teams take the field for Game 4 on Sunday afternoon, but that should give the Rangers a little time to sweat. Texas has never won a playoff series, and now the Rangers have let the Rays up off the mat.
"I was so nervous, hoping that we didn't get swept,'' said Tampa's Carl Crawford. "That was the main thing -- just don't get swept. It almost feels like we're winning the series right now.''
Tampa's big names were all no-shows in the Florida leg of the series. Crawford, Carlos Pena, B.J. Upton and Evan Longoria were a combined 2-for-27 with no extra-base hits, and the Rays hit .077 (1-for-13) with runners in scoring position.
Longoria, whose injured quad appears to be having a significant impact on his mobility, continues to be a nonfactor in the series. But the other three all contributed to the Rays' late-game revival Saturday.
Upton doubled off reliever Alexi Ogando to finally put Tampa on the board in the sixth inning. Crawford, who made two fine defensive plays in left field, chipped in with a single and a solo homer. And the Rays, who outscored opponents 174-97 in the eighth and ninth innings during the regular season, laid a 5-1 hit on the Rangers in the eighth and ninth Saturday.
The Rangers led 2-1 in the eighth and the TV cameras were going hard on Nolan Ryan euphoria shots when the Rays spoiled the celebration for the Rangers' team president and everybody else here in Texas. Two pitcher-hitter confrontations in the inning were especially compelling.
With one out and Tampa's Dan Johnson on second, Rangers reliever Darren Oliver went ahead 1-2 in the count against Pena. The situation seemed to call for a third straight breaking ball -- a waste pitch in the dirt. But Oliver opted for the fastball, and Pena stroked it to right field for a single to tie the game.
[+] Enlarge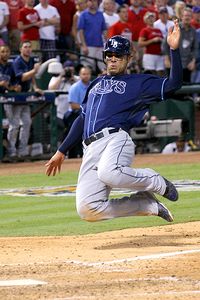 Stephen Dunn/Getty ImagesAfter scoring just two runs in the first 25 innings of the series, the Rays erupted for five in the final two frames of Game 3.
Three batters later, it was up to Texas closer Neftali Feliz, a leading candidate for AL Rookie of the Year, and Tampa Bay rookie John Jaso. After Jaso fouled off consecutive heaters clocked at 96 and 98 mph, Texas catcher Bengie Molina went to the mound for a conference. Jaso, a catcher himself, resisted the temptation to try to read lips or think along with the Rangers' battery.
"That's the worst possible thing to do when you're hitting -- to start thinking,'' Jaso said. "I just had a clear mind up there. I didn't want to let him blow the fastball by me. I'm just glad I had a middle-of-the-field approach up there.''
Feliz came in with an 82 mph slider, and Jaso lined it up the middle for the tie-breaking single. When Crawford homered off Feliz to start the ninth and Pena tacked on a two-run shot against Dustin Nippert, the Rays' October slump had officially been busted.
A lot of emotions have been swirling around Tampa Bay in recent days, as the Rays come to grips with the prospect of Crawford and Pena making their farewell appearances in advance of free agency. The thought of going down so meekly -- with a mix of shaky defense, mediocre pitching and an absentee offense -- had given everyone a bit of a sickening feeling.
"We knew that coming into today, we were facing elimination,'' Pena said. "And at the same time, we were trying to come out loose. Personally I was just trying to do the same -- just live in the present and not think too far ahead. I think sometimes [players] have a tendency to try to take on too much, and it's just not conducive to success.''
At the very least, the Rays will wake up Sunday morning knowing there is a present. They'll take the field behind rookie starter Wade Davis, who showed his competitive chops during a recent trip to Canada, when he went on a hunting trip with some teammates and bagged a 300-pound black bear.
"He's kind of cold-blooded,'' Tampa Bay manager Joe Maddon said of Davis. "If he can stay eye-to-eye with a black bear, I think tomorrow is not that big of a deal.''
The Rays have already made sure that Texas has a series on its hands. Another Tampa Bay win Sunday, and the Rangers might have a monopoly on stress.
Jerry Crasnick is a senior writer for ESPN.com. Click here to purchase a copy of his book, "License to Deal," published by Rodale. Crasnick can be reached via e-mail.
ESPN.com MLB Sr. Writer
ESPN.com senior writer
Author of "License to Deal"
Former Denver Post national baseball writer
SPONSORED HEADLINES
MORE MLB HEADLINES
MOST SENT STORIES ON ESPN.COM
DIVISION SERIES WRAP-UP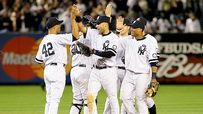 ALDS GAME 3: YANKEES 6, TWINS 1
ALDS GAME 3: RAYS 6, RANGERS 3