Commentary
Short memory bodes well for Rangers
Less than a day after suffering a brutal loss in Game 1, Rangers roll to a win in Game 2
ARLINGTON, Texas -- Baseball players are different from you and me. When they endure a loss of potentially soul-crushing proportions, it's customary to feed the media quotes about "turning the page'' and the importance of having "short memories.'' The clichés are so time-worn, they come across as white noise. But in a sport with so many opportunities to wallow in the negative and dwell upon failure, happy talk is more than a reflex action. It's a survival skill.
No one who watched the Texas Rangers cough up a five-run lead in Game 1 of the American League Championship Series would characterize it as anything less than an emotional killer. The Rangers had the New York Yankees just where they wanted them, only to endure a late bullpen meltdown and suffer a 6-5 defeat. Then they had to go home late Friday night and think about how they'd squandered a wonderful opportunity to make a statement.
[+] Enlarge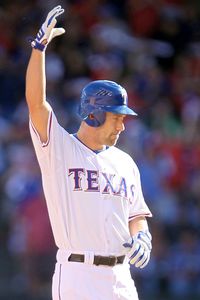 Stephen Dunn/Getty ImagesDavid Murphy had two hits, scored two runs and also drove in a pair of runs in the Rangers' 7-2 win over the Yankees in Game 2.
But if you put any stock in body language or determined looks, the Rangers' clubhouse was a devastation-free zone. Michael Young and the other Texas players described the series opener as just one loss -- nothing more -- and vowed to come back Saturday, eliminate the mistakes and find a way to play better.
They said it. And they meant it.
The ALCS has a competitive feel to it now, and that's a tribute to the Rangers' ability to stow their disappointment and concentrate on the business at hand. A mere 20 hours after playing the role of pinata to the Yankees, they took control of Game 2 from the outset and rolled to a 7-2 victory. It was the first home postseason win in franchise history, and the Texas players left the field to raucous cheers, a sea of white towels waving in the stands, a Lone Star State flag parade beyond the center field fence and lots and lots of fireworks.
Score one for resilience and the ability of ballplayers to compartmentalize in a way that fans and the media can't always understand.
"We're programmed that way, honestly,'' said Texas second baseman Ian Kinsler. "You have to have a very short memory in this game, and you have to constantly be moving forward and worrying about the next groundball or next at-bat or next pop fly or next opportunity you have. This team is very good at that, all the way around. We have great character.''
The Rangers also have Cliff Lee and his 6-0 career postseason record and 1.44 October ERA ready to go Monday night in New York, which means this series has the potential to get very interesting over the next few days.
"We had a good chance to be up 2-0, but it didn't work out that way,'' said Lee. "It's basically down to a five-game series now, and we're tied. We'll see what happens.''
A couple of mini-trends surfaced in the Texas leg of the series. Rangers starters C.J. Wilson and Colby Lewis have outpitched CC Sabathia and Phil Hughes by a long shot. And while Texas manager Ron Washington has reason to be concerned about some of his relievers, he has no choice but to keep running them out there.
Darren Oliver, Darren O'Day and Clay Rapada all climbed back on the horse after rough outings Friday, and Washington found the ideal spot for rookie closer Neftali Feliz, who needed a low-stress appearance after two shaky performances against Tampa Bay in the American League Division Series. Feliz issued two ninth-inning walks, prompting a personal visit from the manager, before buckling down and retiring Alex Rodriguez and Robinson Cano to end the game. But you have to wonder how he'll respond with a game on the line in a hostile environment in the Bronx.
"

This team has been resilient all year long, so there's no reason it should be any different right now.

"

-- David Murphy
In light of how the Texas lineup produced at home, the pitchers have some margin for error. The Rangers are hitting .292 through two games, and they've scored 12 runs even though Vladimir Guerrero is 1-for-9 and Josh Hamilton doesn't have a hit since his three-run homer in the first inning of Game 1. The Yankees walked Hamilton four times Saturday -- twice intentionally -- to put him in some select company. The only other player to walk four times against the Yankees in a postseason game? Try Jackie Robinson, who drew four bases on balls in Game 5 of the 1952 World Series between the Yankees and Dodgers.
In Game 2, it was all about Nelson Cruz, who doubled twice and scored a pair of runs, and David Murphy, who homered, doubled and drove in two runs out of the seventh spot. Murphy, catcher Bengie Molina and rookie first baseman Mitch Moreland combined for five hits and four RBIs in the 7-8-9 spots in the batting order.
Elvis Andrus, Texas' dynamic young shortstop, continues to perform with the assertiveness he displayed in the Division Series win over Tampa Bay. The Rangers needed a feel-good, turn-the-page moment early in Game 2, and Andrus quickly provided it. He reached on an infield single off Hughes' glove in his first at-bat, advanced on a wild pitch, stole third and then came home as part of a double steal with Hamilton to give Texas a 1-0 lead.
"He's the engine, basically,'' Kinsler said. "When you have a guy with his speed and his timing on the bases, it's huge. He knows how to run the bases and create runs. Whether he's chopping the ball off the pitcher's glove or flaring one to right, it doesn't matter. It's not easy to get him out right now.''
Andrus has a charismatic smile and a demeanor that suggests he's not going to be intimidated by the Yankees or any team. The Rangers have talked about putting pressure on the Yankees with their team speed. It's going to be tough in Game 3 with Andy Pettitte and his masterful pickoff move on the mound for New York. But after the seismic shift in momentum between the first two games of the series, don't bother telling the Texas players what they are or aren't capable of doing.
ALCS: YANKEES VS. RANGERS


Complete coverage of the Yankees-Rangers matchup. More
"In the end, it's a loss,'' Murphy said of Game 1. "I'd be lying if I said it wasn't a tough loss. It was a bitter pill for everybody to swallow. But at the same time, it's one game, and this team has been resilient all year long, so there's no reason it should be any different right now.
"If there were any questions or concerns about how relaxed or loose we would be going from the regular season to the postseason, I think we've answered that. We know when to strap it on and go out there and play hard. But we're also a laid-back team, and we're almost always loose.''
Momentum changes, the series shifts, and the Rangers and Yankees will now channel all their energies into Game 3 on Monday in New York. That's just the way baseball players are programmed.
Jerry Crasnick is a senior writer for ESPN.com. Click here to purchase a copy of his book, "License to Deal," published by Rodale. Crasnick can be reached via e-mail.
ESPN.com MLB Sr. Writer
ESPN.com senior writer
Author of "License to Deal"
Former Denver Post national baseball writer
LCS WRAP-UP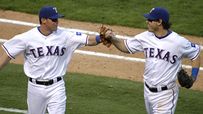 ALCS GAME 2: RANGERS 7, YANKEES 2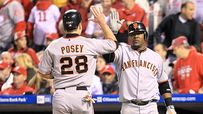 NLCS GAME 1: GIANTS 4, PHILLIES 3

MOST SENT STORIES ON ESPN.COM