Dodgers accustomed to deficits
The Dodgers aren't sweating the Game 1 blowout too much, they're used to climbing out of holes this season.
Originally Published:
October 6, 2004
By
Gary Miller
| Special to ESPN.com
The Dodgers are decided underdogs as it is, but just imagine if they hadn't staged their 53rd comeback win of the season and clinched on Saturday. Odalis Perez would have had to go against Jason Schmidt on Sunday; then a one-game playoff in San Francisco on Monday; then on to St. Louis for a noon local start to kick off the postseason Tuesday -- all with Eric Gagne still nursing a cortisone shot in his sore shoulder. But Shawn Green likes the role. After all, they're used to it. "I think it's definitely the way it's been painted, and I love it," Green conceded. "I think everyone in our clubhouse loves it. I think we play better like that."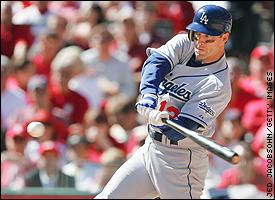 The Angels kept good payroll flexibility by signing Finley.
L.A. had 10 comeback wins from down at least two runs in September alone, the most in more than 100 years. Not only that, the Dodgers came back from both 3-0 and 4-0 ninth-inning deficits in the final week. The most memorable was Steve Finley's clinching grand slam Saturday, and although Finley hopped out of the box, he had no idea it was gone. He just knew it was deep enough to beat a pulled in outfield. Robin Ventura, who famously lost a grand slam in a playoff against Atlanta, went out to run interference to make sure no one would pull a Todd Pratt and turn Finley's slam into a walk-off single.
Finley, whom I fondly call "the Saluki" since he excelled at our mutual alma mater, Southern Illinois University, not far from St. Louis, has come full circle. Not only is he playing against fellow world champs Tony Womack and Reggie Sanders from the 2001 Diamondbacks, but he's also back in Busch Stadium for a postseason, just as they were as teammates. It was the sight of the very first major league game Finley ever saw in person. In fact, he'd barely seen any big league ball growing up in Paducah, Ky. By the time he got to high school, in the early '80s, there was only "The Game of the Week," on Saturdays and Monday Night Baseball. Finley was always out playing instead. So when a high school buddy came across tickets to Game 7 of the 1982 World Series, Finley was anxious to go, but says he didn't know a single player on either team. "I didn't watch baseball." Now 22 years later, Busch remains home to the Cardinals' last world championship and a memorable 6-3 win over the Brewers. What has stuck with "The Saluki" all these years later is his coach at Arizona, Robin Yount, being thrown out at third by George Hendrick, and the celebration after the game. Sitting in section 230, he and his buddy decided to join the fans flooding the field, and although police dogs were taking chunks out of the early invaders, eventually officials caved in and let the fans rampage. Finley scooped up some dirt from the infield pits as a souvenir. In remembering that title this week, Cards manager Whitey Herzog noted how his team hit only 67 home runs that season, led by Hendrick with 19 and Darrell Porter with just a dozen. As Herzog put it, with his '80s trademark of speed, moving runners over, defense and pitching in the turf days of Busch, "you work your butt off and manufacture a three-run lead, and today, some big donkey comes up and hits a three-run homer and wipes all that out." Considering three individuals have hit 66 or more home runs in the past six years, starting with the Cardinals' own Mark McGwire, you might guess what Herzog thinks of the current brand of ball.
Finley knew that with the Diamondbacks' dire demise this season, and his pending free agency, he was ripe to be traded. He told Arizona management the only condition he wanted to be assured of was that any team he was traded to would play him in center field. San Diego had an obvious need there, but Finley got the assurance from Dodger manager Jim Tracy that he would play in center. When he got to Los Angeles, Finley thanked incumbent Milton Bradley for moving over to right, and had similar gratitude to Tracy for giving up his uniform number, 12, to his new center fielder. Tracy adopted the digit of departed Dodger leader Paul Lo Duca.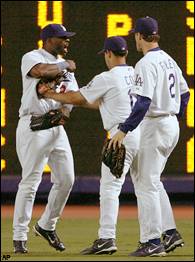 Milton Bradley may be volatile, but the Dodgers says he's a positive presence on the team.
It's clear that Tracy values his former center fielder. Bradley has been a huge difference-maker in L.A. finally ending on top. With Bradley's volatile history, including a promise not to get thrown out of another game as a Dodger after a dugout eruption earlier this season, Tracy seemed to have a tough disciplinary decision after Bradley's confrontation with a bottle-throwing fan last week. It was complicated by the fact that just down the freeway in Anaheim, Mike Scioscia had suspended Jose Guillen and his 104 RBI for the balance of the regular season and playoffs for insubordination. Tracy saw two distinctions between the cases. First, Guillen's outburst was directly disrespectful to his manager, and thus a reflection on the other 24 Angels. Bradley's incident involved a fan. Equally importantly, Tracy perceives progress in Bradley, and actually saw restraint in how he responded to the fan, throwing down the bottle rather than at the crowd, after viewing the footage many times. He said Bradley acknowledged he has an anger problem and wants help. He apologized to his teammates for getting suspended in the final week of a pennant race, and Tracy didn't hesitate to reinstate him for the postseason. As Tracy put it, there's "a genuine person there. Dynamic. Feeling. I feel very good about helping him become what he's capable of becoming. If you know me, I'm not one to give up on someone."
While Tracy is in his first playoffs, trying to lead the franchise to its first postseason win since the Dodgers stunned Tony La Russa's A's in 1988, his counterpart in the Cards' dugout is managing his 16th postseason series. There is no one Tracy respects more on the other bench than the man with the law degree, and he's paying attention to a manager who misses no detail. For instance, in their matchup in early September, Tracy brought in lefty Mike Venafro to face Jim Edmonds. La Russa promptly sent up Hector Luna to hit for his MVP candidate. Now it may not have had anything to do with La Russa's thinking, but Tracy thinks his foe may have been planting a seed just in case they met again in October, "throwing that out there, just something extra for me to chew on." Of course Tracy hopes someday he has the luxury of a 15-game lead allowing him to play with another manager's mind.
| | |
| --- | --- |
| | |
| | Tracy |
One innovation Tracy has decided to go with in the divisional series is carrying three catchers by adding Tom Wilson to the postseason roster and leaving off Hideo Nomo, Kaz Ishii, Edwin Jackson and Antonio Perez. Without Wilson, Jayson Werth would be L.A.'s third catcher, and in Tracy's words, "I don't want a national audience to have to sit through Jayson catching Gagne or Yhency Brazoban in the eighth or ninth innings." He conceded the former first-round pick of the Orioles may still develop into a big league catcher with a spring training to work on it, but right now carrying Wilson allows him to pinch-hit twice for light-hitting catchers Brent Mayne and David Ross, starting as early as the sixth inning. In Tuesday's opener, Wilson came off the bench and hit a late home run for the game's final run. Although Werth had two hits in the opener, one thing I would change for Game 2 would be to move Bradley up from the sixth slot and bunch him in the two through five holes with Finley, Beltre and Green, and slide Werth down in front of Cora and Ross.
The type of scene you only get in postseason baseball: 10 a.m., in an empty Busch Stadium, Bob Gibson introducing his son Chris to Albert Pujols, with the MVP candidate telling the Hall of Famer he'd like to get just one championship ring like the two Gibson has. Gibson said, "One's pretty good, if you get a nice one."

Meet me in St. Louis
There is no baseball experience like St. Louis, where the Cards being in the playoffs not only warrants a pep rally, like Major League Baseball threw in the seven other playoff cities as well, but non-stop specials on all the local TV stations -- not just the ones that carry Cardinals games -- and newscasts anchored from the stadium leading with team stories.

The Cardinals have the highest broadcast and second highest cable ratings of any franchise, and while drawing over three million fans again this season, more than a million came from outside a 100-mile radius surrounding St. Louis.

We ran into fans from Little Rock, Ark., who are season-ticket holders and make the six-hour pilgrimage each way for at least half of the 81 home games. Unlike New York, Los Angeles, Chicago or San Francisco, Kansas City can't come close to dividing locals loyal to St. Louis, and the Cards still command a lot of that multi-generational following from the days before 1958, when they were the southern and western-most team in the National League and Harry Carey and Jack Buck blanketed the entire mid-section of the country on the airwaves of KMOX.
Only in St. Louis do you see the retired numbers 6, 2, and 45, atop the stadium in right field, and Stan Musial at age 84 spryly throwing out the first pitch to Red Schoendienst before the opener, then both sitting with Gibson behind home plate.
Overheard in the Cards dugout after Edgar Renteria walked in the second inning Tuesday, La Russa to coach Joe Pettini: "What is he?" Pettini replied, "5.73." That was Odalis Perez's time to home plate in seconds. On the ensuing 0-2 pitch to Jim Edmonds, Renteria easily stole second base.
Indelibly aware of player's past performance against the opposing pitcher, La Russa started Larry Walker against Odalis Perez, even though he was 1-for-15 in his career against him because, "he's a quality hitter." The first time up, Walker struck out badly. But in his next at-bat, he hit the first of his two home runs in the game. It was the first time Walker had been in the playoffs since the Rockies made it nine years ago. In that series, he homered off Tom Glavine. Perez grew up in the Dominican Republic watching the Braves on the superstition, and patterning himself after his future teammate. Walker said the coincidence was not incidental.
Just as the Dodgers are without Brad Penny for the postseason, the Cards carry on without Chris Carpenter, both with bicep injuries, and almost no hope of throwing a postseason pitch. La Russa then had to choose a Game 1 starter and took Woody Williams over the experienced Matt Morris because his former ace's back and shoulder are still "barking and cranky" and he didn't want Morris to have to start twice if the series goes five games. La Russa said Morris' ailments affected about a third of his more than 30 starts.
Williams finished the season strong after seriously considering retirement in the wake of an injury-plagued, ineffective spring. He had other pluses, too, besides his gritty determination. An uncanny ability to get left-handed hitters out. While right-handers batted .296 against Williams this season, lefties batted just .223, or 73 points lower. No other qualifier had a higher disparity against the other side than Williams. In the opener, Steve Finley, Shawn Green and Milton Bradley were a combined 1-for-9 off Williams in the heart of the order, stranding seven runners. The last man he faced, pinch-hitter Robin Ventura, struck out looking. Overall, Los Angeles' six left-handed batters in the lineup, and two left-handed pinch-hitters, were a combined 4-for-18 off Williams. That's .222.

Gary Miller is a reporter and play-by-play announcer for ESPN's major league baseball coverage.
MLB commentator
Gary Miller, who joined ESPN in 1990, serves as Major League Baseball commentator for ESPN DayGame and select game telecasts. He's also served as a host of Baseball Tonight and as an anchor for SportsCenter.
SPONSORED HEADLINES
MORE MLB HEADLINES
MOST SENT STORIES ON ESPN.COM
EDITORS' PICKS
These players are vital to their team's success.
Blog

Ranking baseball's 30 farm systems for 2015.
Keith Law
Nike Men's Los Angeles Dodgers Practice Royal T-shirt Shop »