Shuffling lineup works wonders for Astros
Putting Mike Lamb back into the starting lineup proved to be a genius move by the Astros in their Game 3 win over the Cardinals, writes Buster Olney.
Originally Published:
October 15, 2005
By
Buster Olney
| ESPN The Magazine
HOUSTON -- Not long ago, the Astros were the worst offensive team in baseball, getting shut out 10 times in the first 10 weeks of the season, going as many as four days between runs. Carlos Beltran and Jeff Kent were gone and the guys who replaced them weren't hitting.
Most games were close, and the Astros had to scrape together bits of offense to nurture their rallies, with manager Phil Garner mixing and matching his lineup, playing hunches, playing anybody who threw out a couple of hits. And the Astros are sure now that the wrenching summer struggle for runs has turned out to be great training for the postseason.
Garner decided to make a radical lineup change a few hours before Game 3 of the NL Championship Series, a move that surprised the players involved, and once again, the Astros dug in. With strong pitching and some two-strike hits and one big swing from a guy who was buried deep in a slump a month ago, the Astros edged St. Louis, 4-3, with Roger Clemens pitching six innings and getting the victory.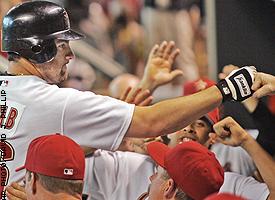 AP Photo/David J. PhillipMike Lamb, left, had two hits, including a two-run homer, and scored two runs in the Astros' win in Game 3.
Houston leads this series 2 games to 1, at a time when St. Louis's injury problems are mounting: Third baseman Abraham Nunez went down with a bruise above his left knee, after Jason Lane inadvertently collided with him on a slide. St. Louis manager Tony La Russa said after the game that his team's health is fine, but left fielder Reggie Sanders had to miss Game 3 with a sore neck, right fielder Larry Walker is playing banged up, and the Cardinals have been without All-Star third baseman Scott Rolen for most of this year; Nunez is Rolen's backup, and if he can't play, La Russa will have to reach down to his third string. "They are a very good ballclub, any way you look at it," said Garner. "We are not going to take anything for granted."
But Houston isn't exactly flush with star position players, either, part of the reason why Garner is swayed by hot streaks and favorable matchups. Chris Burke has been hot for the last four games, hitting the walkoff homer against the Braves last Sunday, doing more damage in St. Louis. With Matt Morris starting for St. Louis Saturday, Garner started Burke in center field, a position at which Burke registered exactly one putout during the regular season. Lance Berkman, normally the first baseman, was moved to left field, to enable Mike Lamb to start at first base.
And Garner was intent on getting Lamb into the order because of his strong history against Morris: five hits in 14 regular-season at-bats, including three homers. Willy Tavares, who had 592 at-bats this season? Benched. "I was surprised," said Burke. "But like we've been saying all week, Phil's been making the right moves."
In early September, Lamb probably wouldn't have been considered. He hit .235 in July and .171 in August, his playing time becoming sparse. But at about the same time that Lamb figured out that he needed to get his front foot down a little quicker as he started his swing -- "something as silly as that," he said -- Morgan Ensberg got hurt. Lamb started to play, and to hit: He hit .319 with five homers in the last month.
Ensberg drew a leadoff walk in the fourth inning, Lamb following him to the plate. Morris tried to throw a fastball inside to Lamb, who got his front foot down, took an inside-out swing, and sliced a high drive toward left, where the stands look an arm's length from home plate. The ball dropped among the outstretched arms there, and Houston had a 2-0 lead.
The Cardinals worked Clemens hard in the fourth, forcing him to throw 28 pitches, with Clemens looking a little tired, showing some signs of being a guy in his fifth decade of life. When Clemens lined a single in the second inning, center fielder Jim Edmonds quickly gloved the ball, looking to fire to first; Albert Pujols wasn't covering the bag. Later, Clemens would bend down on the mound when Ensberg made a throw over his head, and Clemens used his right hand to slowly push himself up to his feet.
St. Louis scored a run in the fifth, another in the sixth, and Clemens was finished, the game tied. But the Astros have played months of games like this, Lamb noted. "I didn't feel like, 'Uh-oh.' I felt like, they tied it up, and we got to go back out there and score a couple of more runs."
"
Like we've been saying all week, Phil's been making the right
moves. "
— Astros outfielder Chris Burke on
manager Phil Garner
What happened early in the season, catcher Brad Ausmus said, is that the Astros learned how to compete in close games. Starters learned how to work with every run meaning something, relievers pitched without margins of error, and the hitters had to focus on putting together rallies, moving runners. "We realized we weren't going to score the same way," said Craig Biggio. "We weren't going to have seven guys hitting 20 home runs, and we had to manufacture runs, more hit-and-runs, more bunts."
Nothing comes easy. With one out in the bottom of the sixth, Lamb fell behind no balls and two strikes to Morris, who had given up throwing fastballs to Lamb and just kept throwing off-speed stuff at him. Lamb fouled off three pitches with two strikes, before clubbing a double to deep center.
Lane was next, and he, too, fell behind no balls and two strikes. "I was just trying to protect," he said. And he did, reaching out and lining a single into right-center field, Lamb scoring. Ausmus fell behind 0-2, and he singled Lane to third, setting up Houston's fourth and final run.
The two-strike hits, La Russa said later, "that's the difference in the game. We fell behind by two and then we battled back, did a real good job of scoring the two ... We just didn't make the finishing pitch and that's the two runs that beat us."
Chad Qualls came in and dominated the Cardinals for two innings, throwing hard and striking out three, and Brad Lidge pitched the ninth, turning and pumping a fist when the game ended.
Now it will be left to La Russa and the Cardinals, so banged up, so hurt, to figure out a way to score runs, with their offense depleted.
Buster Olney is a senior writer for ESPN The Magazine. His book, "The Last Night of the Yankee Dynasty," is available in paperback and can be ordered through HarperCollins.com.
Senior Writer, ESPN The Magazine
Senior writer ESPN Magazine/ESPN.com
Analyst/reporter ESPN television
Author of "The Last Night of the Yankee Dynasty"
SPONSORED HEADLINES
MORE MLB HEADLINES
MOST SENT STORIES ON ESPN.COM
EDITORS' PICKS
David Schoenfield breaks down some of baseball's best dynasties.
Story »

The idea of eliminating defensive shifts is absurd.
Buster Olney

If A-Rod hits enough home runs to earn his bonuses, the Yanks should be more than happy to pay them.
Wallace Matthews