October failure always magnified
Will the disastrous events of Game 5 leave a scar on Brad Lidge and the Astros? We'll soon find out. Jayson Stark explains.
Originally Published:
October 18, 2005
By
Jayson Stark
| ESPN.com
ST. LOUIS -- Byung-Hyun Kim. Donnie Moore. Bob Stanley.
Stan Belinda. Tom Niedenfuer. And, of course, Dennis Eckersley.
When the calendar turns to October and we think of all those closers we just named, we forget to think about all the games they saved. Or all the swings and misses they induced. Or all the hands they shook after all the final outs they collected.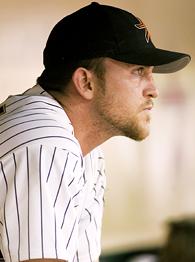 Ronald Martinez/Getty ImagesBrad Lidge struck out the side in the ninth inning of Game 5, but it was far from a pleasant experience for him.
Nope. Can't do it. Not this time of year.
We think instead of the biggest games of their lives -- the games they didn't save, the swings that didn't miss, the hands they never got to shake.
And now, in the third week of this October, we think of Brad Lidge.
Now -- thanks to one hanging slider, thanks to one swipe of Albert Pujols' bat -- the heretofore-invincible Astros closer has joined that list. On Monday night, Brad Lidge didn't merely blow a save. He watched an October dream slip right out of his grasp.
And so we find ourselves in the one-day intermission between Games 5 and 6 of the National League Championship Series, not so much reflecting on what we just saw -- but asking ourselves a much trickier question:
What comes next?
Defeat is nothing foreign to any baseball team. Blown saves go with the territory for any closer. But not defeats like this. Not blown saves like this.
Not when you're one strike away from the World Series with nobody on base -- and minutes later you're trying to figure out what just happened.
Not when your fans are dancing with elation all around you one minute -- and the next you find yourself in St. Louis where, all 50,000 people around you are rooting only for your continued self-destruction.
So what comes next for these Astros? What comes next for their closer, now that he's skidded off the highway to Mariano-ville he seemed to be traveling? These are questions with no simple answers.
"It's not going to be easy," said Andy Pettitte on Tuesday, on the eve of a Roy Oswalt-Mark Mulder duel Wednesday in Game 6. "It's not going to be easy coming back here. We'd won three games in a row, and we were one strike away. I'm sure they had to be feeling down, and now they have to be feeling great. But if we come out early and take some of their momentum away, and we get Roy going the way he can pitch, everything will be OK."
Everything will be OK. At times like this, human beings always tell themselves that everything will be OK, don't they? But life doesn't always cooperate. And the St. Louis Cardinals have no interest in cooperating.
So what are the chances the Astros and Brad Lidge will be OK? Let's take a look at some of the clues:
What history tells us
Only two teams in history have ever lost a game in which they were one strike away from winning a postseason series -- the 1986 Angels (Game 5, ALCS) and the 1986 Red Sox (Game 6, World Series). Both had second chances to undo their disasters. Neither won another game.
The Angels had to do what these Astros have to do now -- take a plane flight they never wanted to take and play Games 6 and 7 on the road (in Boston). They got smoked in those two games by a combined score of 18-5.
Those same Red Sox, not even two weeks later, would find themselves in an identical mess, this time in the World Series. But even though they got to come back and play Game 7 (in New York), they blew a 3-0 sixth-inning lead and lost, 8-5.
What do those two series and this one have in common? Roger Clemens pitched in all three of them. And Clemens is scheduled to pitch Game 7 in this series.
We also looked at the two other teams in history that got to play another game after losing a postseason game in which they once found themselves in Houston's position -- holding a two-run lead in the potential final inning of a series with only three more outs to get.
One was the 1911 Philadelphia A's. They led the Giants, 3-1, in the ninth inning of Game 5 of the World Series, in New York -- but wound up losing in extra innings. The other was the 1972 Oakland A's. They took a two-run lead in the 10th inning of Game 4 of the ALCS, in Detroit -- only to give up three in the bottom of the 10th.
But both of those two teams won the next game. The 1911 A's went home and won Game 6 in a 13-2 blowout. The 1972 A's had to play Game 5 on the road -- and won a 2-1 game (with manager Dick Williams bypassing Rollie Fingers to wring a four-inning save out of Vida Blue).
| | | |
| --- | --- | --- |
| | " | This kid is destined for greatness. ... Ever see the hitters' faces when they come up to hit against him? They're just hoping to find one ball they might put in play. He needs to remember that now. " |
| | | — Billy Wagner on Brad Lidge |
So we've learned that of the four teams who have been through the closest approximation of what these Astros have lived through, just one was able to win a series clincher away from home.
But it's not as if these are the only teams ever to absorb painful losses this time of year. You don't have to think too hard to recall that Pettitte himself was a member of the 2001 Yankees.
And you don't have to think too hard to recall that that Yankees team seemed to destroy Arizona's psyche with two astonishing game-tying homers with two outs in the ninth inning of Games 4 and 5 of the World Series. Except they then headed for the road and watched Arizona rise from the dead to win Games 6 and 7.
Asked if that series was any reason for inspiration, Pettitte acted like a man who thought it was more reason for a personal nightmare. The nightmare was the memory of his Game 6 start, in which he gave up six runs in two innings.
"That series was lost because I pitched terrible," he said. "I had a chance to wrap it up, and I did a terrible job of doing that. What that proves is, you need your starting pitcher to pitch a good game."
What Astros history tells us
One strike away. Never have the Astros been
that
close to a World Series before. But they've been close. Many times. Too many times.
And almost nothing that happened next has ever made for a happily-ever-after ending.
This was the fifth game in Astros history in which a victory would have sent them off to the World Series. They have led in every one of those games -- three times by two runs or more in the eighth inning or beyond -- and lost all five.
They blew a 2-0 lead in the eighth inning of Game 4 of the best-of-five 1980 NLCS, then came back the next day to make a three-run lead disappear in the eighth inning of Game 5 -- with Nolan Ryan on the mound.
Nearly a quarter-century later, another Astros team lost Game 6 of last year's NLCS to the Cardinals on a 12th-inning Jim Edmonds walkoff homer, then came back the next day to see Clemens let an early two-run lead slide away in Game 7.
And now this. It is, essentially, an identical situation to last year, when the Astros headed for St. Louis ahead, 3 games to 2, and couldn't finish the deal.
Granted, last year they weren't coming off a Game 5 disaster like this one. But last year, they had Pete Munro to start Game 6 -- not Oswalt. So you could argue they're still in a better spot, Game 5 disaster or no Game 5 disaster.
"We can win this thing," said GM Tim Purpura. "We've got one of the most dominant pitchers in baseball going [Wednesday]. And we've got another dominant pitcher [Clemens] going the night after that. So we feel, certainly, very well set up for it. ... So I think that certainly, the tenor and the mood is very positive at this point."
What Pettitte-Oswalt-Clemens history tells us
Can a team possibly blow a 3-games-to-1 lead with Pettitte, Oswalt and Clemens lined up to start?
Well, it would take some doing. But impossible, it isn't.
Two years ago, after all, the Cubs led Florida, 3 games to 1, in the NLCS -- and had Carlos Zambrano, Mark Prior and Kerry Wood penciled in to start the next three games. And you don't need to consult Steve Bartman to remember that they found a way to lose all three -- the last two at home.
It also hasn't been unprecedented for the Astros to lose three in a row with their Big Three starting this year.
We'll throw out the first part of this season, because the rest of their team was in such disarray. But twice after the All-Star break, the Astros did lose three straight games started by Pettitte, Oswalt and Clemens. Once, that streak was split over two series (against Milwaukee and Chicago). But it also happened once in the same series.
The team they were playing at the time? The Cardinals (in the first three games after the All-Star break).
Nevertheless, this is how the Astros' whole team has been designed -- to get those three starting pitchers to the mound. They're 61-43 this year when those three start.
"If we can't get it done with Clemens, Oswalt and Pettitte," said Jeff Bagwell, "then obviously, it wasn't meant to be."
What a guy who has been there tells us
Back before Brad Lidge came to town, the
Houston Astros
had another unhittable closer. That was a man named
Billy Wagner
.
But guess what happened to Wagner in his first postseason save opportunity as an Astro? He gave up a game-tying homer to Mr. Game-Tying October Homer, Jim Leyritz, in the 1998 NLDS. So Wagner has walked in Lidge's spikes on several levels.
"I know Brad, and Brad is savvy enough that he's going to come back from this," Wagner said Tuesday. "Plus, he's got teammates who will support him, so he won't have to worry about the issues that some of those other guys had to worry about. The guys on this team won't ever make him feel like he's letting the team down."
| | | |
| --- | --- | --- |
| | " | If we can't get it done with [Roger] Clemens, [Roy] Oswalt and [Andy] Pettitte, then obviously, it wasn't meant to be. " |
| | | — Jeff Bagwell |
Wagner is so close to Lidge that he very nearly picked up the phone to call Lidge on Tuesday -- "but I know," Wagner said, "he's got a lot going on." Still, Wagner felt as if he knew exactly what Lidge was thinking.
"I'm sure he's upset," Wagner said. "I'm sure he saw it on SportsCenter all day long. I'm sure he's heard all the people saying, 'Why did he make that pitch? Why didn't he walk Pujols?' So I'd like to tell him I'd have done the same thing.
"He challenged Pujols with his best pitch, and that's what the playoffs are all about. You go with your best, and go up against his best. I'd tell him, 'Hey, you lost this battle -- but you've got two more games. And your time will come.' "
Wagner isn't as worried about Lidge's psyche as he is about the psyche of those around him -- and whether the Astros would be tempted to walk Pujols next time around.
"I hope they allow him to go out and face that guy the next time," Wagner said. "He might give up another home run -- but I doubt it. In fact, I'd take that to the bank.
"This kid is destined for greatness," said Billy Wagner. "If they stay with him, and he's on teams that get him to the playoffs, he's the next Mariano Rivera, without a doubt. Ever see the hitters' faces when they come up to hit against him? They're just hoping to find one ball they might put in play. He needs to remember that now."
What Brad Lidge's history tells us
This would not, obviously, be the first blown save of Brad Lidge's life.
Last October, you might remember, he blew the first postseason save opportunity he'd ever been handed. Lidge was so traumatized, he then went out and pitched 10 2/3 more innings in that postseason, gave up one hit and struck out 17.
This year, in the regular season, he blew just four saves. In his next save opportunity after those four, his numbers looked like this: 4 IP, 1 hit, 0 runs, 7 whiffs.
So when his teammates look at him, they don't see a guy they expect to panic.
"He's gotten through rough times before," said Pettitte. "It hasn't all been gravy, you know. I've seen him blow saves before and bounce back. So I think he'll be aggressive. He's never folded up in the face of competition before. Somebody with that stuff, there's no reason to be scared."
What the ghosts of Octobers past tell us
We know that Byung-Hyun Kim and Bob Stanley and Donnie Moore were never quite the same after the October saves they blew. And that's understandable -- because these are no ordinary games. These are games that often leave scars.
But we should also understand this: None of those guys was even remotely as unhittable as Brad Lidge.
"I don't know about other guys," Pettitte said. "All I'm concerned with is this guy -- our closer. And this ain't going to leave a scar on him."
Still, we don't know that. Andy Pettitte doesn't know that. No one can possibly know that. Not yet.
That's a question only the rest of Brad Lidge's career can answer. And the rest of his baseball life begins Wednesday night in St. Louis -- in the shadow of the Arch. And the even bigger shadow of Albert Pujols.
Jayson Stark is a senior writer for ESPN.com.
Senior Writer, ESPN.com
Senior writer for ESPN.com
21 years at the Philadelphia Inquirer
Author of three baseball books
SPONSORED HEADLINES
MORE MLB HEADLINES
MOST SENT STORIES ON ESPN.COM
EDITORS' PICKS
Ranking baseball's 30 farm systems for 2015.
Keith Law

What Ichiro Suzuki have left in the tank?
Jerry Crasnick »

Terry Francona wants the Indians to be better on defense in 2015.
Buster Olney