Ordonez caps off a memorable family day
Magglio Ordonez joined in the celebration of his son's 11th birthday by having a day that will forever be remembered in Detroit lore.
Originally Published:
October 13, 2006
By
Wayne Drehs
| ESPN.com
DETROIT -- Right in the center of it all, surrounded by the streams of champagne, clouds of cigar smoke and endless bad dancing, an 11-year-old boy was in the middle of a night he would never forget.
Magglio Ordonez Jr. had already eaten his cake, unwrapped a brand new computer on this day, but his dad saved the best gift for last. Before Magglio Ordonez Sr. left the home for Game 4 of the ALCS, he told his son he would hit a home run for him. Just for his birthday.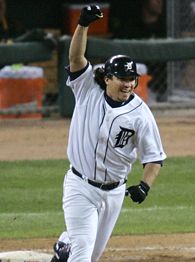 Amy Sancetta/AP PhotoAlong with his game-winning three-run homer in the ninth, Magglio Ordonez also hit a solo shot in the sixth.
And dad did just that, belting a sixth-inning screamer over the left field fence that tied the game at 3-3.
"I was so happy," little Magglio said afterward. "I knew he did it for me."
But dad wasn't done. Not even close. With two outs in the ninth inning and runners on first and second, he connected with a Huston Street fastball that still hasn't landed. Tigers 6, Athletics 3. Game over, series over. And while the city of Detroit will undoubtedly never be the same, neither will that little boy.
"After the ball went over the fence, I looked down and Magglio Jr. had tears in his eyes," Daggly Ordonez, the boy's mother, said through a translator. "He couldn't believe it. None of us could.
"But I told Magglio [Sr.], this is going to be the year. This is the year. And now it is. We're going all the way."
During the postgame on-field celebration, when father and son finally connected on the Comerica Park field, Dad pulled the 11-year-old close to him and said, "'Happy Birthday -- that was for you,' " the younger Ordonez said.
From there, the two never left one another's side. As Ordonez paraded around the field, hugging teammates and watching the trophy presentation, little Magglio was right by his side. When the celebration spilled into the clubhouse, Magglio grabbed his son by his Tigers t-shirt and pulled his son in there with him.
SERIES-CLINCHING HOME RUNS

DATE
PLAYER
GAME
10/14/06
Magglio Ordonez,
Detroit
(off Huston Street)
ALCS Game 4
(DET def. OAK, 4-0)
10/5/05
Chris Burke,
Houston
(off Joey Devine)
NLDS Game 4
(HOU def. ATL, 3-1)
10/8/04
David Ortiz,
Boston
(off Jarrod Washburn)
ALDS Game 3
(BOS def. ANA, 3-0)
10/16/03
Aaron Boone,
NY Yankees
(off Tim Wakefield)
ALCS Game 7
(NYY def. BOS, 4-3)
10/9/99
Todd Pratt,
NY Mets
(off Matt Mantei)
NLDS Game 4
(NYM def. ARI, 3-1)
10/23/93
Joe Carter,
Toronto
(off Mitch Williams)
World Series Game 6
(TOR def. PHI, 4-2)
10/14/76
Chris Chambliss,
NY Yankees
(off Mark Littell)
ALCS Game 5
(NYY def. KAN, 3-2)
10/13/60
Bill Mazeroski,
Pittsburgh
(off Ralph Terry)
ALCS Game 5
(PIT def. NYY, 4-3)
For dad, the moment couldn't have been much sweeter. Two years ago, he signed a five-year, $75 million deal, the richest contract in Tigers history. At the time, some considered him damaged goods after a knee injury limited him to 52 games in 2004. Last year, when a sports hernia kept him off the field for 80 games, the critics were out in full force, labeling him and his contract a bust.
Then, to add insult to injury, he sat at home during the postseason and watched his team of 14 years, the Chicago White Sox, go on a magical run to the World Series.
"I'm not going to lie," Ordonez said. "Last year was one of the worst years in my life. But I always knew that my time would come."
That time was Saturday. When Ordonez stepped to the plate in the sixth inning, he was hitless in all nine of his ALCS at-bats. In his first two at-bats against Dan Haren on Saturday, he had struck out and lifted a lazy fly ball to left. But then, in the first pitch of the sixth inning, he laced the game-tying home run over the left-field wall.
He then stepped to the plate in the ninth, with two runners on and a chance to win the game. Sixty feet away stood Street.
"I felt very relaxed, very calm the entire time," Ordonez said. "I wasn't really thinking home run."
After letting the first fastball go by for a ball, he saw one that he liked.
"It was a good pitch to hit," Ordonez said. "So I hit it."
Did he ever. On the exact same date, 22 years later, that Kirk Gibson hit a pair of home runs to carry the Tigers to the 1984 World Series championship over San Diego no less.
With his game-winning blast, Ordonez sent Tigers president Dave Dombrowski leaping out of his skybox chair. He brought tears to the eyes of his wife and mother. He permanently erased any argument that he was a bad acquisition for the Tigers. And he gave his little boy an 11th birthday he would never forget.
"It was a good pitch to hit. So I hit it."
-- Magglio Ordonez on his game-winning three-run homer
It all helps explain the emotion Ordonez felt as he was rounding the bases. It all helps explain the tears that came streaming down his face when, standing on the pitching mound where 10 minutes earlier Street had just released the pitch that would forever change his career, he saw his wife in the tunnel behind home plate.
Holding his son by his side, Magglio Sr. briskly walked to the tunnel and threw his arms around Daggly as if he hadn't seen her in years. They held each other in a warm embrace, tears falling down both of their faces. They kissed and hugged, hugged and kissed, over and over again, completely oblivious to the thousands of fans watching above them.
"He worked so hard. He worked so very, very hard," Daggly said through the family interpreter. "And it wasn't easy. He had some rough times. But I told him this is the year. This is the year he goes all the way. He's going to be a world champion."
Thirty minutes later, in the Tigers clubhouse, there was little Magglio, amidst all those empty bottles of champagne, grabbing a can of Bud Light himself and chasing around the clubhouse attendants until he, too, got to spray something over somebody.
He summed up this particular October 14 as only an 11-year-old could.
"This is the best birthday I ever could have asked for," Magglio Jr. said. "My dad is going to the World Series. And he's going to win."
Wayne Drehs is a senior writer for ESPN.com. He can be reached at wayne.drehs@espn3.com.
Senior writer for ESPN.com
Written for ESPN.com since 2000
Three-time Sports Emmy Award winner
SPONSORED HEADLINES
MORE MLB HEADLINES
MOST SENT STORIES ON ESPN.COM