Weaver delivers a gem for Cards
Originally Published:
October 5, 2006
By
Eric Neel
| ESPN.com
SAN DIEGO -- Late in Game 2 of the National League Division Series between the Cardinals and Padres, with St. Louis leading 2-0, a group of Padres fans up behind home plate started chanting, "Let's go Padres! Let's go Padres!" -- trying to stir the home crowd and the home team into a comeback win.
It was poignant. They were working against the tide, not just of this game, but of history, of each of the last eight times their club had gone heads-up with the Cardinals in the postseason (including the division series in 1996 and 2005).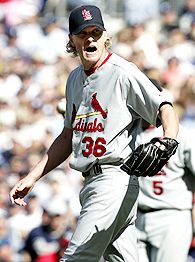 AP Photo/Chris CarlsonWeaver pitched five shutout innings and allowed only two hits against the Padres.
As the call in the stands started to swell, San Diego catcher
Josh Bard
nubbed an
Adam Wainwright
pitch into the dirt and was thrown out by St. Louis catcher
Yadier Molina
. He was followed by
Mike Cameron
and
Russell Branyan
, both of whom struck out to end the game.
Not with a bang but a whimper.
That's just the way it goes with these clubs come October. They suit up, they take the field, and a couple of hours later, St. Louis strolls off with a win. Five times in the last two years, the Cards have knocked off San Diego without ever trailing in a game.
Coming in, we thought maybe David Wells' 120 postseason innings and 10-4 postseason record would be the key predictive numbers, but they were no match for the eight-game streak. We thought maybe Jeff Weaver's 9.72 postseason ERA would be telling, but it was erased by the 21 runs St. Louis posted in sweeping last year's NLDS and the five they added in taking the first game of this series Tuesday.
After Bard, it was Cameron. Strikeout swinging. Then Branyan. Strikeout looking. Ball game. Same as it ever was.
But if the outcome was no surprise, and if the Cards' scoring came, as it always seems to, courtesy of Albert Pujols (who drove in Preston Wilson with a single to left field in the fourth inning -- one of three Pujols hits on the day), what St. Louis got out of Jeff Weaver on the hill was a bit of an upset.
Weaver was making his second postseason start and his fourth playoff appearance, and until Thursday, it hadn't gone well. He was beaten up in relief appearances with the Yankees in 2002 and 2003, and the Cardinals touched him for six runs when he was with the Dodgers in 2004. Add that he had struggled through much of this season, especially against left-handers (who hit .340 and slugged .609 against him), and you might have guessed he was in for a rough afternoon against a Padres lineup loaded with five lefty bats.
"A lot of guys were licking their chops," Wells said. "But he stopped that real quick."
Indeed he did, going five strong innings, surrendering just two hits. And you have to feel good for him. He stood out there on the infield grass behind the mound before the first pitch, waiting for second-base umpire Greg Gibson to give him the "play ball" sign, and he knew the baggage he carried. He knew the pressure was high and the expectations were low, and he knew he and his brother and parents in the stands were the only ones who truly believed he could do what had to be done, and he cast it all off. He turned his back on doubt and history, and he rose up, plain and simple, bold and brave.
"He pitched his butt off," Wells said. "I tip my cap to him."
"You find yourself, you get in a nice rhythm," Weaver said. "I was able to throw a lot of quality breaking balls to keep these guys off balance."
The Cards' right-hander understated his performance. Working all four of his pitches for strikes, getting ahead of hitters by breaking off wicked curveballs, he owned the San Diego lineup from the beginning.
"This was good as I've ever seen [him]," Padres second baseman Todd Walker said. "He threw his curve for strike one every single time."
The Cardinals picked up Weaver from the Angels in July, knowing they needed help for an injury-riddled staff, but not at all sure what they'd get (he had a decidedly crooked ERA at the time). He had some uneven starts in the early going but picked it up down the stretch, going 3-1 in September, and closing the season with a crucial 10-5 win over Milwaukee. And now this effort, when he looked like the staff ace.
"You know he's going to go up there and battle as hard as he can, and he did, and he was outstanding to watch. You're not going to get any bigger than the last two games he's thrown for us. He's had everything working, locating his breaking ball, his sinker, his changeup. He was locating all day long."
-- Cards RHP Chris Carpenter on Jeff Weaver
"I started out a little slow when I got to St. Louis," he said. "But [pitching coach Dave Duncan and manager Tony La Russa] always had my back, and I kind of just worked with getting back to what my strengths were and finding myself as a pitcher and not trying to be somebody else."
He was the man on Thursday, and it meant the world to his teammates, who are heading home up two games to none.
"You know he's going to go up there and battle as hard as he can, and he did, and he was outstanding to watch," Carpenter gushed. "You're not going to get any bigger than the last two games he's thrown for us. He's had everything working, locating his breaking ball, his sinker, his changeup. He was locating all day long."
There will be more dramatic, more emotional stories in this postseason, and of course, this one may get lost in the fact that, ho hum, the Cards beat the Padres in the playoffs again. But before we roll on to Game 3, or to the championship series, let's not miss this great story. Jeff Weaver pitched his butt off, with the spotlight squarely on him, with his mates needing him to come up big.
It was great to see. In the midst of the same old Cards-Pads story, it was the start of a new story for Weaver. It was, as Wells said, something to tip your cap to.
Eric Neel is a columnist for Page 2. Amy K. Nelson of ESPN The Magazine contributed to this story.
EDITORS' PICKS
The BBTN 100 looks at the top 10 catchers.
Rankings »

Bryce Harper will reach his 40-home run power ceiling, Jim Bowden says.
Blog

Questions remind about Jason Heyward's ability with the bat.
Jerry Crasnick »

MOST SENT STORIES ON ESPN.COM