Game 3 of ALCS calls for frosty forecast
Updated:
October 12, 2006, 8:52 PM ET
Associated Press
DETROIT -- Nick Swisher trotted out to right field and, with freak October flurries swirling at Comerica Park, plopped onto his back and began making mock snow angels.
Only for a minute, though. Shivering, the Oakland first baseman put on his ski cap and retreated to the dugout Thursday.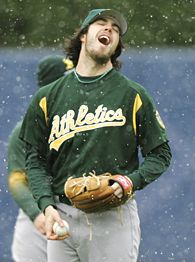 Amy Sancetta/AP PhotoOakland A's pitcher Dan Haren tries to catch snowflakes during a workout at Comerica Park in Detroit on Thursday.
Welcome to baseball's winter wonderland, aka Game 3 of the American League Championship Series, where the forecast is calling for fastballs, curveballs and ... snowballs.
"This is when the boys of summer turn into the men of fall," Detroit pitcher Jamie Walker said.
The Tigers, leading 2-0 in the best-of-seven matchup, and Athletics got somewhat of a break when Friday's start time was moved from 8:19 p.m. to 4:30 p.m.
A combination of factors figured into that decision by the commissioner's office -- the local conditions, a rainout that took away a travel day in the National League Championship Series, and TV ratings.
"It's definitely not going to be baseball weather tomorrow," said Dave Gurney of the National Weather Service in Michigan. "Around 45 degrees, wind gusts up to 35 mph and some snow showers."
Had any of the flurries stuck Thursday, it would have set a record as the earliest measured snowfall in Detroit. Still, it's going to be frosty throughout the weekend.
More like football weather, for sure. The Detroit Lions and Buffalo Bills will play next door at Ford Field on Sunday -- indoors, that is.
"It depends on how cold it is," A's slugger Frank Thomas said. "It's going to be tough if it's under 40."
Thomas is hitless in eight at-bats during this series. He flied out with the bases loaded to end Wednesday night's 8-5 loss at Oakland, where it was 67 degrees at gametime.
"I've been 0-for-8 maybe 20 or 30 times this season. I'm not fazed," he said. "With me, you can tell they've done their homework. Even when I do get a strike, the pitches aren't in the same area code. But sooner or later, they're going to miss."
The Big Hurt won't be the only one feeling the Big Chill in Game 3. Pitchers notoriously have a tougher time gripping the ball in chillier climates, especially ones that rely more on touch and feel, such as Detroit starter Kenny Rogers.
Fresh off his shutout effort against the New York Yankees in the first round, Rogers will be opposed by hard-throwing Rich Harden, a native of British Columbia who keeps hockey sticks at his locker in Oakland.
"Growing up in Canada, I played hockey outdoors and played baseball in this weather, so I'm used to it," he said. "Back then, I was a center fielder, so it was more standing in the outfield and not moving. I think the worst was probably sleet and freezing rain and you get the wind coming."
Only a few players practiced outdoors Thursday. The infield was covered with a tarp, so most of them hit in indoor cages.
"I'm used to playing in this from when I was growing up," said Tigers leadoff man Curtis Granderson, originally from Chicago. "I have pictures from high school of us playing with jackets on in the snow. But when it is this cold and the wind is blowing, it doesn't matter if you are used to it or not, you still feel it."
Said Tigers manager Jim Leyland: "I'm sure it's going to affect both teams somewhat."
Leyland has experience in these conditions. He managed Florida in 1997 and, with many experts predicting his Marlins would become frozen fish in the World Series, they won a key game in the snow at Cleveland.
"I've been through this situation before," he said.
The Artic blast actually seemed to provide a cute diversion for the A's. They picked through the parkas, turtlenecks, gloves and long johns -- thin and thick versions -- that equipment manager Steve Vucinich packed for the trip.
"Are we taking snowmobiles to the game tomorrow?" backup first baseman Dan Johnson joshed.
Vucinich, who's worked for the Athletics since 1968, said he didn't need to buy anything special to combat the cold.
"We had it all already," he said. "Only it's been a while since we've had to use it."

Copyright 2006 by The Associated Press
EDITORS' PICKS
The BBTN 100 looks at the top 10 catchers.
Rankings »

Bryce Harper will reach his 40-home run power ceiling, Jim Bowden says.
Blog

Questions remind about Jason Heyward's ability with the bat.
Jerry Crasnick »

MOST SENT STORIES ON ESPN.COM