History on Tigers' side as wait for Series foe rolls on
Updated:
October 18, 2006, 11:45 PM ET
Associated Press
NEW YORK -- As if the Detroit Tigers don't have enough going for them, consider this: The last six teams that started the World Series with five or more days of rest all went on to win.
Waiting Game

This is the 10th time in history that a team has entered the World Series on five or more days' rest, and most have found success:

Year

Days

Team

Opp.

Result

2006

5+

DET

???

???

2005

5

CWS

HOU

CWS, 4-0

2002

5

ANA

SF

ANA, 4-3

2001

5

ARI

NYY

ARI, 4-3

1996

6

NYY

ATL

NYY, 4-2

1995

6

ATL

CLE

ATL, 4-2

1991

5

MIN

ATL

MIN, 4-3

1990

5

OAK*

CIN

CIN, 4-0

1989

5

OAK

SF

OAK, 4-0

1988

5

OAK*

LA

LA, 4-1

* -- Both teams that lost were led by current St. Louis Cardinals manager Tony La Russa.
While the Tigers took an NFL-like week off after sweeping Oakland for the AL pennant, the New York Mets or St. Louis Cardinals will play Saturday night's Series opener with only one or two days of rest.
"I would love to be in their situation. I think we all would," Cardinals manager Tony La Russa said before Game 6 on Wednesday night.
Following Tuesday night's 4-2 win in St. Louis, the Cardinals headed to Shea Stadium with a 3-2 lead in the best-of-seven series.
Going back to the final stages of the regular season, the NL pennant race has been a competition of attrition. The Mets are without injured starters Pedro Martinez and Orlando Hernandez, and left fielder Cliff Floyd is limited to pinch-hitting because of a sore Achilles' tendon.
St. Louis is making do without starter Mark Mulder and closer Jason Isringhausen, and first baseman Albert Pujols, third baseman Scott Rolen and shortstop David Eckstein are all playing hurt.
Are the Mets and Cardinals too banged up and too burned out to win?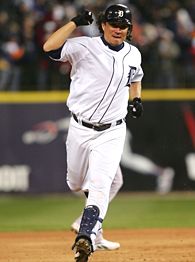 Jed Jacobsohn/Getty ImagesRemember this? Magglio Ordonez sent the Tigers into the World Series with a walk-off home run in Saturday's Game 4.
"I don't buy it for a minute. It seems like the underdogs are the ones that come through, anyway, because there's less pressure," said Cardinals pitcher Jeff Weaver, the Game 5 winner. "Both teams are deserving and whichever one makes the plays and gets the two-out hits is the one that's going to win."
No matter which team wins, the Tigers figure to be favored by the oddsmakers.
"In a four-out-of-seven series, they might go cold and somebody might get hot," Mets manager Willie Randolph said. "You can look at it just on the surface, you might think that, yeah, but it doesn't always play out that way."
Only thing is, since 1991 it has.
The 1991 Minnesota Twins, 2001 Arizona Diamondbacks, 2002 Anaheim Angels and 2005 Chicago White Sox all entered the World Series with five days off and went on to win, according to the Elias Sports Bureau. The 1995 Atlanta Braves and 1996 New York Yankees had six-day breaks -- matching what Detroit has -- and won the title.
Seven of the nine teams in baseball history to start the Series with five days off went on to win. The only losers were the 1988 Oakland Athletics (to the Los Angeles Dodgers) and the 1990 A's (to Cincinnati).
Both were managed by La Russa, whose A's had five days off before beating San Francisco in the 1989 Series -- which was interrupted for 11 days following Game 2 because of an earthquake.
While the two NL teams were flying through the night and extending themselves, the Tigers were catching up on sleep, relaxing with their families and dealing with what often is the No. 1 activity of World Series teams: arranging tickets for family and friends.
Tigers manager Jim Leyland isn't thinking about what advantages his club might gain with rest. He's thinking about having to face Chris Carpenter or Tom Glavine.
"There's a possibility that if we play the Cardinals, you're going to see a Cy Young winner," Leyland said. "If we play the Mets, you're going to see a guy that is on his way to 300 wins."
AL teams have won six of the last eight World Series, with only the 2001 Diamondbacks and 2003 Florida Marlins taking titles for the NL (both by beating the New York Yankees). In the NL this season, the Mets were the only team to win more than 88 games, while six AL teams topped that.
"Do I think overall, by the looks of things, that the American League was a stronger league this year? Yes, I do," Leyland said. "Do I think that it goes in cycles? Yes, I do. Do I think that has anything to do with this World Series? Not one damn thing. Nothing."
Even though his team needed to win two straight to capture the pennant, Randolph was looking ahead to the Tigers. He didn't plan any special message for his players before Game 6.
"Our travel plans for Friday are what we are going to talk about," he said.

Copyright 2006 by The Associated Press
SPONSORED HEADLINES
MORE MLB HEADLINES
MOST SENT STORIES ON ESPN.COM
EDITORS' PICKS
Which of two top FAs to be should you bet on?
David Schoenfield »

Corey Kluber and six others should get contract extensions.
Bowden

The Rangers are among those hoping for a 2015 do-over.
Olney