Tigers helping Comerica Park establish its own identity
Updated:
October 21, 2006, 10:23 AM ET
By
Eric Adelson
| ESPN The Magazine
DETROIT -- Tiger Stadium did only one thing: baseball. Its right-field upper deck loomed out there like a teenager's overbite, making the weakest lefty hitter a threat. Its flag pole sat inside the center-field fence, making every deep fly ball an adventure. Its bullpen, sunken into the ground and caged, looked like an actual pen for bulls. And when the Tigers got a rally going, the whole place rattled and shook. It wasn't the rumble of thunder, because thunder never rumbled like that. It was as if the baseball gods were up on the stadium roof, bowling.
What does Tiger Stadium look like now? Come along for Jim Caple's tour of the vacant old ballpark and hear what's being done to preserve it.
Fans never demanded a new park. In fact, there was a Tiger Stadium Fan Club that clamored loudly (and all but proved) that the old place could be restored. As the Tigers played their last series there in 1999, the Detroit News quoted a local architect named John Davids who said, "I've studied this for 10 years, and in my opinion the only reason for a new ballpark is greed. The value of that ball club is going to go up by $80 million to $100 million, and I'd be very surprised if (Tigers owner) Mike Ilitch doesn't sell the club in the next few years."
Such was the anger and mistrust in the air as fans of a losing team waged a losing battle: The Stadium versus McStadium. This wasn't the Kingdome or the Astrodome -- space age and stone age all at once -- or Candlestick, which made baseball season feel like football season. Tiger Stadium was like a '65 Mustang -- no charms but all charm. Want A/C? Roll down the windows.
"Plenty of people even hate Fenway Park because the seats are too small," says Neil deMause, author of "Field of Schemes." "It was hard to find people who hated Tiger Stadium. So the normal honeymoon of the new stadium was tempered by the fact that people didn't want to see the old place go. Tiger Stadium was a hard act to follow."
So on the last day of its 87-year-old baseball life, a gray Monday, the mention of the name "Comerica Park" got boos. Detroiters cried as home plate got unearthed and transported to the sparkling edifice down by Greektown. Sure the new place had sightlines and a carousel and concourses wide enough to fit more than five people across, but it did not have urinals used by Cobb and Gehringer and Greenberg. Comerica would lose this one, 87 to nothing.
And for a time, both parks sat empty. Comerica drew few fans -- even as the team burst out of spring training with a surfeit of wins this season -- and Tiger Stadium lingered like a ghost, just down the road, still standing and silently reminding Detroit of a happier baseball era.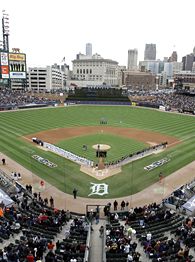 AP Photo/Carlos OsorioComerica Park has come alive during the American League playoffs.
The Super Bowl came to town earlier this year, and even that stung a little: The last Detroit-based pro football team to win a championship was the Lions, in 1957, when they played at Tiger Stadium. The New York Times did a story during Super Bowl week on how the old converted hay market sat there in decay. It was a reminder that the All-Star Game came and went, and the Super Bowl would come and go, but Detroit remains, withering, unable to move from a jubilant past into an uncertain future. (Even the Ford Taurus has passed into eternity. Sigh.)
Comerica Park needed not only a winner, but an event that would give it history -- something that Detroiters could grow old telling their kids about. Bobby Abreu hitting 78 home runs (approximately) during All-Star Week last year didn't quite cut it. (Nor did Kenny Rogers getting booed for taking Jeremy Bonderman's All-Star roster spot.) CoPa needed a "Remember When?" moment.
That moment finally came three weeks ago, when the Tigers beat the Yankees in the American League Division Series and then burst out of their dugout with champagne spraying everywhere. They rounded the outfield, dousing cops and even the tarp, dodging dark horses stationed to prevent fans from interacting with players. It was a postseason celebration unlike any other in recent baseball history, and it evoked memories of when players and fans saw each other on sidewalks and trolleys. Detroit and its team were not only celebrating, but celebrating together. Park designers had built statues of Tiger greats and draped ivy in center field to blend old and new, but the Tigers themselves forged that bond in 10 minutes of booze-drenched revelry. Comerica suddenly had a memory.
Then the memory was doubled when Magglio Ordonez added another YouTube moment -- crushing a Huston Street pitch into the mob in left field in the bottom of the ninth to sweep Oakland and clinch Detroit's first pennant in 22 years. Fans in the first few rows stood there in the early-evening chill, anticipating the transformation of a first into a tradition. The Tigers did not bring out the bubbly, but they did not disappoint -- skipping a lap around the outfield in their dark blue American League Champion shirts. Even manager Jim Leyland, a throwback to Tiger Stadium days if there ever was one, walked along the brick fence on the first-base side with his left palm outstretched, slapping five with countless fans.
This never happened at Tiger Stadium. Suddenly, it was 87 to 1.
And perhaps by cosmic design, 2006 is the year when the city of Detroit finally arrived at tentative plans to turn Tiger Stadium into a community of condominiums and a baseball museum. Perhaps some memento from the new park's first World Series will end up there. Maybe it will be the jersey Todd Jones wore when he threw the last pitch of the 2006 season -- right next to the jersey he wore when he threw the last pitch in the history of Tiger Stadium.
Funny how that might be -- fans visiting the old place and reminiscing about all the good times they had during a frosty October at the new one.
Eric Adelson is a senior writer for ESPN The Magazine. E-mail him at eric.adelson@espn3.com.
Eric Adelson was a senior writer for ESPN The Magazine.
SPONSORED HEADLINES
MORE MLB HEADLINES
MOST SENT STORIES ON ESPN.COM
2006 World Series Preview

The Detroit Tigers and the St. Louis Cardinals meet in the 102nd version of the World Series. Series page

Stories
• Jayson Stark: Why Tigers, Cards can win it all
• Buster Olney: Top 10 Series matchups

• Peter Gammons: Image makeover

• Keith Law: Motown has more muscle
• Jerry Crasnick: Lengthy layoff helps Tigers
• Eric Adelson: Comerica Park comes to life
• Rookies Verlander, Reyes starting Game 1
• Jerry Crasnick: Trammell proud of Tigers
• Inside Edge: Verlander vs. Reyes

• Inside Edge: Peaking at the right time

• Eric Neel: And the winner is ...
• LZ Granderson: Life in the D
• Jerry Crasnick: How '06 Tigers were built

Video from ESPN Motion
• Jayson Stark: Why the Tigers will win

• Jim Caple's tour of Tiger Stadium

• Tigers, Cards ready to face off

• World Series: Take your picks

• How do Leyland, La Russa match up?

• Baseball Tonight: World Series Preview
Audio from ESPN Radio
• Baseball Today's Series preview

• Buster Olney: Looking forward to Series

• Peter Gammons: Cards too beat up

• Steve Phillips: Likes Tigers in five games