Fans pack Busch to help Cards celebrate Series crown
Updated:
October 30, 2006, 2:03 AM ET
Associated Press
ST. LOUIS -- The party keeps going for the St. Louis Cardinals, and Tony La Russa suspects some of his youngers players may be beyond his reach.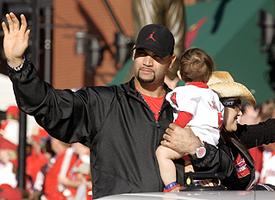 AP Photo/Tom Gannam"I've been dreaming of this since I was a little boy," Albert Pujols said Sunday.
"For those of you who have been on the streets, I am not responsible for Tyler Johnson and Chris Duncan," the manager joked Sunday. "I just hope they quit celebrating the day before spring training starts in '07."
Thousands of fans lined downtown for a parade celebrating the franchise's first World Series title since 1982. The ballpark was packed, too, just like the regular season, for a rally capped by a daylight fireworks display.
"Awesome," Albert Pujols said. "I've been dreaming of this since I was a little boy."
The Cardinals sold out the first year at new Busch with total attendance of 3.4 million. General manager Walt Jocketty said at the rally that it looked as if alll of them were at the parade.
The team estimated the crowd at between 300,000 and 500,000.
"It's out of control," ace pitcher Chris Carpenter said. "I don't think I'd ever have this feeling. I can't describe it."
The Cardinals received a prolonged standing ovation after walking from the dugout to a podium at second base. Two days earlier, they won their 10th championship, second in the majors to the Yankees' 26 titles.
La Russa said fans should respect the three teams the Cardinals eliminated in the postseason -- San Diego, New York and Detroit -- then added: "But we do get to celebrate."
Catcher Yadier Molina was among the young stars who emerged, beating the New York Mets in Game 7 of the NL Championship Series with a ninth-inning, two-run homer.
"I'm just trying to enjoy it now because February is going to come fast," Molina said. "We've got to get ready for next season."
La Russa had a place of honor in the parade, with his family getting a ride on the Anheuser-Busch beer wagon led by a team of eight Clydesdales. Since joining mentor Sparky Anderson as the only managers to win a World Series in both leagues it's been a weekend of honors for La Russa. He dropped the ceremonial first puck at a Blues-Red Wings game on Saturday night and got waylaid earlier that day for an impromptu speech in the Central West End, where he lives alone during the season.
"He took a team that wasn't expected to win, and he provided leadership," Blues president John Davidson said. "They banded together. I think those are the great memories."
La Russa's family joined him for the celebration. His wife, Elaine, has accompanied him throughout the playoffs, and daughters Bianca and Devon flew in just in time for the festivities.
"It's one thing to watch it on TV and try to get the feeling of the fans and the crowd and the city," Bianca La Russa said. "But to actually be here and you're driving in and see all the red, the energy is awesome."
The 62-year-old manager is signed through next season, and his family can't see him retiring anytime soon.
"Oh, goodness," Bianca La Russa said. "I don't think we could take him around the house all year long. So I'm going to go with at least 10 more years."
Players were still digesting their improbable run to the championship. They lost nine of the last 12, barely avoiding perhaps the worst September collapse in major league history, before taking off in the postseason.
The Padres were flicked aside in four games, and the Cardinals outlasted the Mets in seven games before eliminating the favored Tigers in five games with a 4-2 victory Friday night.
"Everybody on our team knew if we could just get in the playoffs that anything could happen, and boy it did," reliever Braden Looper said. "Once we got there, we just started playing together, we started getting a few breaks, and the rest is history."

Copyright 2006 by The Associated Press
EDITORS' PICKS
Out 6-8 weeks

Daniel Norris, the Blue Jays' No. 1 prospect, lives in a van.
Saslow »

The odds are against Masahiro Tanaka overcoming his UCL injury.
Mike Petriello

MOST SENT STORIES ON ESPN.COM