Commentary
Pressure squarely on Matsuzaka in Game 7
Originally Published:
October 21, 2007
By
Howard Bryant
| ESPN.com
BOSTON -- In the first inning, seconds after beleaguered, momentarily vindicated J.D. Drew had finished rounding the bases after his thunderous first-inning grand slam, the television camera focused on Daisuke Matsuzaka, the same man upon whom everyone who cares about baseball at this late date had trained their eyes.
Call it following the narrative or the story line if you're kind, East Coast bias if you're not. But Matsuzaka is so much of the story for Game 7, just as
C.C. Sabathia
and
Josh Beckett
took center stage before Game 5 and
Curt Schilling
and
Fausto Carmona
did Saturday night. All of this is true, but with a critical difference: Matsuzaka has no backup, for there is no starting pitching waiting to pitch the next day. After the Red Sox battered the Indians 12-2 in Game 6, Game 7 is the reality, one in which there is Matsuzaka first and every other pitcher, minus unavailable Schilling, on the Red Sox is a relief pitcher. Although the same is true for
Jake Westbrook
, the Cleveland starter Sunday night, the feelings toward the two pitchers are completely different. Should Westbrook fail, he will not face the kind of wrath awaiting Dice-K should he not give the Red Sox the kind of performance that will help them cap their comeback from a 3-1 deficit and advance to the World Series. The reasons are simple, and by this point in the season, it does not matter whether they are fair or unfair, justified or unrealistic. Westbrook in this postseason is nothing but a success story, a pitcher who will have silenced the doubters in victory and in defeat, a journeyman placed in a position of higher importance only because the two best pitchers on the Indians' staff, Sabathia and Carmona, could not earn a win in four starts between them. Westbrook is playing, as they say, with house money. Matsuzaka, meanwhile, has much to prove, and there is no point avoiding the obvious. The Red Sox paid a grand sum of $103.1 million for him to stand where he is standing right now: on the mound for not only a big game but the biggest game of his Boston career. There is, as there was with Schilling on Saturday, a sense of drama that of all pitchers, Matsuzaka will be the one under the lights. One reason is that the money he received is significant, if only because the Red Sox could have spent as much in another direction yet chose him. The other reason is that, to date, Matsuzaka has not proved himself worthy of the moment. In Game 3, he was constantly under pressure and lasted just 4 2/3 innings. He has an opportunity Sunday to begin rewriting his first chapter in Boston.
[+] Enlarge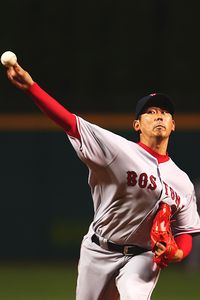 Elsa/Getty ImageIn his latest start, Daisuke Matsuzaka allowed four runs in 4 2/3 innings and suffered the loss in Game 3 of the ALCS.
Matsuzaka is an intriguing figure. If the Red Sox were deflated after Cleveland's 7-3 win in Game 4, they nevertheless were convinced that October baseball was not going to fluster Beckett in Game 5 or Schilling should they return to Boston. "After the last few games, I believed I was going to have a chance to throw again," Matsuzaka said after Saturday's game. "My teammates kept insisting I'd have another chance." Beckett was brilliant, and Schilling overcame two early challenges Saturday. The first came in the top of the second, after he had been given a 4-0 lead when Drew bombed a 3-1 fastball from Carmona into the camera well in center field. Schilling had been here before. In Game 2, the Red Sox offense had given him a 3-1 lead that he immediately gave back, which gave the Indians an offensive confidence they had not displayed to that point. For a moment, it appeared the same would occur.
Victor Martinez
led off the second with a long home run to cut the lead to 4-1. But Schilling immediately regrouped, striking out
Ryan Garko
and retiring Game 2 nemesis
Jhonny Peralta
and
Kenny Lofton
in order. The next inning, Schilling was in trouble again. Game 2 hero
Trot Nixon
singled and Game 4 star
Casey Blake
did the same to lead off the inning with the top of the order up.
Grady Sizemore
-- who had appeared to homer leading off the game, although the ball was ruled to be a foul ball -- represented the tying run. Schilling sliced through Sizemore,
Asdrubal Cabrera
and utterly lost
Travis Hafner
. And that was the game. Carmona, shaken and not yet ready for prime time, was gone in the third inning having not recorded an out. His line -- two innings, seven earned runs -- was as disastrous as Sabathia's eight runs allowed in Game 1. This is why Game 5 was so important to the Indians. When the series began, there existed a great deal of exhaustion on the part of the Indians and many of their die-hards because of the hype and mythology surrounding East Coast baseball. The media were all part of one massive conspiracy against a Cleveland team that did not receive its due, unjustly buried by the East Coast machine that enjoyed nothing more than regaling itself with its own legend. The narrative of the series seemed centered on Boston's winning and losing without treating the Indians with equity. Although it is true that the networks would like nothing more than a big market in the World Series, part of the reason hype exists is that much of it is steeped in reality, and right now, the Indians -- so good and young and energetic -- are playing as though they are feeling the immense pressure being place on them by a revived Red Sox team. Good teams have crumbled in October in Yankee Stadium and in Fenway Park, and the young Indians are in a dangerous, unfamiliar place. Schilling is part hype and myth, but he is also legit, having delivered once more, raising his record to 4-0 lifetime when he stands on the mound with his team facing elimination. Before the game, his ERA in those situations was 1.11. He gave up two runs in seven innings Saturday. Sabathia had an opportunity to close out the Red Sox on his home field without having to worry about the Red Sox or Fenway Park until the 2008 season arrives. Having to get on a plane after Game 5 was the worst thing that could have happened to the Indians.

Hey, it's going to come down to Game 7 against the two teams that won more baseball games than anybody in the regular season, two teams that have beat up on each other a little bit over the course of the past week, and that's the way it should be.
--Indians manager Eric Wedge
None of this is to suggest that Cleveland cannot win Sunday. Westbrook will have much to say about that, as will a Cleveland offense that has scored three runs in the past two games and a defense that suddenly looks shell-shocked. The hype might make people sick, but in the past two games, the moments have been looking too big for these Indians. "Hey, it's going to come down to Game 7 against the two teams that won more baseball games than anybody in the regular season, two teams that have beat up on each other a little bit over the course of the past week, and that's the way it should be," Cleveland manager Eric Wedge said. "It's something everybody should look forward to." Matsuzaka, meanwhile, does not look to be a confident pitcher, and the intensity of Sunday's game will reveal much about his character as a man of the moment. After his loss in Game 3, Matsuzaka was stunned. He sat at his locker for more than an hour, apparently despondent. Schilling, aglow in victory, said he believes Matsuzaka will come up big. As with Sabathia in Game 5, Sunday is a legacy game for Dice-K, even so early in his career. "Whether or not we had won or lost, immediately following the game is a very important time for me," Matsuzaka said by way of an interpreter. "Although I might have appeared very upset, I wasn't as upset as everybody thought." The most telling quote about the intrigue of Matsuzaka came from Schilling, who intentionally or unintentionally intimated that he doesn't quite know what to expect but that he wants to believe Matsuzaka will join him and Beckett in the winner's circle. "I haven't seen him come up small in a huge game yet," Schilling said. "I mean, all the games I've seen that he pitched in Japan, he hasn't been in a back-against-the-wall/win-or-go-home game here yet. [Sunday] is the first day. I believe that, based on his makeup, based on his demeanor, he's going to do something special."
Howard Bryant is a senior writer for ESPN.com and ESPN The Magazine. He is the author of "Shut Out: A Story of Race and Baseball in Boston" and "Juicing the Game: Drugs, Power and the Fight for the Soul of Major League Baseball." He can be reached at Howard.Bryant@espn3.com.
Senior Writer
Senior Writer, ESPN.com and ESPN The Magazine
Author of "The Last Hero: A Life of Henry Aaron"
Author of "Juicing the Game"
EDITORS' PICKS
Minnie Minoso, who was baseball's first black Latin star, died Sunday at 90.
Story »

Stephen Strasburg says the addition of Max Scherzer takes the Nationals "to another level."
Watch

Kevin Cash and the Rays are creating a new identity.
Jayson Stark »

MOST SENT STORIES ON ESPN.COM