Commentary
Rockies came a long way this season
Originally Published:
October 28, 2007
By
Jim Caple
| ESPN.com
DENVER -- Damn humidor.
The Rockies, outplayed the entire World Series, were down to their final inning. They trailed 3-0 in the series and 4-3 in the game, and dominating Red Sox closer
Jonathan Papelbon
was on the mound firing smoke to 5-foot-9 infielder
Jamey Carroll
, who has hit all of nine home runs in his five-year big league career. And Carroll connected with a drive to deep, deep left field. For an instant, all of Colorado (and no doubt much of New England) waited breathlessly, hoping (or fearing) that Carroll had just extended the season with one of the more unlikely home runs in World Series history. Instead, the ball carried only to the warning track, where
Jacoby Ellsbury
-- whom the Red Sox had just switched from center field to left to replace
Manny Ramirez
-- snared it with a leaping catch at the fence. And what could have been a game-tying, life-extending home run fell feet short for out No. 2.
[+] Enlarge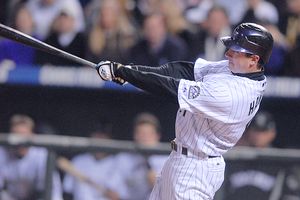 Mark J. Rebilas/US PresswireThe Rockies opened October red-hot, but they were a mere afterthought by the end.
"I don't hit home runs often enough to know whether I got it all or not," Carroll said. "I was hoping it would get over his head, but they were playing back in no-doubles [positioning]. I think I had a few different emotions. I hit it and ran a bit, and then I saw it was caught, and it felt like I'd been kicked in the stomach.'" Colorado knows that feeling. The Rockies captivated fans in their state and throughout baseball with a historic run at the end of the season, winning 14 of their final 15 regular-season games (including a one-game playoff for the wild-card berth), sweeping the division series and NLCS, winning 21 of 22 games and losing just once in 38 days. Then it all ended abruptly, with a four-game sweep in the World Series, in which Colorado led only once -- and for only three innings at that. The team that went almost undefeated for three weeks went almost two weeks without a win. "This hurts. We wanted to do more," said veteran first baseman
Todd Helton
. "There's no way around it -- it's tough. We came a long way, and to not finish it is a little tough to swallow." Colorado could do no wrong during its winning stretch but did little right during the World Series. Its first three starters allowed 14 runs in 11 2/3 innings while throwing 261 pitches. The staff ERA was 7.68 for the Series. The offense wasn't any better. The Rockies finished second in the league in runs but scored only 10 runs in the series and hit .218. They scored two runs in the first two games, and their Game 2 offense consisted of a batter reaching base on a hit by pitch and scoring on a grounder to first. Trailing before their first at-bat in Game 4, the Rockies failed to move runners along when they had the chance, squandering Helton's leadoff double in the second and
Kazuo Matsui
's one-out double in the third. Where have you gone, you Blake Street Bombers? "We tried to grind out at-bats and put together some good at-bats," rookie shortstop
Troy Tulowitzki
said. "But their pitchers just got the better of us." Manager Clint Hurdle also had a rough series. Among other things, he didn't take advantage of his best reliever,
Manny Corpas
, in the final two losses. When the team was mounting a furious comeback in Game 3, Hurdle first made the mistake of taking out
Matt Herges
, who had struck out the side on 14 pitches in the seventh, then compounded it by bringing in
Brian Fuentes
instead of Corpas. He repeated the mistake again in Game 4 when he brought in Fuentes to pitch the eighth inning rather than Corpas. The Rockies had closed the deficit to 3-1 on
Brad Hawpe
's seventh-inning homer, but Fuentes put a damper on things by allowing a home run to
Bobby Kielty
(of all people). Hurdle eventually brought in Corpas to douse the fire, but had he brought him in earlier, the Rockies might have trailed by only two runs rather than three, a significant difference in the eventual one-run loss.
[+] Enlarge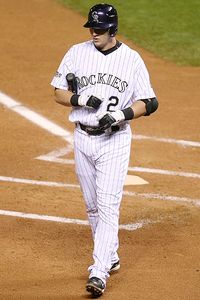 Jonathan Daniel/Getty ImagesTroy Tulowitzki will see better days in the future.
Hey, it's nice to save your closer for a lead in the ninth inning. But when you're trailing in the World Series and you're finally clawing back into the game, you need to shut down the opponent cold. And the best way to do that is to bring in your best reliever, even if it isn't a precious "save situation." It probably didn't matter much in the long run, however, because the Red Sox clearly were the better team. This is the third time in the past four years the American League has swept the National League in the World Series, and the AL hasn't lost the All-Star Game since 1996. The American League keeps winning homefield advantage in the All-Star Game, but it also keeps dominating the World Series so much that it hasn't mattered. The better question is not how the Rockies failed to beat the Red Sox this fall but how the Cardinals ever beat the Tigers last October. The Rockies hugged and shook hands and said their goodbyes after the loss. The end was disappointing, but in the weeks ahead, they will come to feel better about what they did, rallying from nowhere to reach the World Series for the first time in club history. "You're never happy to be losing," Tulowitzki said. "But we should be happy to have come a long way this year. We're heading the right way."
Jim Caple is a senior writer for ESPN.com.
2007 World Series Game 4

For the second time in four years, the Boston Red Sox are World Series champions. They finished off a four-game sweep of the Colorado Rockies with a 4-3 victory in Game 4. Story

2007 World Series page

STORIES:
• Stark: Powerhouse Red Sox made their mark
• Crasnick: Lester provides true inspiration
• Bryant: Rockies must build on experience
• Caple: Unhappy ending in Colorado
• Nelson: Humble Lowell earned Series MVP
• Wojciechowski: Masters of the universe
• Third baseman Lowell wins MVP award
• Varitek giving final out ball to team
• Diamond Daily: Dynasty in the making?

VIDEO:


• Highlights: Red Sox complete sweep of Rockies
• Lowell has been Red Sox MVP all season
• Lester overcomes Rockies in Game 4
• A dream come true for Pedroia, Ellsbury
• Another title for Francona, Lowell, Ortiz
• Rockies claim layoff hurt them
• Baseball Tonight Minute: World Series recap
• Jayson Stark's post-Game 4 video blog

AUDIO:


• Lester talks about getting the Game 4 victory
• Kielty talks about his pinch-hit home run
• Papelbon speaks after saving Game 4
• Francona talks about Boston's team effort
• Beckett talks about winning the Series
• Ortiz says character is the reason they won
• Varitek says the Red Sox needed everyone
• Ellsbury says it's unbelievable to be on the field
• GM Epstein talks about his team's hot streak

PHOTO GALLERY
• Playoffs in Pictures

MOST SENT STORIES ON ESPN.COM