Commentary
Rays' astute moves take them from cellar to summit
ST. PETERSBURG, Fla. -- In June 1999, the Tampa Bay Devil Rays selected outfielder Carl Crawford in the second round of the Major League Baseball draft. That same summer, a young Tulane University graduate named Andrew Friedman went to work as an analyst for the investment banking firm Bear Stearns in New York.
World Series: Phillies vs. Rays


Complete coverage of the Phillies-Rays matchup.
•
Series page
•
Scouting
:
Phillies

|
Rays

Nine years later, the principals are trending upward. The Rays, minus the "Devil," are preparing for their World Series debut. Crawford, a two-time All-Star, is the starting left fielder and longest-tenured player on the roster. And Friedman, a boyish-looking 31, is the front-runner for baseball's Executive of the Year award. The only loser in this story is Bear Stearns, which was sold to JPMorgan Chase for a bargain price in March as a casualty of the subprime mortgage crisis. "It's a little surreal," Friedman said from the home clubhouse at Tropicana Field on Monday. "I think it will be after our last game before I can gain full perspective and take a moment to reflect on this season. Being mired in the middle of it, it's very difficult right now." In an age of instant gratification, the Rays stand as a paragon of long-range thinking and making do with limited means. They won 97 games this year and captured the American League East title despite baseball's 29th highest payroll. Tampa Bay sported a $43 million payroll on Opening Day, while New York, Boston, Toronto and Baltimore invested about $508 million combined in player salaries.
[+] Enlarge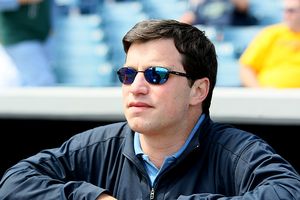 Rich Pilling/Getty ImagesMost of Andrew Friedman's moves have paid off for the Rays since he took over as GM in 2005.
The Rays' home park, Tropicana Field, is generally regarded as substandard. They have the second smallest season-ticket base in the game, and nobody knows if they'll eventually land in the new ballpark they so greatly desire. As principal owner Stuart Sternberg likes to say, "We're in the baseball business, not the stadium-building business." But say this for the Rays: They've made the most of a decade worth of suffering. Like their World Series counterparts, the Phillies, the Rays have mined a mother lode of talent through the draft. Of the 25 players on Tampa Bay's American League Championship Series roster, only eight were signed and developed from within. But they were all significant contributors. The list includes former first-round picks
B.J. Upton
,
Rocco Baldelli
,
Evan Longoria
and
David Price
, all of whom were chosen among the first six picks because the Rays had finished so low in the standings. But Tampa's draft hauls also included such hidden gems as pitchers
James Shields
(16th round) and
Andy Sonnanstine
(13th round). Crawford, Baldelli, Upton and Shields were all selected by Dan Jennings, Tampa Bay's former scouting director, who has since moved on to a position as assistant general manager in Florida. And they all fit Jennings' core philosophy, which was to disdain "safe" picks for players with higher ceilings. "The organization gave us a clean canvas and a chance to paint, and we poured everything we had into it," Jennings said in a phone interview. "We always looked for athletic players who were more high-risk, high-reward. We always tried to stay away from what they call 'cute little players' and go for impact guys."
LaMar scouting former team
The Phillies recently dispatched a team of scouts to follow the Red Sox and Rays and file reports in preparation for the World Series. In a novel twist, the man overseeing the group had more than a passing acquaintance with the baseball scene in Tampa Bay.

LaMar

Chuck LaMar, Philadelphia's director of professional scouting, spent eight years as the Rays' general manager, guiding the organization to a 518-777 record. He was fired by new owner Stuart Sternberg as part of a front-office shakeup in October 2005. LaMar's tenure in Tampa Bay included some major missteps. He traded Bobby Abreu for Kevin Stocker and committed almost $100 million to Greg Vaughn, Wilson Alvarez, Vinny Castilla and Juan Guzman in free agent deals. The Rays received precious little in return. But LaMar also stole Scott Kazmir from the Mets and was in charge when Tampa Bay drafted B.J. Upton, Carl Crawford and several other future maintstays. Former owner Vince Naimoli didn't help the cause when he made LaMar stray from the team's scouting and development-oriented approach in mid-stream. "Chuck took the bullet [for the organization]," said former Tampa Bay scouting director Dan Jennings, now with Florida. "He's a hell of a lot smarter and more astute baseball man than he was portrayed."
-- Jerry Crasnick
Or as Tampa Bay's current scouting director, R.J. Harrison, once said of Jennings, he "swings for the fences every round." Crawford was so athletic, he was offered a football scholarship from Nebraska and could have played basketball at UCLA if he hadn't opted for baseball. Baldelli displayed all the requisite skills as a high schooler in Rhode Island, but he tore an oblique muscle and played in only a handful of games his senior year before the Rays waded in with a $2.25 million bonus. Upton, a wondrous mix of power and speed, fell into Tampa Bay's lap when Pittsburgh spent the first pick on Ball State pitcher
Bryan Bullington
, a quintessential "signability" choice who is still looking for his first big league win. "Every night during the spring of 2002, I went to bed praying to the baseball gods that Pittsburgh would take someone else and let B.J. come to us," Jennings said. And just think: The Rays used the top overall pick in 1999 on outfielder
Josh Hamilton
, whose time in Tampa Bay finally ran out after a harrowing ordeal filled with drug and alcohol abuse. Just imagine how he'd look in manager Joe Maddon's lineup. The Rays also gave serious thought to drafting
Mark Teixeira
in 2001 before signability concerns prompted them to go with pitcher
Dewon Brazelton
. From the moment Tampa Bay was awarded an expansion franchise, this was the route the Rays planned to take. Chuck LaMar, Tampa Bay's first general manager, vowed to stress scouting, player development and patience over knee-jerk thinking. But when Tampa Bay's expansion cousins, the
Arizona Diamondbacks
, achieved some success with
Jay Bell
,
Matt Williams
and other veteran players, Rays ownership pushed for a more aggressive approach to rekindle that old honeymoon feeling with fans. The result: The
Jose Canseco
-
Greg Vaughn
-
Fred McGriff
-
Vinny Castilla
"Hit Show" fiasco, and some disastrous free agent signings by LaMar. They don't come much worse than pitcher Juan Guzman, who gave the organization 1 2/3 innings after signing a two-year, $12 million deal. Friedman, in contrast, has shown a flair for free agent steals and productive, under-the-radar trades. Consider first baseman
Carlos Pena
, who signed with Tampa Bay as a minor league free agent in January 2007. Pena hit 46 home runs in his first year with the club, and parlayed it into a three-year, $24 million extension. "As a small-revenue team, we don't have the luxury of one-dimensional players," Friedman said. "We always liked Carlos as a hitter and what he brings defensively, so we felt like he was worth a shot. That's one of the benefits of not being very good at the time: You're able to give chances to players when you like their profile." On the trade market, Friedman acquired reliever
J.P. Howell
from Kansas City for
Joey Gathright
, picked up
Willy Aybar
from Atlanta for pitcher
Jeff Ridgway
, added reliever
Dan Wheeler
from Houston for
Ty Wigginton
, and brought in
Edwin Jackson
from the Dodgers in a deal for
Danys Baez
and
Lance Carter
. Friedman's big impact deal came last winter, when he sent outfielder
Delmon Young
to the Twins for pitcher
Matt Garza
and shortstop
Jason Bartlett
. The Rays had a surplus of position players, the Twins were in position to move some pitching, and the move was right in line with Friedman's desire to upgrade the defense and the rotation. Mission accomplished. Bartlett gave the Rays' some needed infield glue, and Garza went 11-9 before winning the ALCS Most Valuable Player award.

Andrew [Friedman] is an opportunist. He's always looking to make improvements within the club. Some are major leaps and require risk, and others are things on the margin. Oftentimes, it's those decisions that make the difference in the end.
--Rays president Matt Silverman
Garza, truth be told, wasn't thrilled when he received word that he'd been dealt from Minnesota to Tampa Bay. But it didn't take him long to come around.
"I was disappointed for about three to five minutes until I got on the phone with Andrew Friedman," Garza said. "He was so energetic and excited to get me and bring me in, and that made me feel right at home."
Friedman's biggest strengths, according to those who've worked closely with him, are his ability to listen and incorporate the opinions of others. Former Houston general manager Gerry Hunsicker, for example, has played an important role as an adviser and experienced sounding board in Tampa. Friedman is also progressive enough to have a healthy respect for statistical analysis and the opinions of the scouts.
"Andrew is an opportunist," said Rays president Matt Silverman. "He's always looking to make improvements within the club. Some are major leaps and require risk, and others are things on the margin. Oftentimes, it's those decisions that make the difference in the end."
The Rays haven't quite reached the end, but the run up to it sure has been fun. They've outlasted the American League East, the White Sox and the Red Sox, and now they've officially emerged as ready-for-prime-time players. It's the beginning of a bull market for baseball in Tampa Bay.
Jerry Crasnick covers baseball for ESPN.com. His book "License To Deal" was published by Rodale. Click here to order a copy. Jerry can be reached via e-mail.
ESPN.com MLB Sr. Writer
ESPN.com senior writer
Author of "License to Deal"
Former Denver Post national baseball writer
EDITORS' PICKS
The BBTN 100 looks at the top 10 second basemen.
Rankings »

The A's are among five teams that have found answers to many of their questions.
Buster Olney

Questions remind about Jason Heyward's ability with the bat.
Jerry Crasnick »

MOST SENT STORIES ON ESPN.COM