Commentary
Moyer's brief outing could be last for Phillies
LOS ANGELES -- As the sun dipped behind the San Gabriel Mountains beyond Dodger Stadium on Sunday evening, Jamie Moyer, wearing a puffy red jacket to turn away the chilly air, walked slowly toward the Phillies' bullpen and set his water bottle on the grass just short of the warning track. He then calmly walked through a two-door opening in right field and began to stretch and untangle his 45-year-old (soon-to-be 46) body for a night when he would become the oldest pitcher to ever start a League Championship Series game.
Soon, in the bullpen, catcher Carlos Ruiz crouched into position and began to catch Moyer's warm-up pitches. Each pitch settled into his glove in the appropriate spot and with amazing fluidity. The ball felt crisp in Ruiz's glove each time it thwacked into the webbing. Ruiz would throw the ball right back to Moyer, who would then make another perfect pitch. This type of warm-up was not indicative of a 45-year-old (soon-to-be 46) pitcher who had thrown 196 1/3 innings in this, his 22nd year in the major leagues.
NLCS: Dodgers vs. Phillies


Complete coverage of the Dodgers-Phillies matchup.
•
Series page
•
Scouting
:
Dodgers

|
Phillies

At that moment, Ruiz turned to his bullpen coach and said, "I really think Jamie can give us six or seven strong innings." Less than an hour later, Moyer's postseason future was thrown into question. Minutes after taking the mound, Moyer was pounded by the
Los Angeles Dodgers
in their 7-2 win in Game 3 of the National League Championship Series. Moyer, who has been the losing pitcher in both of Philadelphia's postseason losses this year, allowed the first four runners to reach base in just 10 pitches and surrendered six runs in just 1 1/3 innings.
Although he is a candidate to start a possible Game 7, Moyer might not start another game in this series. And perhaps, since he is a free agent after the season, he might not start another game for the Phillies. Game 4 starter Joe Blanton would be on regular rest for a possible Game 7.
[+] Enlarge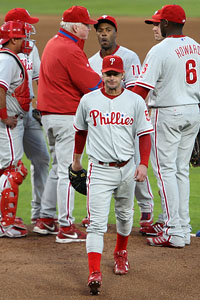 Jeff Lewis/US PresswireJamie Moyer has a 13.50 ERA in two postseason starts in 2008.
Asked if he had been told about starting another game in this series, Moyer tersely, but politely, said, "The game just ended a half-hour ago. You're asking the wrong guy anyway. The manager is in there and the pitching coach is in there. They're the guys to ask." Phillies manager Charlie Manuel was noncommittal. "I don't know about that," Manuel said about who might pitch a possible Game 7. "[Pitching coach] Rich Dubee and I will talk it over." The difference between the Moyer in the bullpen and the Moyer in the ballgame might simply have been a matter of the Dodgers' approach. Moyer allowed two runs in the first inning of a five-inning start against the
Milwaukee Brewers
in the Division Series. In that first inning, the Brewers were patient against Moyer. Leadoff hitter
Mike Cameron
walked on four pitches.
Bill Hall
followed by walking on 10 pitches. Eventually, Moyer threw 34 pitches to get out of the inning. On Sunday against the Dodgers, Moyer adjusted and pounded the strike zone early. "Milwaukee was very patient," Ruiz said. "They were waiting for pitches in the zone. I'm sure the Dodgers have video of that game and I'm sure they watched that video. I think they were really aggressive." Two of the first three Dodger hitters swung at the first pitch, and both times they connected for singles.
Rafael Furcal
began the second inning against Moyer by hitting the first pitch for a home run. Moyer retired
Andre Ethier
on a fly ball to center field, but was then yanked with
Manny Ramirez
coming to the plate, making it Moyer's shortest outing since he pitched just one inning on July 4, 1998. Through his first six career postseason starts, Moyer had allowed just 10 earned runs in 33 2/3 IP. In the first inning Sunday, he allowed five.

I've pitched too many innings and pitched too many games to let one game make or break my career.
--Jamie Moyer
After he settled into the dugout after a disastrous first inning, Moyer said he thought to himself, "Hopefully, I can get them to hit it at somebody." But after Furcal's home run, Moyer's night was essentially over. Manuel was not going to allow Moyer to face Ramirez, who is 19-for-54 with 10 home runs in his career against Moyer. As soon as Ramirez stepped to the plate, Manuel came with the hook. Moyer said he was not upset at being taken out so soon. "It's playoff baseball; [Manuel] is going to do what he needs to do," said Moyer, who turns 46 on Nov. 18. "I've pitched too many innings and pitched too many games to let one game make or break my career. Obviously, it's the playoffs; it's magnified now. But we're all professionals and we have to handle it professionally." Shortly afterward, Moyer took his 45-year-old (soon-to-be 46) body and glumly walked away.
Jorge Arangure Jr. is a senior writer for ESPN The Magazine.
Senior writer for ESPN The Magazine
Joined ESPN in May 2007
SPONSORED HEADLINES
MORE MLB HEADLINES
MOST SENT STORIES ON ESPN.COM
NLCS GAME 3: DODGERS 7, PHILLIES 2

The Dodgers scored five runs off Jamie Moyer in the first inning and went on to defeat the Phillies 7-2 in Game 3 of the NLCS. Story | NLCS page

STORIES:
• Jayson Stark: Tension adds life to NLCS
• Jorge Arangure Jr.: Is Moyer done in Philly?
• Eric Neel: Series momentum shifts quickly
• Benches clear over Kuroda's pitch to Victorino

VIDEO:
• Highlights: L.A. jumps on Phillies early
• Russell Martin talks about Dodgers' win
• John Kruk breaks down Game 3

AUDIO:
• Shulman, Phillips recap Game 3