Commentary
Dodgers' once-perfect 'pen falls to pieces in Game 4
LOS ANGELES -- With great rapidity, Dodgers reliever Jonathan Broxton dressed in front of his locker, though he knew he would not be leaving the clubhouse quickly.
First he pulled up his jeans, then he sat down and pulled up socks on both his feet, and finally, with a hearty tug he slipped into his pair of brown cowboy boots. As he finished, Broxton turned around and noticed that a crowd had gathered at his locker. Broxton wiped his sweaty brow with a towel and then gave a slight nod to acknowledge the crowd. He soon began to answer questions about what had happened on this heartbreaking night in Los Angeles. How could the Dodgers, just five outs away from tying the National League Championship Series at two games apiece, instead squander a two-run lead in a manner of moments? How could a bullpen that had been perfect in the NLCS entering the game (no runs in 11 1/3 innings) fail so badly in the Dodgers' 7-5 Game 4 loss to the
Philadelphia Phillies
? "I got behind in the count and then made a mistake in the middle of the plate," Broxton said of his grievous error, a 3-1 pitch to Phillies pinch hitter
Matt Stairs
that was launched high into the right-field stands, giving Philadelphia a two-run lead in the eighth.
NLCS: Dodgers vs. Phillies


Complete coverage of the Dodgers-Phillies matchup.
•
Series page
•
Scouting
:
Dodgers

|
Phillies

Broxton had first begun to stir in the bullpen toward the end of the seventh inning. He stretched out his burly arms and began to walk around to loosen up his thick, tree-trunk legs. At the same time, the bullpen received a call from the Dodgers' dugout. Broxton and
Cory Wade
were both told to start warming up. It was a curious decision, but one the Dodgers -- clinging to a 5-3 lead at that point -- had to make. "I don't think I can say I would do anything differently," Dodgers manager Joe Torre said. Lefty reliever
Hong-Chih Kuo
, who had pitched a scoreless seventh inning in just 14 pitches, had hit for himself in the bottom of the seventh and was going to start the eighth by pitching to lefty
Ryan Howard
. The Dodgers had said they would be cautious with Kuo, who did not pitch in the Division Series because of numbness in his fingers, but they were left with no choice but to use him because their other two lefties,
Clayton Kershaw
and
Joe Beimel
, had pitched earlier in the game. In fact, it had been Kershaw's ineffectiveness that had thrown the entire bullpen askew.
[+] Enlarge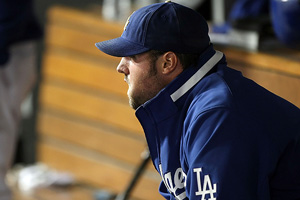 Jed Jacobsohn/Getty ImagesWith two outs in the eighth, closer Jonathan Broxton challenged 40-year-old Matt Stairs with a 3-1 fastball and lost.
Kershaw entered the game in the sixth in relief of starter
Derek Lowe
, proceeded to walk Howard and then allowed
Pat Burrell
to single. Beimel was later asked to retire Phillies pinch hitter
So Taguchi
, which he did. "I felt fine physically, but my curveball just wasn't getting over," said Kershaw, who was charged with the one run that scored in the inning. "It makes it tough when you're throwing only one pitch out there." So it was Kuo against Howard, and it really could not have been any other way. On a 2-0 count, Howard singled to center field on a fastball. "I just missed location," Kuo said. "I tried to throw it away, but instead it went right down the middle." Immediately, Torre walked out from the dugout to make another move since it did not stand to reason that Kuo, who already had pitched longer than the Dodgers wanted, should stay in the game to face the righty Burrell. The majority of the crowd at Dodger Stadium could see only Broxton warming up in the bullpen, which is tucked away in the left-field corner. But Broxton knew it was not his time. "When they called down and told us to both warm up, I knew he'd come in first," Broxton said of Wade. Torre called for Wade, who had pitched two scoreless innings on Sunday. Again, it was the only move Torre could make since Broxton had not pitched two innings in a game all season. Wade retired Burrell on a popup, but then allowed a two-run, game-tying home run to the switch-hitting
Shane Victorino
. "It was a first-pitch curveball," Dodgers catcher
Russell Martin
said. "It wasn't in the zone. He just golfed it. I wouldn't change that pitch. It was a getting-ahead curveball." Wade, who did not talk to reporters after the game, retired
Pedro Feliz
but then gave up a single to
Carlos Ruiz
. Now it was Broxton's time. Broxton threw a first-pitch fastball to Stairs for a strike, but then fell behind on a fastball away, a slider down and two-seamer that went wide. Down 3-1 in the count, Martin had little choice but to call for another fastball. "That's his best pitch," Martin said. "You have to go after him with your best pitch." Instead of nabbing the outside corner, though, Broxton's fastball moved into the center of the plate. Stairs, keyed on the fastball, crushed the pitch. "The more pitches I saw in the at-bat," Stairs said, "the more comfortable I felt." The bullpen's collapse was complete.
Jorge Arangure Jr. is a senior writer for ESPN The Magazine.
Senior writer for ESPN The Magazine
Joined ESPN in May 2007
NLCS GAME 4: PHILLIES 7, DODGERS 5

The Phillies scored four times in the eighth inning, erasing a two-run deficit to pull out a 7-5 win over the Dodgers to take a 3-1 NLCS lead. Story | NLCS page

STORIES:
• Jayson Stark: Now that was some comeback
• Jorge Arangure Jr.: Dodgers bullpen goes sour


VIDEO:
• Highlights: Phillies turn tide in eighth inning
• Shane Victorino talks about Phils' win
• BBTN: Phillies on brink of World Series

AUDIO:
• Shulman, Hershiser recap Game 4


MOST SENT STORIES ON ESPN.COM