Point/counterpoint: Who will win the World Series?
Updated:
October 22, 2008, 11:43 AM ET
ESPN.com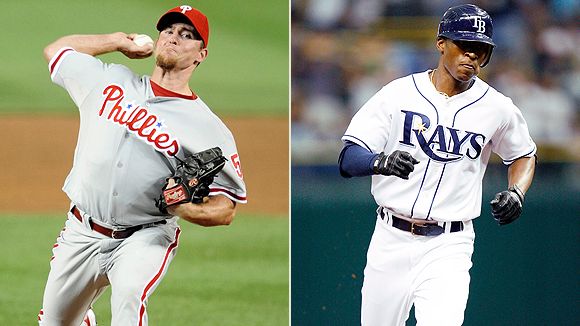 Icon SMIThe Phillies' Brad Lidge and the Rays' B.J. Upton will play key roles in the Series.
PHILLIES: TOUGHNESS GIVES THEM AN EDGE
RAYS: THEY'RE IN AL … SO THEY'LL SWEEP
By Jayson Stark

The Philadelphia Phillies are going to win the World Series. That is not a sentence many living citizens of this planet have ever typed before. But these are not your great-grandfather's Phillies. These Phillies won't be playing in this World Series because they're the best team in the National League. They're here because they're the toughest team in the National League. And that toughness is the biggest reason I think they'll win. "They're the most mentally tough team" in the field, an NL general manager told me three weeks ago. And he was just the lead singer in a chorus of GMs, scouts, coaching staffs and players who have run into this team along the way. These people are always talking about "the way they play," and "how hard they play" and how much fun it is to watch these Phillies play. These Phillies don't seem imprisoned by their team's tortured past. In an odd way, they almost seem inspired by it. They constantly talk, right out loud, about how driven they are to write their own history, make their own mark, put their own stamp on their franchise and their ballpark. This is a group that sets the bar as high as it can be set, and a group of players who seem remarkably comfortable on this stage. They've won 12 games this year in which they trailed after seven innings. They've won 29 games decided from the seventh inning on. They've won a half-dozen games they trailed by two runs or more in the eighth inning or later, including a defining NLCS game in Los Angeles last week. They may not have the best starting rotation in this World Series, but they do have the best starting pitcher -- Cole Hamels. I expect him to win Game 1, set the tone and buy the offense a night to apply the Rust-Oleum after a week off. History does tell us that 10 of the last 11 Game 1 winners have gone on to win the Series. So Game 1 starters are often Series-changers. And Hamels fits that mold. The Phillies also have the best bullpen, and the best closer (Brad Lidge), in this World Series. And that's another quality all modern World Series winners share. Much like the Rockies last year, this team heads into this World Series playing as well as it has ever played. Maybe 20-5 isn't 21-1, but it's in the same stratosphere. The difference, though, is these Phillies aren't just a good team that got hot. They're a team that was built to win, a team with all the ingredients to win, and THEN they got hot. As the Rockies found out last October, it isn't always the hottest team that wins the World Series. But when the hottest team is also the toughest team, that's a whole different story. So I'm writing a sentence that feels crazy just to tap out on my keyboard. But I'm writing it anyway: The Philadelphia Phillies are going to win the World Series. Phillies in six.
By Jim Caple

As always, my esteemed colleague arrived at his World Series prediction after consulting with scouts, general managers and other people throughout baseball.

He observed the Phillies up close and personal from opening day to the final game of the NLCS.

He studied the statistics, sorting through OPS, VORP and WHIP in search of tell-tale trends. He carefully analyzed player matchups, spoke with the participants and called upon more than 30 years of experience covering the game.

Likewise, I made a careful study before making my prediction. Namely, I noticed that the Tampa Bay Rays play in the American League. Which is why I'm picking them to sweep.

People express surprise when I mention this pick but I don't know why. It's not like it's that bold a prediction given that the American League has swept three of the past four World Series and five of the past 10 and won another in five games.

The AL also dominated interleague play yet again this season, winning 149 of the 252 games played. To put that in perspective, that winning percentage would translate into a 96 victory season. The last time a league struggled as much as the NL has, Geena Davis was the catcher and Tom Hanks was the manager.

If you're scoring at home, the Rays were 12-6 in interleague play while the Phillies went 4-11, the worst record in baseball.

Further, Philadelphia has had a full week off since the NLCS. While rest can be good for a tired pitching staff, it can also be miserable for a team's rhythm, which we saw with both the Tigers in 2006 and the Rockies last year.

In fact, about the only way I see the Phillies winning this series is if Tampa Bay's pitchers make an error in every single game.

Look, it's nice the Phillies won the National League pennant and that Warren Giles trophy will look good in their office. But now they're playing with the big boys.

The Rays are a well-balanced team with power, speed, great defense and deep pitching. They are so loaded with young talent that they were able to put a pitcher with just five major league games of experience on the mound and see him silence the defending world champions in two games of the ALCS.

They have an experienced manager who is willing to use his bullpen in unconventional ways if they make sense, rather than sticking to ways that boost his closer's arbitration figures.

And, more importantly, did I mention they play in the American League?

MOST SENT STORIES ON ESPN.COM