Transition is a 'work in progress'
VERO BEACH, Fla. -- The Los Angeles Dodgers are playing the Florida Marlins on an unseasonably cold spring night at Holman Stadium, and life around the bag is uneventful for new first baseman Nomar Garciaparra.
For four innings, anyway.
First person
Eric Karros will provide color commentary for the Braves-Dodgers game on Opening Day. The former first baseman spent 14 seasons in the big leagues and shares his thoughts on playing the position:

You can put somebody at first base for two or three days, but if you are going to be at a position for a period of time, you can't hide somebody. The ball is going to find you, and you're going to be exposed.

Can Nomar Garciaparra handle playing first base? There's no reason why he shouldn't be able to athletically. But you can't teach a first baseman how to react when a throw goes into the runner. You can't teach footwork and when to use your left or right foot to go to the bag. You can't teach getting a ball that is out in front of home plate and having the catcher throw into the runner. All those things you learn through experience, and that's where there are going to be some issues, as there would be for anybody. You can't expect Nomar to have his footwork down or know when to come off the bag and make a sweeping tag on a runner. Those are things you can't simulate.

Even little things like catching the ball from the pitcher on pickoff moves. I watched a game last year where Jeff Kent played first base. He's played second base, third and was a shortstop in college. The pitcher threw over to first, and the ball never hit his glove -- it hit Kent in the wrist.

First base has evolved into a much more athletic and defensive position than it was in the 1950s, '60s and '70s.

The toughest play for Nomar to adjust to will be the throw that goes into the runner, and he'll have to make a decision: Do I hold the bag and stretch for it (putting myself in a vulnerable position), or do I come off the bag, catch it and try and make a sweep tag?

Another difficult play is when the ball is right in front of home plate. Whether the catcher or pitcher fields it, a right-handed first baseman will have to decide to cover the bag with his left foot and square up to home plate, which limits his ability to stretch, or cover first base with his right foot, giving him the ability to stretch more but not allowing him to square up to the throw. Those are the things you can't teach.

And with a lot of ballparks, you are going to have some issues with day games and picking up throws because the ball blends in with the stands and fans.

Nomar will absolutely know he's a first baseman when he plays his first game at Coors Field, and the sun is setting right behind the third baseman, shortstop and pitcher. Honest to God, they disappear because of the sun. You literally cannot see them. How Todd Helton has not worn a ball off his forehead in all the years he's been over there ... he should be in the Hall of Fame.
In the fifth, Florida's
Jeremy Hermida
hits a chopper to no-man's land. Garciaparra ranges right to snare the ball, but not quickly enough to prevent a hit.
Miguel Cabrera
follows with a double past a diving Nomar. Two batters later, Dodgers second baseman
Jeff Kent
throws wide on a routine grounder, and Garciaparra adjusts his glove and shows some nimble footwork to record the out.
This is the type of sequence Garciaparra refers to when he calls his transition a "work in progress.'' Most people figure it's a snap for an accomplished former shortstop to move across the diamond. But most people don't have a clue.
As a young baseball rat in California, Garciaparra played every position on the field, so he gained a healthy respect for all nine. The difference is, he's no longer 12 years old, and the Dodgers don't pile into a van and head to McDonald's after the game.
"People don't realize when you're playing at the highest level, no position is easy,'' Garciaparra said. "Just to say, 'You're an athlete and you can play this position or that position,' maybe that held true when you were in high school or Little League. But it doesn't hold true here.''
It's an intriguing spring all around in Vero Beach, as the Dodgers adapt to a new general manager, Ned Colletti, and a new manager, Grady Little. They're hoping for better seasons from Derek Lowe and J.D. Drew, and they've signed several veterans, from Bill Mueller to Kenny Lofton to Rafael Furcal, to buy time for a bountiful farm system.
Then there's Nomar, always a magnet for attention. When you're a former Red Sox mainstay and perceived Hall of Fame lock -- and your wife, soccer star Mia Hamm, attracts stares as she watches you from behind the screen -- it's tough to hone your craft in anonymity.
The perception of Garciaparra has changed, of course, in conjunction with his disabled list visits and diminished production. Last year, Garciaparra signed with the Cubs on a prove-it mission and missed 100 games because of a groin problem. It was his second straight injury-riddled season, unofficially qualifying him as damaged goods.
Still, Garciaparra attracted a crowd as a free agent this offseason. Houston, Cleveland, Toronto, Atlanta, San Diego and the Yankees all expressed some interest, at a variety of positions.
By signing a one-year, $6 million deal to play first for the Dodgers, Garciaparra followed the career path of the great Cub Ernie Banks. Consider:
Garciaparra played 1,024 games at shortstop before making his first base debut at age 32. Banks played 1,125 games at short before shifting to first at 31.
Garciaparra is moving because of injuries. Banks shifted to prolong his career after a series of leg problems.
Banks hit 214 homers at first base, played until age 40 and solidified his Hall of Fame credentials. As for Garciaparra, who knows?
Colletti has lots of perspective on the transition. He grew up in Chicago following Banks' career and previously worked in the front offices of the Cubs and Giants, where he spent ample time watching Mark Grace and J.T. Snow play some of the best first base in memory.
With a thin free-agent market this offseason and prospect James Loney on the horizon, the Dodgers regarded Garciaparra as a nice, reasonably priced solution at first in 2006. Colletti knew that Garciaparra would incur less wear and tear at first base than in the outfield, and believed the transition could come quickly because Garciaparra already was accustomed to the "speed" of the game in the infield.
The bonus is Garciaparra's enthusiasm; he's attacked his new position with a fervor typically reserved for 2-0 fastballs. He worked out at Dodger Stadium in early February to get a head start, then arrived early at Vero Beach for some tutoring from new Dodgers coach Eddie Murray.
"I can't remember a player of Nomar's stature, at this point in his career, working as hard as he has over there,'' Colletti said. "He's a proud man, and he wants this thing to be successful.''
| | | |
| --- | --- | --- |
| | " | People don't realize when you're playing at the highest level, no position is easy. Just to say, 'You're an athlete and you can play this position or that position,' maybe that held true when you were in high school or Little League. But it doesn't hold true here. " |
| | | — Nomar Garciaparra |
Nevertheless, there are so many details to address. After experimenting with several gloves early in camp, Garciaparra found a black and tan Mizuno model to his liking. But the bigger mitt still feels a bit cumbersome and foreign on his left hand.
Recent history shows that the move to first can humble anyone. Mike Piazza and Javy Lopez are among the All-Star catchers who have struggled with it. Garciaparra, in contrast, is earning rave reviews. He has quick hands to scoop up errant throws in the dirt, and the reflexes and agility to smother balls that would otherwise wind up rattling around the right field corner.
"He's such a great athlete that he makes it look easy,'' said Mueller, Garciaparra's former Boston teammate. "I haven't seen any issues whatsoever.''
That doesn't mean there aren't challenges in a strange new world. Garciaparra knew precisely where to be at shortstop, under every possible scenario. Now his life is a never-ending blur of cutoffs and relays, rundowns and wheel plays, low throws and high throws and pickoffs. He's like a premed student in his first semester of organic chemistry.
"Early on, you're thinking about a million different things,'' Garciaparra said. "Where do I have to be? What do I have to do? How am I positioned? As the days progress, you want to do things more instinctively. But that doesn't come overnight, or even in a month. It takes time.''
Even a task as mundane as catching the ball can be a challenge. Lowe recently told The New York Times that Garciaparra's throws from shortstop took such a circuitous route to first base that the Red Sox jokingly referred to them as "banana throws.'' These days, Garciaparra is experiencing the same phenomenon from the receiving end, as he adjusts to his teammates' different arm angles and individual quirks.
There's simply no way to plan for the tough plays. One day Garciaparra will turn his first 3-6-3 double play, or charge a bunt aggressively, spin and throw to second to nab the lead runner. One of the most challenging plays for a right-handed first baseman, Little said, comes when the base stealer is picked off and a quick throw must be made to second with the runner in the way.
Can Garciaparra handle it? Little has no doubt. Ask the Dodgers manager if his new first baseman can win a Gold Glove one day, and he doesn't even crack a smile.
"Hopefully,'' Little said. "Hopefully this year.''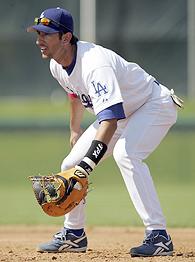 Andy Lyons/Getty ImagesFirst time: Nomar is still getting used to his new position on the diamond.
The irony, as Garciaparra adapts to first base, is that defense might be the least of his problems. He's batting .250 in the Grapefruit League and hitting too many weak fly balls in the process. While spring training numbers can be deceptive, Garciaparra has only one RBI and two extra-base hits -- both doubles -- in 52 at-bats. So skepticism abounds.
"He should be fine at first base because his work habits are so good,'' said a scout. "My concern is more the bat speed. I don't see the ball jumping off his bat. He's not turning on fastballs or driving balls into the gap.''
How's this for a plot twist? Garciaparra is great defensively while putting up Lyle Overbay- or Nick Johnson-like power numbers from the right side. If he hits .280 with, say, 15-18 homers from the fifth spot in the batting order, will his season be considered a success?
That's a question for October. In spring training, it's all about optimism and feel-good vibes. Garciaparra saw his first major league game at Dodger Stadium, and the lure of coming home to California outweighed any reservations about playing first base.
"To put on that uniform was kind of special,'' he said.
Now that it's on, Garciaparra has no qualms about getting it dirty. His boyhood dream will unfold this summer in Los Angeles. He'll just watch it from a different vantage point than he envisioned.
Jerry Crasnick covers baseball for ESPN Insider. His book "License To Deal" was published by Rodale. Click here to order a copy. Jerry can be reached via e-mail.
ESPN.com MLB Sr. Writer
ESPN.com senior writer
Author of "License to Deal"
Former Denver Post national baseball writer
EDITORS' PICKS
Josh Hamilton had a drug relapse involving the use of cocaine and alcohol.
Story »

Lloyd McClendon 'carrying the torch' as MLB's only black manager.
Jerrry Crasnick »

The SportsCenter spring training tour has been all over Florida and Arizona.
Tour schedule »

MOST SENT STORIES ON ESPN.COM